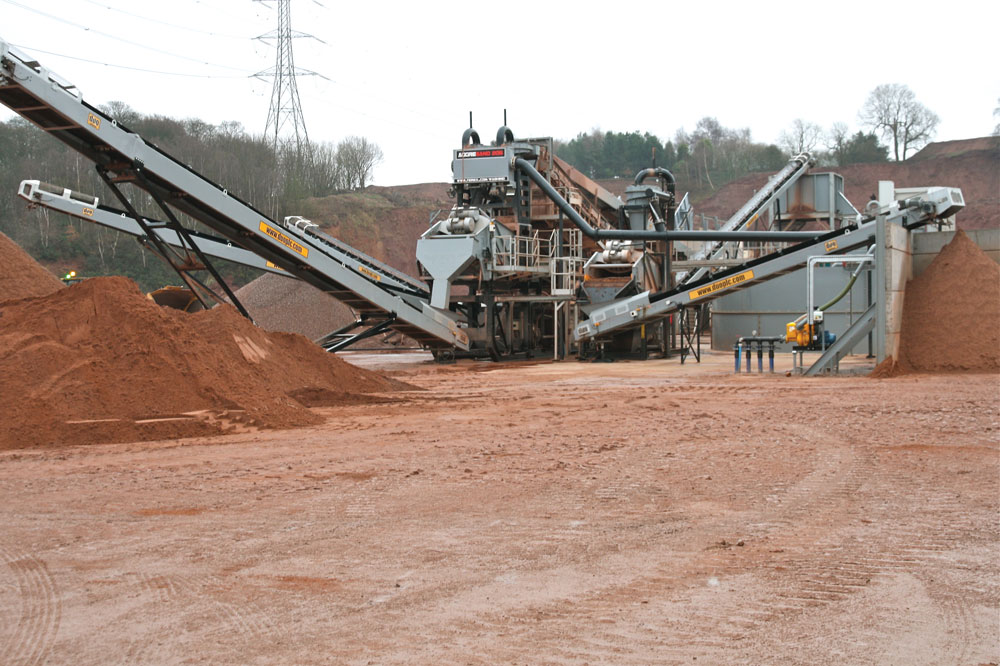 First published in the April 2017 issue of Quarry Management as Sharper Performance
DUO Equipment supply and install new sand and gravel washing plant for NRS Aggregates
Owned and operated by NRS Aggregates, Saredon Hill Quarry, at Shareshill, near Wolverhampton, was brought back into full working order around three-and-a-half years ago, at which time the site's original washing plant was sufficient to cope with the demand for sand and gravel. However, with a major customer looking for increased supplies of sharp sand for three concrete plants, and with a further two plants about to come on line this year, NRS Aggregates decided to upgrade their production capabilities at the quarry. After researching the market, specialist washing equipment suppliers DUO Equipment were awarded the contract to supply and install a new Terex AggreSand 206 modular wash plant, a Terex Finesmaster 120C sand recovery unit and a TC1000 cone crusher, together with an associated water/silt management system.
NRS Aggregates' operations manager, Stephen Graham, commented: 'The new plant has given us the scope to improve efficiency and increase the production of high-value products to match demand. At this point we are operating at about 58% capacity, processing 10,000 tonnes per week and selling 8,000 tonnes across the weighbridge.'
Sand and gravel plant
Capable of processing more than 250 tonnes/h, the new plant is generally fed by wheel loader, via a 50-tonne feed hopper with tipping grid. From here the material is sent, via a 42m long inclined conveyor, to the three-deck AggreSand 206 modular wash plant, which utilizes individually controlled spray bars on each deck. The two-bearing 20ft x 6ft screenbox is fitted with polyurethane modular media on all three decks, with the top deck rejecting any +20mm oversize material. This is fed, via a chute, on to a 32m long crusher feed conveyor that discharges into a 25m3 capacity surge bin. From here the oversize is delivered on to a vibratory feeder that automatically choke feeds the TC1000 cone crusher. The crushed material is then returned to the screen feed conveyor for further processing.
Mr Graham said: 'This closed-circuit arrangement has worked very well and has proved to be a very good investment; we do have a rotary crusher at our other site but I prefer the cone as it's very efficient.'
The AggreSand 206 screen decks split the raw material into required 10mm and 20mm aggregate products, which are sent to stockpiles via conveyors. However, the bottom deck is split and provides a 0–2mm fraction, which is delivered to the Finesmaster 120C static sand recovery unit. This single-chassis unit complete with centrifugal slurry pump, hydrocyclone, collection tank and 12ft x 5ft dewatering screen, produces a soft sand that is stockpiled by radial conveyor.
Meanwhile, the 0–4mm fraction from the bottom deck is fed to the AggreSand 206 sand plant to produce a sharp sand. This sand plant incorporates a high-energy 14ft x 6ft dewatering screen capable of dewatering rates up to 200 tonnes/h, while two 45kW 200/150 pumps, one G4-660mm cyclone and one G4-500mm cyclone complete the specification to produce the clean, in-specification sharp sand. 
Luke Talbot, managing director of DUO, commented: 'The Terex AggreSand system is delivered pre-wired and pre-plumbed, and combines aggregate washing and screening with sand processing on an easily installed modular chassis, which was the ideal solution for NRS Aggregates. It brings together tried and trusted Terex Washing Systems components in an innovative design that is very appealing in terms of access, serviceability and modularity. Quite simply, it sets itself apart from other washing systems in the marketplace.'
Water and silt management
The water-treatment plant at Saredon serves two purposes: first, to clarify and recycle the dirty water from the washing process, and secondly, to concentrate the resulting sludge. This is achieved through the addition of a polymer flocculant solution, which is prepared/dosed and controlled/adjusted by Dosafloc and Controlfloc systems respectively. The resulting sludge settles to the bottom of a 14m diameter thickener tank and is drawn of by a pump capable of handling silt at rates of up to 40 tonnes/h. Meanwhile, the clarified water that overflows the thickener tank is discharged into a 10m diameter clean water storage tank for recirculation back to the washing plant.
The whole plant is controlled by PLC, with a touch-screen providing synoptic displays and allowing access to the plant settings. Situated on a static bridge above the thickener tank, the control/technical room also houses the main switchgear and electrical control panel, the flocculant preparation, dosing and control units, and the thickener tank scraper drive unit. Commissioned in mid-summer 2016, NRS Aggregates say the plant has been performing efficiently since then, providing them with much more control and flexibility over their production, and allowing them to satisfy the increased demand for sharp sand.