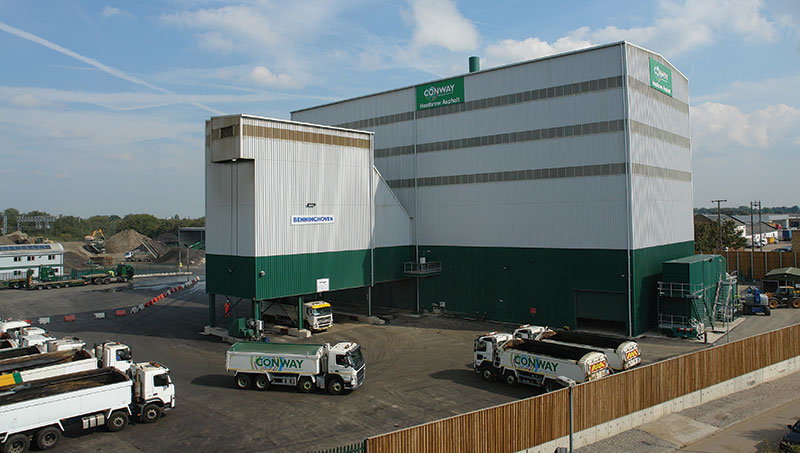 First published in the January 2015 issue of Quarry Management as Heathrow Asphalt Takes Off
High-tech Benninghoven BA5000 asphalt plant opens at FM Conway's new asphalt production facility near Heathrow Airport
FM Conway, the Dartford-based highway maintenance, civil engineering and paving service providers, have recently opened their new asphalt production facility close to Heathrow Airport in Hayes, Middlesex.
The £10 million 'Heathrow Asphalt' plant, one of the largest and most technically advanced asphalt production sites in the UK, is strategically sited inside the M4–M25 motorway hub, thus allowing the company to efficiently service their growing west-London customer base with high-quality materials on demand around the clock.
The new state-of-the-art Benninghoven BA5000 asphalt coating plant, designed with the emphasis on maximum recycling, is equipped with a high-level parallel hot recycling drum system and incorporates the latest energy-saving technology. The design meets all the required mix specifications, together with all the necessary environmental criteria. The plant has a production output rated at 240 tonnes/h of dense basecourse, at 4% initial moisture, an additional 200 tonnes/h recycling capability, and will boost Conway's asphalt production totals by more than 300,000 tonnes per annum.
Designed to provide significant operational benefits and cost savings, the new plant is able to produce a wide range of high-specification coated materials, including modern thin surfacing, stone-mastic asphalts and other specialized mixes.
Before the development could commence, the tight-footprint site had to be cleared prior to the start of foundation works. Thanks to careful forward planning and effective project management, the various civils were completed on schedule.
Commenting on the development, Michael Conway, chief executive officer of FM Conway, said: 'This new facility at Heathrow, which sets the benchmark for asphalt recycling, is a crucial investment for us and will boost our existing 400,000 tonnes/year Benninghoven plant output at Erith. Delivering high-quality asphalt products to our customers, largely from recycled materials, means that we, as a company, are in control rather than being vulnerable to price fluctuations or material availability.'
Asphalt plant
All units in the asphalt production process are housed in a fully sheeted, factory-style building to aid both insulation and noise-reduction levels. Translucent panels provide daylight within the structure. The plant features a five-person lift on the outside of the tower, providing easy access to all five levels for maintenance etc.
The aggregate cold-feed system consists of nine units, each of 14m³ capacity and fitted with a frequency-controlled belt feeder for accurate blending of the aggregates. Two of the hoppers are for sand and fines and these are supplied with hopper-wall vibrators to ease material flow. All hoppers are sheeted on their sides, ends and roofs.
A full-length concrete retaining wall supports the feed ramp, whilst the bulk of the aggregates are stored in large covered storage bays, holding approximately 10,000 tonnes.
A 61m long collecting conveyor moves material on to a 20m long feed-transfer conveyor, which discharges on to a short 6m long reversible slinger conveyor from which material is fed directly into the dryer drum. The aggregate dryer drum, which is 2.4m in diameter x 9m in length, is fully insulated and aluminium clad for heat retention and noise reduction. The drum is friction driven by four support rollers through individual 22kW geared motor units. A frequency converter controls running speeds, thereby allowing the aggregates and exhaust gas temperatures to be optimally tuned.
The burner is a Benninghoven EVO-Jet 4 type, which burns gas oil and natural gas. This is equipped with a full range of operating and safety devices to deliver high-efficiency fuel usage. An air inlet silencer is connected to the burner to suppress noise levels.
The plant's dust-collection system, sized for the dryer unit and mixing section scavenging, is rated at 72,000Nm³/h and achieves emission levels of less than 20mg/m³. A primary separator unit mounted alongside the dryer separates any coarse dust from the airstream, which passes to the hot-stone elevator feed boot via a gravity flap valve and chute. A secondary cassette bag-filter system collects any remaining dust and transfers it, via two screw conveyors, to a filler elevator. Dust is also collected from nuisance points at the screen, weigh hoppers and elevator. As a result, the plant meets the most stringent dust-control regulations. A dust monitor mounted on the 30.5m exhaust stack provides a remote readout in the operator's cabin. The exhaust fan is frequency controlled to minimize energy usage. Any excess dust collected can be discharged from the reclaimed dust silo through a rotary valve into a twin-shaft paddle conditioner, where water is introduced, thereby providing an environmentally friendly method of purging the reclaimed dust.
Hot aggregates are transported from the dryer up to the screen by a vertical bucket-type elevator. Elevator drive is by an inverter-controlled 30kW geared motor and toothed chain wheels at the elevator head. A wide platform provides access for maintenance.
Material discharged from the elevator passes into a six-deck screen which features twin-shaft drive via two 14kW 'bolt-on' low-maintenance vibrating motors. These drive units are mounted outside the screen housing to allow the high-temperature screening of materials. Wide access doors, together with a roll-away chute, provide access to all screen decks.
The hot-storage section has a total capacity of 160 tonnes and comprises seven bins. The bins are all insulated and clad, and each is fitted with a continuous level indicator and overflow chute, with discharge by means of a pneumatically operated radial door which accurately regulates material flow to the aggregate weigh hopper, from where the aggregates are discharged direct into the mixer.
Accurate weighing of ingredients is achieved by separate load-cell-mounted weigh hoppers – a 5,000kg capacity aggregate hopper, an 800kg filler weigh hopper and a 500-litre capacity weigh vessel for bitumen. Mixing takes place in an insulated, 5,000kg capacity, twin-shaft paddle mixer, with drive provided by two 75kW geared motor units, through synchronized gears. A rapid and thorough mixing cycle is achieved by the mixer's efficient paddle arrangement. A radiation pyrometer is situated at the mixer discharge to indicate mix temperature. A foamed bitumen system is integrated into the mixer hood and enters the mixer via a spray bar.
Mixed material discharged from the mixer falls into a 5,000kg skip unit, which runs on horizontal tracks and distributes the material into silos with a total storage capacity of 540 tonnes. All are equipped with high-level warning indicators and are insulated and fitted with electric trace heating around the discharge doors. A direct load-out hopper is positioned beneath the mixer. All bins are mounted on load-cells to ensure accurate material loading.
Bitumen is stored adjacent to the plant in two vertical 110m³ capacity tanks and one split 110m³ capacity tank; these are Benninghoven's high thermal efficiency units which deliver low running costs due to their stepped heating system design. An inbuilt loading system with high-level probes offers fail-safe filling with no possibility of spillage.
Filler is stored in an external three-compartment vertical silo holding approximately 60m³ of reclaimed filler and 70m³ of imported filler, with a further 55m³ of storage for hydrated lime. All three silo compartments are equipped with level indicators and shut-off valves.
A bagged additive system is also incorporated in the plant to feed palleted granulated material into the mixer.
Recycling
The heart of the recycling system, designed specifically for the UK market, is a 2.4m diameter x 11m long parallel-flow drum, which both dries and heats the recycled asphalt. The design of the drum internals ensures that the burner flame makes no direct contact with the moving reclaimed material inside the drum. The combustion zone of the drum is fitted with special heavy-duty, self-cleaning finger lifters that vibrate during the production process to prevent clogging of the material.
Graded and tested RAP material fed to the recycling drum comes from one of three hoppers, depending on the mix. Discharge from the hoppers is by belt feeder on to a separate transfer conveyor feeding a bucket-type elevator which transports the material up to drum level. Feed into the drum is by a short slinger conveyor running beneath the burner.
Hot recycled material discharged from the drum is held in a 20-tonne electrically heated buffer silo prior to being discharged into a load-cell-mounted weigh hopper, where it is batch weighed before entering the mixing cycle. The hot recycled material then travels through a specially designed RAP chute which feeds it directly into the plant's paddle mixer. The chute features stainless steel liners and an internal spray system to keep the sticky material on the move. Cold RAP can be fed to the mixer from a weigh conveyor via a surge hopper and chute flap door to the mixer. Inside the paddle mixer the dried and heated recycled materials are blended with conventionally produced materials at various percentages.
The plant is controlled by a Benninghoven online BLS 3000 computer system which displays all plant functions and generates full operational data on production and energy usage. The system, which is housed in a purpose-built two-storey office block for production and sales personnel, overlooks the plant and is modem linked, with storage for up to 500 asphalt mix recipes.
Reduce, re-use, recycle
In addition to asphalt production, the Heathrow facility features aggregate crushing, screening and washing equipment to ensure the best use of all reclaimed materials. Moreover, one third of FM Conway's volumetric mixer fleet will be based at the site, providing both high- and low-strength concrete mixes to meet customer needs across west London.
Located next to the Grand Union Canal, the new plant will provide the potential for FM Conway to use this waterway to transport aggregates, thus minimizing lorry movements to and from the site.
Acknowledgements
Thanks are due to Michael Conway, CEO of FM Conway; Tim Metcalf, director of FM Conway Aggregate and Asphalt Division; and Nigel Moreton of Benninghoven UK Ltd, for their help in preparing this report.