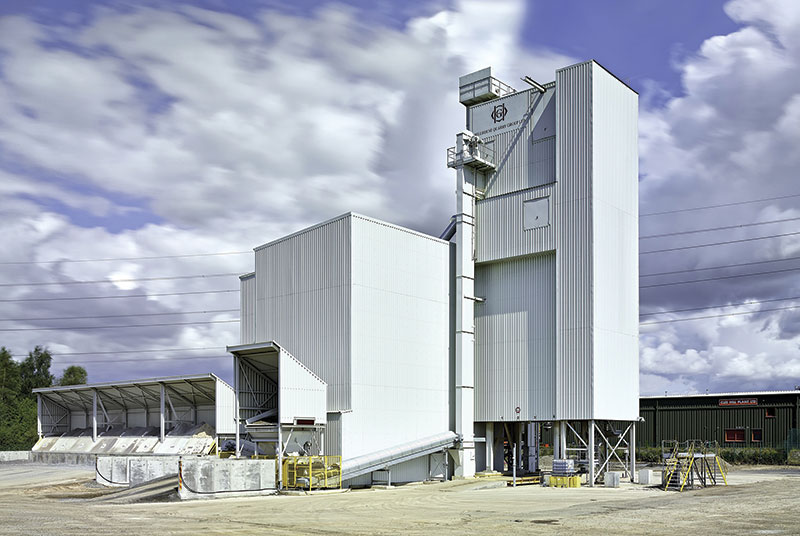 First published in the January 2015 issue of Quarry Management as Glasgow Asphalt
Hillhouse Quarry Group's new Ammann plant in Cambuslang provides more efficient coverage and service, and opens up new opportunities
At the beginning of 2014 Hillhouse Quarry Group's new state-of-the-art asphalt plant in Cambuslang, south of Glasgow city centre, commenced full production. Strategically placed to serve both Glasgow itself and Scotland's Central Belt, the new multi-million-pound facility complements the three asphalt plants already operated by the group at Hillhouse Quarry, near Troon, South Ayrshire, some 30 miles south-west of Glasgow.
Operating under the banner of Glasgow Asphalt, the new plant will allow the group to provide more efficient coverage and service to clients in existing markets as well as opening up new opportunities across the central region of Scotland. Manufactured and installed by Swiss company Ammann, the plant is said to set new standards in efficiency and economy of operation, environmental compliance and reliability. Moreover, in line with Hillhouse Quarry Group's ongoing policy of maximizing the use of recycled materials and reducing their carbon footprint, the plant is capable of utilizing up to 30% recycled asphalt planings (RAP) in its mixes.
Hillhouse Quarry Group's managing director, Robert McNaughton, said: 'The Glasgow project marks an important step in the development of the Hillhouse Quarry Group. In order to complement our existing operations in Troon, the new Glasgow plant had to be capable of large production tonnages while maintaining the ability to meet flexible customer demands and efficiency of operation. We believe the new Ammann plant gives us a great opportunity to service a full range of customers from collect trade through to national framework contracts.'
Business rationale
Hillhouse Quarry Group's decision to invest in a new plant in Glasgow represents a continuation of the company's organic growth in areas directly relevant to the business, although as operations manager Justin Gill admitted, the company did initially look at the possibility of purchasing an existing asphalt plant. 'We quickly ruled out this option and instead focused on the idea of purchasing a brownfield site and developing it ourselves, as we knew we had the in-house capability to manage such a project,' he said. 
Hillhouse have built a strong base in South Ayrshire and over the years have supplied coated products for use on some of the most prestigious projects in this part of Scotland, including the A77 trunk road, Prestwick airport and Hunterston power station. However, with a significant and growing proportion of their asphalt business already taking place in Glasgow and beyond, the establishment of a new plant closer to the heart of the city made good sense both commercially and operationally.
In the summer of 2012 the company found and subsequently purchased a vacant 3.5-acre industrial site on the outskirts of Cambuslang, close to junction 3 of the M74 motorway. 'The location of the site was perfect,' commented Mr Gill. 'Situated just south of the river Clyde and only a few miles from the city centre, it offered ideal links to the motorway network and a very generous footprint on which to build the new plant.'
Site development
Demolition of the bed-manufacturing facility that previously occupied the site took place in late 2012 and site clearance and levelling of the area commenced in April 2013. Much of the original concrete factory floor was retained to form a base for the new asphalt plant, although additional foundation piles were needed to provide suitable support for the mixing tower. Alloa-based MG Construction (Piling) were sub-contracted to carry out the piling work, which began in May 2013 using tubular-steel driven piles for speed and economy.
With the piling in place, local groundworks contractors Luddon Construction completed the majority of the civils and foundation works above the pile head, allowing construction of the new Ammann plant to commence in September 2013. Having conducted the build phase safely, efficiently and on schedule, Ammann's engineering team had the plant ready for commissioning by the second week of December and full production was established by the beginning of January 2014.         
Universal plant
Well proven over many years, Ammann's 'Universal' asphalt mixing plants are designed to meet a wide range of market requirements, offering flexible, cost-effective operation with maximum production rates. The fully sheeted version selected for Glasgow Asphalt is a high-level plant with a rated production output of 240 tonnes/h of dense basecourse at 5% initial moisture. Designed to provide significant operational benefits and cost savings, the plant is able to produce high-specification coated materials ranging from thin surfacings to stone-mastic asphalts and other specialized mixes.
Ammann UK's managing director, Malcolm Apperley, said: 'The plant we have supplied is from our top-of-the-range 'Universal' series and is easily capable of annual production in excess of 300,000 tonnes, with the flexibility to deliver the entire range of products required in the targeted market area. We have worked closely with our new colleagues in Hillhouse Quarry Group to convert their exacting requirements into a working plant which we are confident will serve them reliably into the future.'
Imported coarse and fine aggregate materials, together with screened-on-site RAP, are held in covered bulk storage bays adjacent to the plant and delivered the short distance across the yard to the cold-feed system by a Cat 962K wheel loader. The cold-feed system comprises eight 10m3 capacity hoppers, each fitted with a proportioning discharge belt that feeds material on to the collection belt according to the mix recipe. Two of the hoppers (sand and dust) are equipped with vibrators to help ease material flow, and the entire cold-feed arrangement is protected from the elements by a roof canopy and sheeting on three sides.
The 26m long horizontal collection belt feeds on to a 12m long inclined transfer belt which, in turn, feeds on to a short 3.8m long reversible slinger conveyor, from which material is fed directly into the dryer drum. The direct-fired aggregate dryer drum, which is 2.5m in diameter x 10m in length, is fully insulated and aluminium clad for heat retention and noise reduction. Operating in a counterflow fashion, the drum is friction driven by four support rollers through individual 18.5kW geared motor units. The single-fuel burner is an energy-efficient Oertli Induflame MIB-601 type which runs on kerosene. An aggregate temperature measuring system is located in the drum outlet.
The plant's dust-collection system is rated at 77,000Nm3/h and achieves emission levels of less than 20mg/m3. A pre-separator collects any coarse dust created during the drying process for delivery to the hot-stone elevator feed boot, while the plant's reverse-air bag-filter system collects any remaining fine dust from the dryer and screen for delivery, via screw conveyors and an elevator, to the reclaimed filler buffer silo. Clean air is released to the atmosphere through the plant's 35m high exhaust stack. While the cladding of the mixing tower was carried out by Ammann during plant erection, responsibility for enclosing and cladding the dryer and filtration section, and the plant's main stairway, was placed with Annan-based John Hope Engineering Ltd, who managed to successfully complete this challenging and intricate task in April last year while the plant maintained full production.
Hot aggregates are transported from the dryer up to the screen at the top of the mixing tower by a 32m vertical bucket-type elevator driven by a 30kW geared motor. Material discharged from the elevator passes, via a transfer chute, into a six-deck vibrating screen driven by a pair of external eccentric shafts and two 11kW motors. The hot storage section beneath the screen has a total capacity of 120 tonnes and comprises eight bins (32mm, 20mm, 14mm, 10mm, 6mm, dust, sand and bypass). The bins are fully insulated and all of them, except the bypass, are fitted with continuous level indicators and an overflow chute. Discharge is by an electro-pneumatically activated door on each bin to accurately regulate material flow to the aggregate weigh hopper, from where the aggregates are discharged directly into the mixer.
Accurate weighing out of ingredients is achieved by separate load-cell mounted weigh hoppers, comprising a 4,000kg capacity aggregate hopper, 600kg filler hopper, and 420kg bitumen vessel. Mixing takes place in a 4,000kg capacity twin-shaft compulsory mixer, driven by two 45kW geared motors through a V-belt and synchromesh transmission. Although the mixer has a nominal rated capacity of 240 tonnes/h, Hillhouse say it has achieved throughputs of up to 270 tonnes/h without difficulty. An infrared asphalt temperature measuring sensor is situated at the mixer outlet.
Mixed material is transferred from the mixer, via a movable chute, to the hot-mix storage silo inlets. Providing a total storage capacity of 140 tonnes, the hot-mix silo comprises two electrically heated storage chambers and a direct loading compartment arranged longitudinally, as well as an oversize/overflow compartment. This bin arrangement, together with a wider than normal weighbridge supplied by John White & Son and located directly beneath the hot-mix silo, facilitates efficient load out with very little spillage. Load out is further enhanced by a one-way traffic system together with an LED driver information display and weighbridge entry/exit traffic light control. 
Bitumen is stored adjacent to the plant in three electrically heated and fully insulated 80m3 capacity vertical tanks which are designed to consume minimal energy. The bitumen system allows for the accurate blending of the three grades held on site. Filler is stored in a two-compartment vertical silo which holds 95m3 of reclaimed filler in the lower section and 77m3 of imported filler in the upper section. Excess reclaimed filler can be discharged from the silo via a screw conveyor and vehicle loading bellows arrangement. Provision has also been made for the storage and dosing of granulated fibres and pigments. 
Recycled asphalt planings are screened on site using mobile screener and can be incorporated in asphalt mixes in varying proportions up to a maximum of 30%. The screened RAP is fed by wheel loader into a covered 10m3 capacity hopper equipped with a vibrating grid and 7m long dosing belt. This discharges on to a 14m inclined transfer conveyor which, in turn, feeds into a 29m vertical bucket elevator. At the top of the elevator the RAP is discharged into a buffer silo before being fed directly into the mixer via a discharge belt with weigh scale and an inlet chute flap. Steam generated by the addition of the cold RAP into to the hot mix is ducted to the dust-collection unit by a highly efficient stream-extraction system.   
The entire plant is controlled by an Ammann as1 microprocessor control system which is 'second to none' in terms of its ease of use and functionality, according to operations manager Justin Gill. The modular system controls and displays all plant functions, including storage of recipes, plant parameters, and production, operational and energy usage data. A special recycled asphalt software module automatically adjusts asphalt mixes to suit the RAP input. Full statistical reporting is also available, as is online maintenance by Ammann specialists in Switzerland. The system is housed the weighbridge control cabin which overlooks the plant.
Markets and future developments
According to Hillhouse Quarry Group, the new asphalt operation in Cambuslang has more than exceeded their expectations in its first year. 'Glasgow Asphalt allows us to supply materials well beyond the city itself and significantly improves our ability to service our valued customers with quicker turnaround times and timed deliveries,' said Mr Gill. 'It really has opened up the Central Belt and other new markets in Scotland.'
In particular, the Glasgow Asphalt operation is expected to play a significant role in local authority framework contracts. The new plant is also well placed to play a major supply role in the £500 million M8/M73/M74 motorway improvement works, which are expected to require up to 600,000 tonnes of asphalt products over a two-year period.
Looking ahead, Hillhouse say they are aiming to become more self-sufficient in the supply of raw materials. Currently, all coarse aggregates used at the Glasgow Asphalt plant come from Hillhouse Quarry, while the sand is purchased from various sources. However, Hillhouse Quarry Group have recently been granted planning permission for the opening of a new 4-million-tonne sand and gravel site near Muirkirk, in East Ayrshire.
Acknowledgement
The editor wishes to thank Hillhouse Quarry Group for permission to visit Glasgow Asphalt and, in particular, Justin Gill, operations manager, and Gordon Hogg, plant manager, for their help in the preparation of this report.
Everyone at Hillhouse Quarry Group would like to send Graeme Caulfield their best wishes for a swift return to full health.