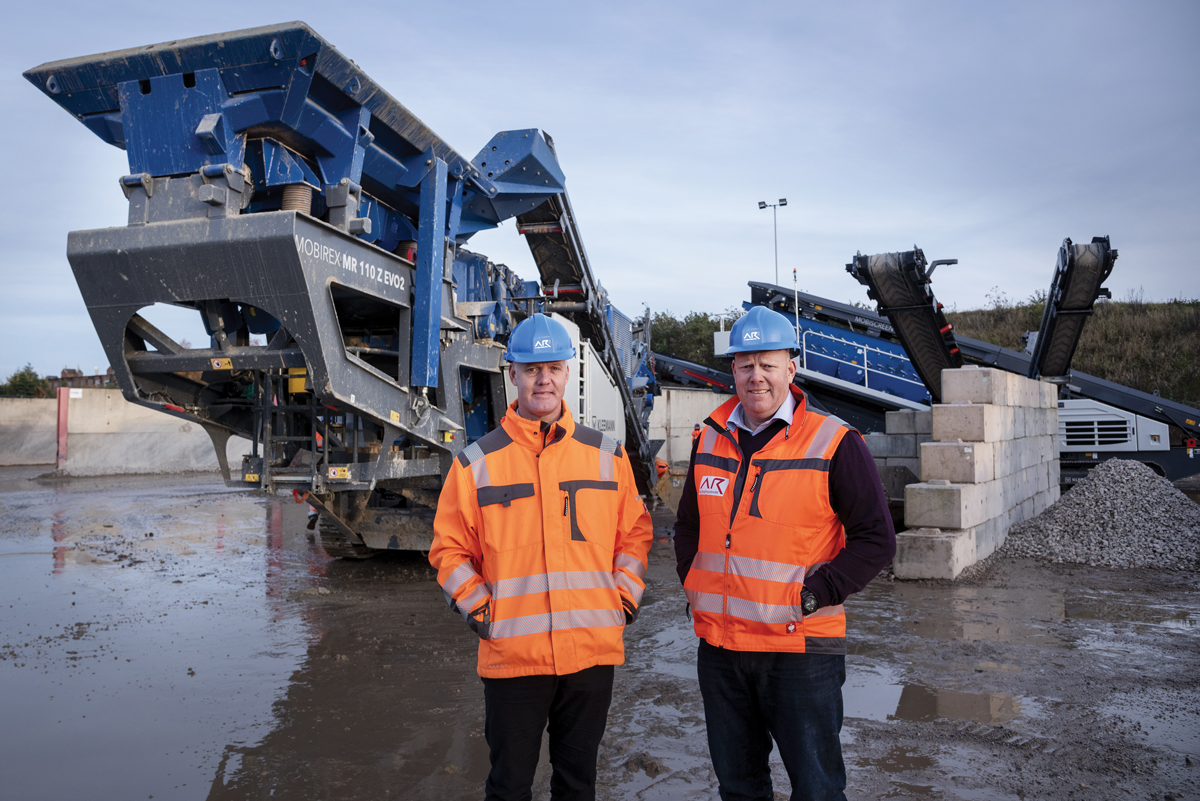 First published in the February 2020 issue of Quarry Management as Investing for the Future 
Strong investment in plant, machinery and personnel have all been key factors to the success of AR Demolition, which has propelled the business to the top tier of demolition/recycling firms in the UK. QM spoke to Richard Dolman, the company's managing director, about the importance of its ongoing fleet renewal programme and operating machines that are productive, fuel-efficient and environmentally friendly
Family-owned specialist contractors AR Demolition have grown rapidly since they were established in 2007 by current managing director Richard Dolman and his cousin Andrew Thompson.   
Today, the Nuneaton-based company has become one of the leading service providers of its kind in the Midlands region, with a diverse portfolio that includes waste-management, earthworks, remediation, decontamination and contract crushing and screening.  
Whilst demolition still remains at the core of the company's operations, an increasingly important growth area of the business for AR Demolition is the supply of recycled aggregates. 
In 2018, AR Aggregates, a subsidiary of AR Demolition, recycled around 180,000 tonnes of construction and demolition (C&D) waste, which were reused on building, infrastructure and civil engineering projects. 
To recycle waste material arisings from C&D projects efficiently and cost-effectively, it is essential for aggregate producers to have the right processing equipment in place that delivers maximum productivity, reliability and uptime. 
AR Demolition have indeed developed a strong reputation for holding and utilizing the latest and most advanced plant and equipment across their fleet, as demonstrated by the company's ongoing investment programme that has seen its machinery renewed every three years.   
The recent addition of a new Mobirex MR 110 Z Evo 2 impact crusher and a Mobiscreen MS 953 Evo mobile screening plant from Kleemann is a clear example of the firm's proactive approach to continually update its aggregate processing/earthmoving fleet whilst catering for the needs of its customers. 
Supplied by Wirtgen Group UK, the cutting-edge machines – which represent an £800,000 investment – have been put straight to work at AR Aggregates' Urban Quarry, in Leicester, to keep up with recycled aggregate demands from customers and to meet any future requirements for increased production.
The latest Kleemann mobile equipment for AR Demolition follows significant spend on new plant and machinery in the past few years, including: a trio of high-reach demolition-spec Kiesel excavators worth £1.5 million; and 35 service vehicles for key staff (eg engineers, supervisors, managers etc) as part of their fleet-replenishment programme.  
The track-mounted crushing and screening plants from Kleemann will not only ramp up AR Aggregates' recycling productivity, but also continue to support the company's commitment to providing innovative technologies and processes that maximize materials recovery, reduce waste volumes and, ultimately, increase the value of recycled products from C&D waste.   
With the waste-recycling sector becoming an increasingly competitive marketplace, Richard Dolman said businesses need to focus on sustainability, embrace technological innovations and be well equipped if they are to stay ahead of the game.  
'As part of our long-term strategy to stay competitive, meet customer objectives and address sustainability goals, being 'eco-conscious' has now become an integral part of everyday working practices within AR Demolition,' he commented. 
'Andrew [Thompson] and I are keen for the demolition and recycling sector to help develop new ways of thinking, which can be adopted across the construction industry. Demolition – like UK construction and its related sectors – can be set in its own ways and, as such, there is a danger that if it doesn't evolve, it will get left behind.'
Mr Dolman continued: 'Whether it is through new demolition techniques, a greater focus on health and safety or exploring ways to develop a circular economy, our industry has an important role to play in creating a truly sustainable construction sector both in terms of the economy and the environment.'
One of AR Aggregates' key goals is to provide a local source of high-quality, affordable recycled products all year round for the growing construction market in the Midlands and surrounding regions. 
Due to the different incoming feed materials and varying quality standards that have to be met at the company's Leicester recycling site, the Kleemann Mobirex MR 110 Z Evo 2 and Mobiscreen MS 953 Evo plants were chosen and brought in to improve the overall production cycle at the facility, from increased tonnage capacity and superior grain quality to operational flexibility.
AR Aggregates are no stranger to operating Kleemann machinery. Having had positive experiences of running a Kleemann mobile jaw crusher in 2014, followed by an impact crusher in 2017; Mr Dolman and his team felt confident that their fleet would reach the next level if the older models were replaced with the latest Kleemann crushing and screening machinery developments. 
'The decision to stay with Kleemann was quick and straightforward,' said Mr Dolman. 'They are the Rolls-Royce of mobile crushing and screening equipment, delivering high-quality materials processing solutions for key market segments such as recycled aggregates.'
The operational requirements of AR Demolition meant they also wanted a mobile plant that can be used across their varied activities, whether it be at sister company AR Aggregates' Urban Quarry, landfill/excavation sites, or crushing and demolition projects.
'Equipment flexibility is key to our business, so it is vitally important that when we invest in new aggregate processing machinery; it is able to function efficiently and cost-effectively at a recycling centre or on a demolition site,' commented Mr Dolman. 
'The Kleemann mobile crusher and screen ticks all the right boxes for AR Demolition, bringing commerical benefits to our business operations while also being of great benefit to the environment.'
As specialist contractors, AR Demolition work very closely with customers to help develop sustainable solutions that can assist them in meeting their green agendas and improving their environmental performance (eg low-carbon footprint, ensuring zero waste to landfill, recycling more C&D waste from demolition contracts etc). 
Mr Dolman added: 'The continued success of the company is, and has always been, built on working in partnership with our clients; providing the best possible service from pre-planning right through to completion. It's a reputation that we're keen to maintain and enhance, as we evolve into a far more customer-centric business.'
Demonstrating this customer-driven approach to providing cutting-edge solutions has helped AR Demolition/AR Aggregates become the preferred contracting partner and supplier to some of the biggest players in the UK construction industry. 
Sustainability and responsible sourcing have undoubtedly changed how the construction and quarrying sectors operate today, and Mr Dolman argues that an increase in collaboration across the whole supply chain could speed up the search for solutions to tackling keys issues like energy efficiency and climate change.
'Everyone has a role to play and our fleet renewal programme and investment in the latest equipment demonstrates how a relatively small contractor can become a beacon of operational and environmental standards,' he said. 
'We understand that we have a valuable role to play in providing recycled materials to fulfil the demand for aggregates as the UK looks to invest in developing its infrastructure and housing stock. 
'Indeed, recycling and repurposing of materials has never been higher on the social and political agenda. In the current climate it is, therefore, essential that all industries look at how they can make a real impact in avoiding sending materials to landfill and by reducing their carbon emissions.'
The mobile plants from Kleemann have already proved their worth to AR Aggregates, reprocessing C&D waste – such as demolished brick, concrete, tiles and glass – into a range of recycled products, including 6F2 crushed material and MOT Type 1 (re-used as infill and sub-base).
A diesel-direct-electric drive system on the Mobirex MR 110 Z Evo 2 impact crusher has also provided lower-running costs (as much as 15%) and a reduced carbon footprint for the company. Such new features will ensure AR Demolition's modern, high-tech fleet of plant and equipment is as environmentally focused as it is productive, efficient and versatile. 
Looking ahead, Mr Dolman is clearly excited by the future growth potential for the business and the opportunities in the region's recycled aggregates market. 
Thanks to an ongoing equipment renewal programme, and a first-class reputation for delivering environmental practices and site management health and safety, AR Demolition aim to remain at the forefront of game-changing improvements in safety, demolition and aggregates processing technologies.