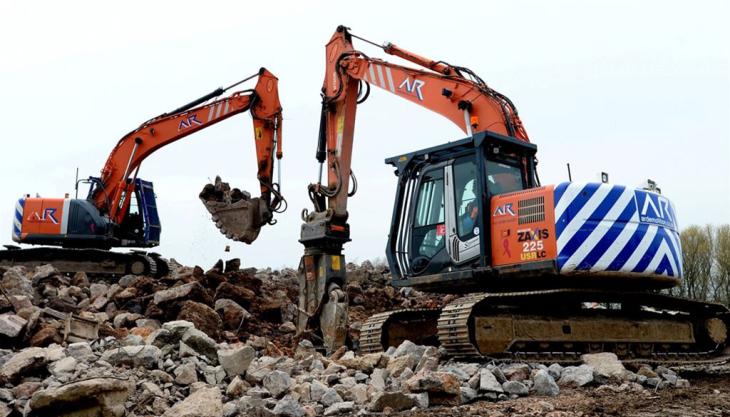 Demolition specialist enjoys financial turnaround as new team improves profitability
A NEW leadership team at East Midlands-based AR Demolition, one of the country's most innovative demolition contractors, has reported a return to significant profitability at the posting of the company's most recent financial results. 
AR Demolition have emerged from a challenging changing period in the past couple of years, with a reduction of labour costs and subcontractor spend leading to encouraging accounts. The results followed a period of underperformance in 2019, leading to a turnaround process which saw a new joint ownership and management team in place, and tighter control over projects. 
Now the company – led by managing director Mike Henderson, financial director Matt Munro and CEO Richard Dolman – is returning to significant profitability. Group turnover of more than £10.7 million in the year ending June 2021 saw EBITDAE earnings of around £920,000. The business, which was founded by Mr Dolman in 2007, has also invested significantly in machinery, vehicles and yard facilities over the past 18 months. 
Mr Henderson, who joined the senior management team in late 2016, commented: 'It's been a period of turbulent growth over the past few years, and we're pleased to report today some positive results from the end of 2020 and the beginning of this year, despite the Covid crisis. 
'That puts us in a strong position for the rest of this year and into 2022, based on our order book and continued careful management of our expenditure. We're focusing on tendering for profitable work, while tightening our control over projects.  
'The result is going to be decreased costs relative to turnover. We've steadied the ship now and have managed to put in the building blocks for the future. With the new plant and yard facilities, we're ready to proceed to the next level.' 
Mr Dolman added: 'We've had our difficulties over the past few years but we're already seeing the green shoots from our efforts and I'm confident that, between Matt [Munro], Mike [Henderson] and I, we can guide the business forward to further success.'