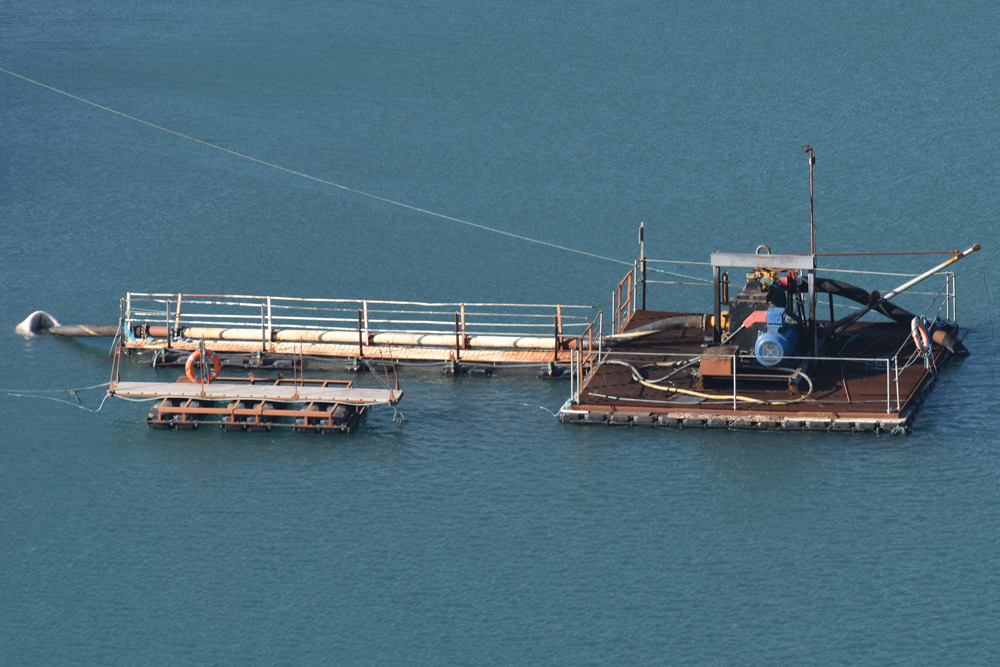 First published in the February 2018 issue of Quarry Management
James Dodds, director and chairperson of Envireau Water, discusses the new regulatory arrangements and outlines the steps operators will need to take
On 31 October last year Defra (Department for Environment, Food & Rural Affairs) and the Welsh Government announced that the Transitional Arrangements for licensing of the historically exempt abstractions for quarry dewatering in England and Wales would come in to force on 1 January 2018.
The removal of exemption of quarry dewatering from abstraction licensing was first proposed in about 1998 and was discussed in Environment Agency consultations in the early 2000s. By 2002 the situation had progressed and the mechanism to remove the quarry dewatering exemption was included in the Water Act 2003.
Since 2003 the introduction of the regulations needed to implement the changes have been 'six months away'. There were periods of greater activity and lesser activity, periods when it was clear that it was not six months away and periods when it seemed very close. The continual changes and crying wolf meant that most, if not all, of the sector put all thought of the matter behind them and got on with other things. On 31 October last year that all changed. It was not the introduction of the regulations that surprised everyone, but the very short timescale between announcement and implementation. 'You have two months' was the message.
For those that want or need to know, the key documents are:
Government response to consultation on changes to water abstraction licensing exemptions in England and Wales: New Authorisations
The Water Act 2003 (Commencement No.12) Order 2017
The Water Abstraction (Transitional Provisions) Regulations 2017
The new regulations introduce two situations. The first is where you are dewatering now (or strictly speaking were on 31 December 2017) or had been within the last seven years. In this case, you will fall into the Transitional Arrangements – more about this later. The second is if you have or plan to dewater after 31 December 2017, or are looking to increase the amount you want to dewater, in which case you must have an appropriate abstraction licence in place before you start.
There are three types of licences: a full licence; a transfer licence; and a temporary licence. A full licence is required if you are abstracting more than 20m3/day and are using the water, eg for dust suppression, wheel washing, domestic use, product washing etc. A transfer licence is used where water is moved from one place to another, without an intervening use. In most cases dewatering would require a transfer licence. A temporary licence is used to abstract over a fixed 28-day period.
If you fall into the Transitional Arrangements, and most operational quarries will, a valid application for a 'dewatering licence' (strictly speaking a Transfer Licence) must be accepted by the Environment Agency (EA)/Natural Resources Wales (NRW) by 31 December 2019. The EA/NRW will then have up to three years to issue a licence. During this period, you will be able to continue dewatering.
In practice, 31 December 2019 is not the critical date. It is imperative that EA/NRW have validated the application by this date. Therefore, to allow time for review and, if necessary, discussion, applications should be submitted by August 2019. The EA has sent letters to operators requesting submission by July 2018. This seems a little early, unless data are easily to hand.
In determining the applications, Defra/Welsh Government expect EA/NRW to take a 'light-touch, risk-based approach' and for Natural England to follow this line. It is currently understood that once the two-year period has closed, EA/NRW will determine the applications together with other applications that also fall under the regulations, in order to be consistent across all applicants. However, it is expected that the first licences will be issued to sites where the most challenging or complex situations exist.
A key part of the application will be evidence of dewatering and the quantities of water that have been abstracted. A range of evidence will be acceptable, but it is important to consider the robustness of the data in the context of any environmental issues associated with the dewatering. Examples of evidence are:
Meter readings
Physical dimensions of a transfer channel (no control)
Physical dimensions of a transfer pipe (appropriately sized and positioned)
Flow rates for abstraction equipment
Pump of known capacity and pumping hours
Outputs from QA systems or Abstraction Programming Systems.
In addition to volumes, it is likely that the EA/NRW will need to consider possible impacts on the environment. If your site has undergone an assessment as part of a planning application, ROMP review or similar in the last five years, it is likely that water management and dewatering will have been considered and that assessment will be adequate for the abstraction licence application. As reports or assessments get older, however, it is possible they will no longer be appropriate, and if over 10 years old, a new assessment may be required.
The Transitional Arrangements do not cover new dewatering operations or increases in dewatering abstraction rates/volumes. In these situations, it is important that a licence is obtained before the operations start or volumes increase. It can take five months or longer to obtain licences. Where increases in dewatering rates and volumes are required, the best approach will be to submit the Transitional Arrangements application in parallel with the application for the extra amount. This will help the EA/NRW to understand the situation and it is possible that the Transitional Arrangements application will be determined early.
There is an important exemption from the licensing requirement. That is, a site where the level of water in the excavation depends wholly or mainly on rainfall. This situation could occur, for example, in tight rock quarries and clay pits. 'Wholly or mainly' is not defined and there are ongoing discussions about how this may be operated in practice.
In order to prepare for the application process, between now and the end of March you should undertake a high-level review of your abstractions and answer the following questions:
Am I dewatering mostly rain?
How much groundwater am I abstracting?
Has the site been through a recent planning application/ROMP review where a water study was completed?
Is the site in the vicinity of a conservation site?
Make sure that you sketch a simple flow or process diagram of your site to show the water circuits, where water is abstracted, and where it is used (and for what purpose), stored and discharged. On complex sites there may be circuits within circuits. It is important to identify any abstractions that require a full licence, as these need to be applied for now.
You should then be prepared for the following:
To start submitting applications from July 2018 once the processes are clear
To collect site-specific data to support complex applications from spring 2018 to spring/summer 2019.
Due to the speed at which the regulations have been introduced the EA/NRW are still in the process of catching up with some of the practical details and disseminating information. It is important, therefore, that before submitting applications, you review the information available and, if necessary, obtain professional, independent advice. The Mineral Products Association and Institute of Quarrying are preparing and publishing information, and your local EA/NRW office may be able to help. Many consultants are also familiar with the issues. 
For more information visit: www.envireauwater.co.uk