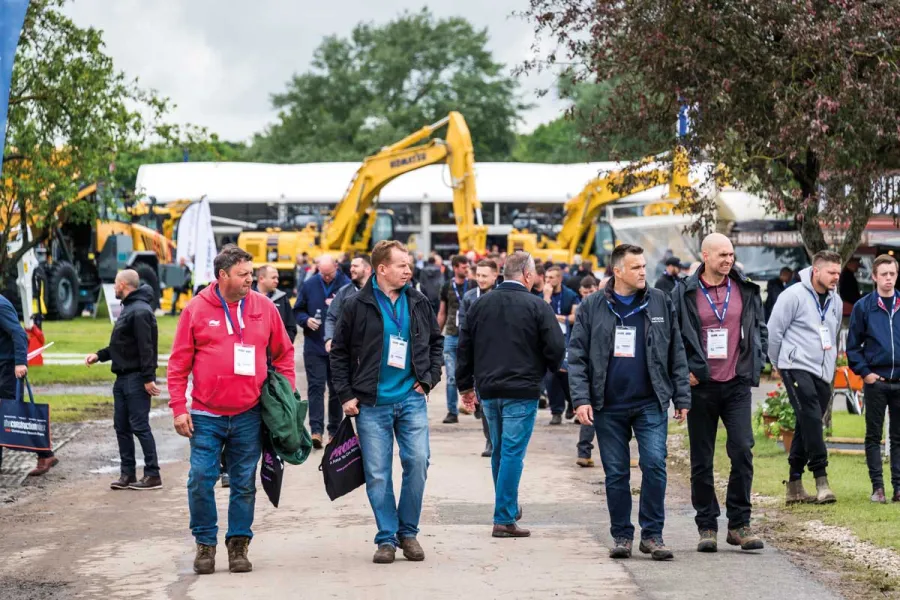 Plantworx visitors
First published in the May 2023 issue of Quarry Management
The Ultimate Showcase of Construction Equipment and Technologies
With the organizers promising that this year's Plantworx event will be the 'ultimate' one-stop-shop for the latest and greatest construction equipment and technologies, the fifth biennial construction machinery exhibition is all set to take place from 13–15 June at the East of England Arena and Events Centre, in Peterborough, where industry leaders, manufacturers, and enthusiasts will gather together for a three-day showcase presentation of new equipment, technologies, and techniques in the construction industry.
In today's world, face-to-face business events have taken on a new level of importance, as evidenced by the record-breaking visitor attendance at the recent Conexpo event in Las Vegas, and Plantworx 2023 is likely to be no exception. With a plethora of innovations and new zones, visitors will be able to witness all the latest cutting-edge market offerings and new technological developments.
Rob Oliver, director of Construction Equipment Events Ltd, said: 'Following the successful Conexpo event, Plantworx is poised to be the premier platform in the UK for unveiling new products from an array of leading original equipment manufacturers (OEMs). As the industry witnesses a surge in companies embracing electric-powered solutions and making strides in hydrogen technology, Plantworx 2023 is set to be the most impressive edition yet, showcasing ground-breaking machines and cutting-edge innovations that will propel the construction sector into the future.'
To date, Plantworx is nearing 300 exhibitors, 35% of whom will be making their show debut. The original space allocation for digging demonstrations is now sold out, as are non-digging demo stands (ie those exhibitors who are demonstrating but not breaking ground).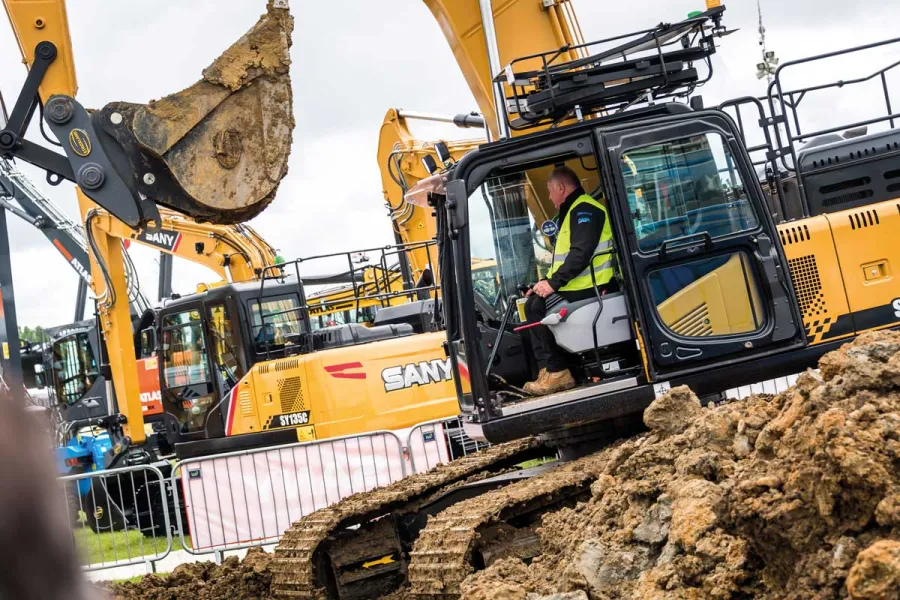 Digging demonstrations remain a key element of Plantworx
Many industry-leading OEMs have confirmed their presence at the event. Visitors can expect to see exhibits from renowned brands such as Hitachi Construction Machinery and Chinese heavyweights XCMG, who will be at Plantworx for the first time. Other big names on the list include Caterpillar, Hidromek, Hydrema, Hyundai, SMT (Volvo), Takeuchi, Sany, Sunward Europe, LiuGong, Mecalac, Yanmar Compact Equipment, Kubota, Develon (formerly Doosan), Bobcat, Avant Tecno, Bomag, Brokk UK, Merlo, Manitou and many more.
The versatility of a machine is often determined by its attachments, and Plantworx 2023 has a record number of attachment manufacturers exhibiting. Leading brands such as Miller, Digbits, Arden Equipment, Worsley Plant and BPH Attachments will showcase their latest products, alongside leading tiltrotator companies such as Engcon and Steelwrist.
These days, however, it is not just about the machinery and attachments, it is also about the telematics, cameras, and sensors that work together seamlessly to enhance construction equipment functionality. Today, through a single platform, contractors and fleet owners can monitor the location, usage, and health of their equipment in real time, all in one place, and Plantworx 2023 has attracted a host of businesses in this field, including equipment management platform experts MachineMax, ABAX Telematics and Plant Tracking, as well as connectivity solutions companies Plinx and Onwave.
To showcase the latest advancements in construction equipment technology, Plantworx is also launching the Get Connected Technology Zone, a dedicated space for technology providers in the construction equipment sector. The inaugural Futureworx exhibition in 2022 proved a great success, demonstrating the industry's appetite for new technology. As a result, the Futureworx team will recreate an element of this event at Plantworx. The Get Connected Technology Zone will showcase the technology and innovation that will drive productivity on construction sites of the future.
Safety is also an essential consideration in the construction industry. With the inherent risks that come with building and infrastructure projects, safety measures must be put in place to protect workers, the public, and the environment. Companies including Spillard Safety Systems, Xwatch Safety Solutions, GKD, SiteZone, Leica, and Prolec are at the forefront of providing innovative safety solutions to the construction industry, and all of them will be showcasing their latest safety solutions at Plantworx 2023.
Meanwhile, the popular Simulation Zone at Plantworx, a cutting-edge training platform for construction professionals, is making a welcome return in 2023 after its successful debut in 2019. This innovative and interactive zone offers an opportunity for novices and experienced operators alike to upskill and learn machine control systems, advanced technologies, and gain insights into the world of construction. Plantforce Rentals, pioneers in simulation training, have introduced this ground-breaking technology to tier-one contractors on major infrastructure and rail projects, including HS2 and Hinkley Point C, and will once again be spearheading The Simulation Zone.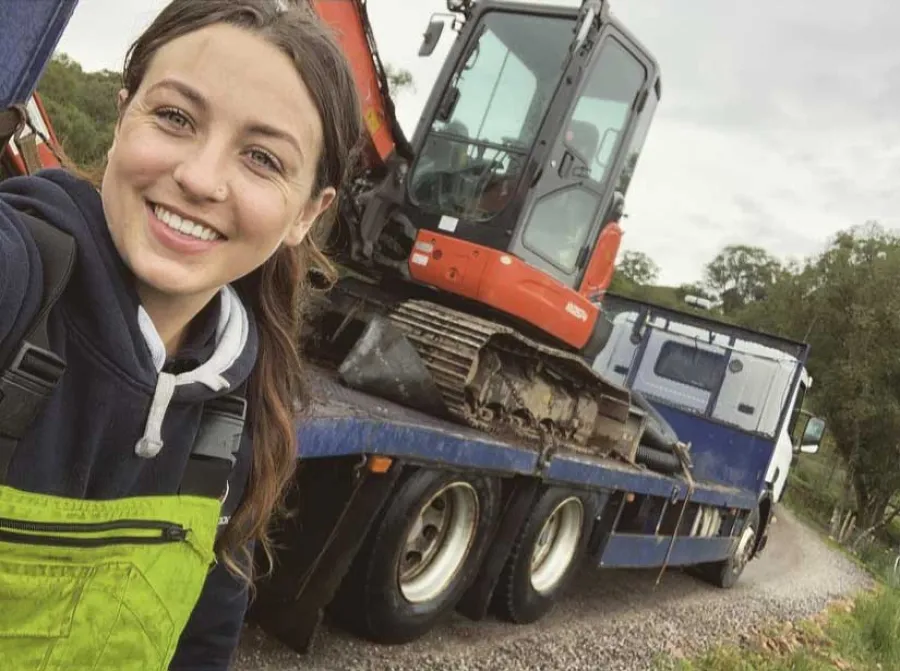 Digger Girl Amy Underwood
This year's event will also feature guest appearances by prominent UK social media influencers in the construction field, include Digger Girl (Amy Underwood), Bearded Excavation (Lloyd Peckham), Lord Muck (Kurt Mills), and Tracklass1 (Lana Edwards), amongst several others.
Also, as at previous Plantworx shows, the last day of the event (Thursday 15 June) is dedicated to students, with no minimum age limit on Student Day. Pupils, students, and graduates from all colleges offering courses within the sector are invited to attend the event. Young people visiting Plantworx will gain a better understanding of the UK construction sector, as well as the plant, equipment and technologies used in the industry. They will also learn about how the equipment on display helps to build infrastructure around the country.
In addition, representatives from HS2 and National Highways will be in attendance with their recruitment teams. Also, Flannery Plant Hire will be bringing their mobile skills hub, complete with machine simulator and careers advisers. This is particularly relevant given the current skills shortage in the construction industry.
For more information about Plantworx 2023 or to register for a free fast-track entry ticket to the show, visit: www.plantworx.co.uk