Showcase of construction equipment and technologies at the East of England Arena and Events Centre
WITH the organizers promising that this year's Plantworx event will be the 'ultimate' one-stop-shop for the latest and greatest construction equipment and technologies, the fifth biennial construction machinery exhibition is all set to take place from 13–15 June at the East of England Arena and Events Centre, in Peterborough, Cambridgeshire, where industry leaders, manufacturers, and enthusiasts will gather together for a three-day showcase presentation of new equipment, technologies, and techniques in the construction industry. With a plethora of innovations and new zones, visitors will be able to witness all the latest cutting-edge market offerings and technological developments.
Rob Oliver, director of show organizers Construction Equipment Events, said: 'Plantworx is poised to be the premier platform in the UK for unveiling new products from an array of leading original equipment manufacturers (OEMs). As the industry witnesses a surge in companies embracing electric-powered solutions and making strides in hydrogen technology, Plantworx 2023 is set to be the most impressive edition yet, showcasing ground-breaking machines and cutting-edge innovations that will propel the construction sector into the future.'
To date, Plantworx 2023 is nearing 300 exhibitors, more than 100 of them making their show debut. Many industry-leading OEMs have confirmed their presence at the event, including Hitachi Construction Machinery and Chinese heavyweights XCMG, who will be at Plantworx for the first time. Other big names on the list include Caterpillar, Hidromek, Hydrema, Hyundai, SMT (Volvo), Takeuchi, Sany, Sunward Europe, Liugong, Mecalac, Yanmar Compact Equipment, Kubota, Develon (formerly Doosan), Bobcat, Avant Tecno, Bomag, Brokk UK, Merlo, Manitou and many more.
Plantworx 2023 also has a record number of attachment manufacturers exhibiting. Leading brands such as Miller, Digbits, Arden Equipment, Worsley Plant and BPH Attachments will showcase their latest products, alongside leading tiltrotator companies such as Engcon and Steelwrist.
These days it is not just about the machinery and attachments, it is also about the telematics, cameras, and sensors that enhance construction equipment functionality. Today, through a single platform, contractors and fleet owners can monitor the location, usage, and health of their equipment in real time, all in one place, and Plantworx 2023 has attracted a host of businesses in this field, including equipment management platform experts MachineMax, ABAX Telematics and Plant Tracking, as well as connectivity solutions companies Plinx and Onwave.
To showcase the latest advancements in construction equipment technology, Plantworx is also launching the Get Connected Technology Zone, a dedicated space for technology providers in the construction equipment sector. In addition, the popular Simulation Zone at Plantworx, a cutting-edge training platform for construction professionals, is making a welcome return this year after its successful debut in 2019.
Safety is another essential consideration in the construction industry. Companies including Spillard Safety Systems, Xwatch Safety Solutions, GKD, SiteZone, Leica, and Prolec are at the forefront of providing innovative safety solutions to the construction industry, and all of them will be showcasing their latest safety solutions at Plantworx 2023.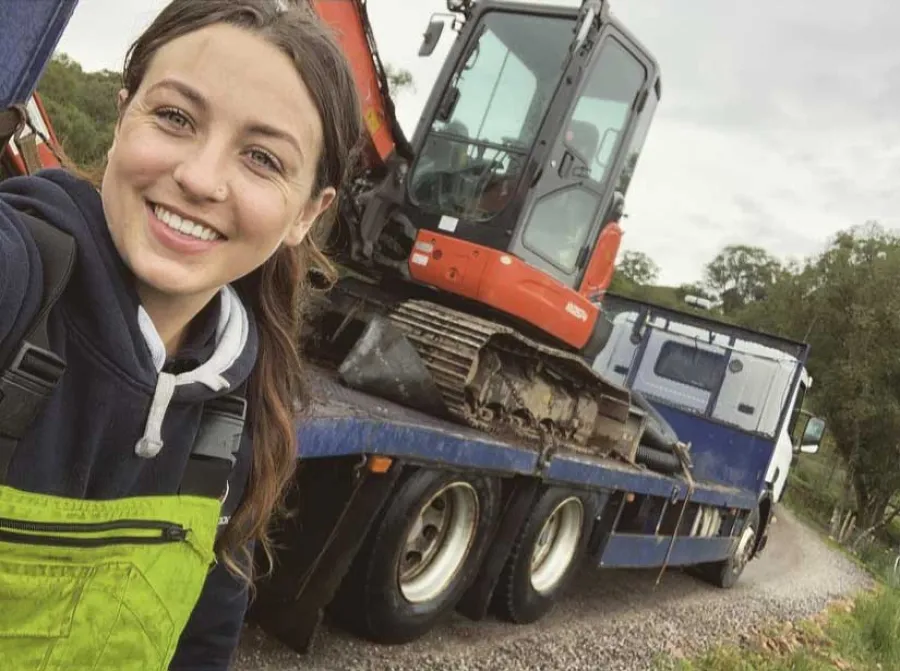 Digger Girl Amy Underwood
This year's event will also feature guest appearances by prominent UK social media influencers in the construction field, include Digger Girl (Amy Underwood), Bearded Excavation (Lloyd Peckham), Lord Muck (Kurt Mills), and Tracklass1 (Lana Edwards), amongst several others.
Also, as at previous Plantworx shows, the last day of the event (Thursday 15 June) is a dedicated Student Day. Pupils and students of all ages and graduates from all colleges offering courses within the sector are invited to attend the event to gain a better understanding of the UK construction sector, as well as the plant, equipment and technologies used in the industry. 
For more information about Plantworx 2023 or to register for a free fast-track entry ticket to the show, visit: www.plantworx.co.uk