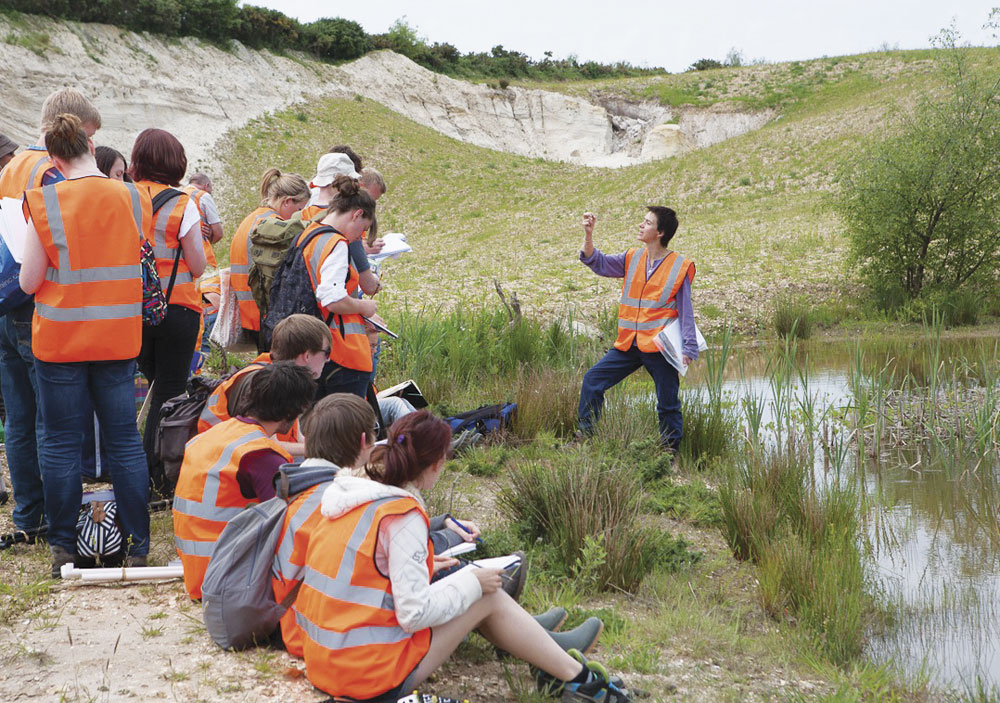 Students and academics from UK universities are carrying out research projects at four Hanson sites this summer. The projects are competing for the Quarry Life Awards, an international competition organized by Hanson's parent company, HeidelbergCement Group, to raise the understanding of the biological value of mineral sites both during and after extraction
Enhancing biodiversity is a core part of HeidelbergCement's sustainability strategy and 80 research projects across 18 countries are contesting the awards, which have a total prize value of €200,000. The UK winners will be announced in September and will go forward to the international competition.
Two of the projects are being carried out at Wykeham Quarry, an active sand and gravel site near Scarborough. With some restored gravel workings now used as fishing lakes, the quarry is close to the river Derwent and includes woodland and wetland, much of which is classified as a Site of Importance for Nature Conservation (SINC). 
Dr Alison Dunn of Leeds University is evaluating the potential for Wykeham to be a conservation site for the European water vole and white-clawed crayfish. A recent Environmental Impact Assessment identified opportunities to enhance biodiversity by promoting the conservation of these protected UK Biodiversity Action Plan (UKBAP) species. To conserve the white-clawed crayfish, the Environment Agency is carrying out translocations to isolated 'ark-sites' and Wykeham may be suitable.
The Leeds team will survey the habitat (water chemistry, food etc), look for signs of voles and check there are no invasive non-native signal crayfish. The team will then assess the suitability of the site and provide recommendations for habitat modification to allow conservation of these species. 
The second study at Wykeham is looking at restoration of quarry lagoons for wader conservation. Under the direction of Dr Phil Wheeler, Dr Will Mayes and Dr Sue Hull from the Centre for Environmental and Marine Sciences (CEMS) at Hull University, the project aims to discover how the age of sediments and their physicochemical characteristics affect their invertebrate populations and, consequently, their use by birds. 
'Wetland habitats have declined across Europe in recent decades and this has had a significant effect on populations of many lowland birds,' said Dr Wheeler.
'Aggregate extraction sites produce fine sediments deposited in lagoons and these provide potentially ideal foraging habitats for wading birds: the silty muds should support significant populations of the freshwater invertebrates that make up their diet, potentially making up for losses in their habitat elsewhere.
'As a result of our studies, we plan to produce practical recommendations for the improved management of these sediments so that quarry managers everywhere can increase the biodiversity value of silt lagoons.' 
Warmwell Airfield, an exhausted quarry of 48ha located six miles from Dorchester, is the location for the third UK study. Surface glacial gravels and underlying Bagshot sands were worked at the site from the 1970s onwards and taken to nearby West Knighton Quarry for processing. Around half the site was restored in the early 1990s and, following final excavation in 2010, the remainder was reinstated in summer 2011.
Dr Anita Diaz from the School for Applied Sciences at Bournemouth University is leading an investigation into the contribution made by different habitats created at the restored quarry site to key aspects of biodiversity conservation and ecosystem service provision. More than 40 students from Bournemouth University visited the site in May 2012 to analyse the impact different habitats have on biodiversity gain and human well-being. 
The data-collection aspect of the study has three parts, each involving different groups of students. The first group is recording which plant species have colonized the newly created and more established restored grassland and ponds. The second group is assessing the current suitability of habitats for high conservation value animals (including UKBAP species). And the third group is reviewing the current suitability of habitats for providing human well-being as an ecosystem service. 
'One of the ways we are approaching this is a large-scale survey where we have asked people from all over the country, and beyond, to respond to our Countryside Survey questionnaire, which asks them what habitats they most like visiting and why,' said Dr Diaz. 
'We have been running this for over two months now and have more than 300 replies already.' 
Barton-under-Needwood Quarry, location of the fourth UK study, is one of the largest sand and gravel operations in the Trent valley. The mineral deposit is a river terrace sand and gravel, laid down during glacial and inter-glacial periods, which averages 6m in thickness and is covered by 2m of soil and overburden. Restoration of the site commenced in 1990 and the current working area is being returned, progressively, to a multiple-use scheme, with parts of the site already restored to create watersports lakes.
Teams from University College London and Loughborough University have joined forces to evaluate the potential of creating a multi-resource lake complex to promote aquatic biodiversity. 
'The redevelopment of former extraction sites offers an exciting opportunity to offset the loss of lake and wetland biodiversity hotspots lost as a result of agricultural drainage and urban development,' said David Ryves of Loughborough University. 
'Our proposal aims to establish the current saprophyte and invertebrate biodiversity and water chemistry of a series of quarry lakes and ponds at Barton. Some of these have been restored as shallow lake and wetland habitat for more than 20 years and so offer a maturing series of sites. These would then form the ecological basis for further work to monitor, manage and develop the lake complex, to enhance their aquatic biodiversity and realize their potential.'
The fifth UK project is at Padeswood cement works, near Mold, a large site that includes partially restored landfill areas, farmland, a sports ground, woodland and residential properties. 
A team from Edge Hill University, led by Kate Jackson and Gerry Lucas, is carrying out a study entitled: '4Bs for biodiversity: bees, birds, bugs and butterflies'. The project is investigating the feasibility of converting a redundant cement kiln dust landfill cell into a biodiversity park for the benefit of the wider community. The prime objective will be to generate an educational (first school to doctoral level), scientific and relaxational resource from an abandoned industrial site, while maintaining the benefits of existing biodiversity.
'Apart from hard scientific objectives, we are interested in assessing how the plethora of interest groups can direct and determine the directions and benefit realization of biodiversity-based restoration projects,' said Mr Lucas.  
'This is a unique project to create an area of up to 18 habitats from the three currently in existence,' he added.  
A panel of judges, which includes representatives from Buglife and Nature After Minerals (NAM), will assess the five projects with all five going forward into the international competition.
For more information visit www.hanson.com/uk