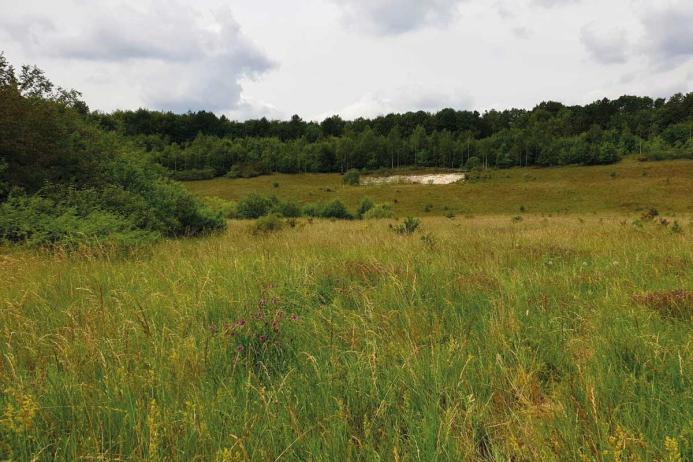 First published in the May 2023 issue of Quarry Management 
Cemex demonstrate a commitment to protecting and enhancing biodiversity and the natural environment, as Sean Cassidy, sustainability manager at CEMEX UK, explains
After another year of heatwaves across the country, there are few among us who could deny climate change and the impact it is having on our lives. Indeed, data from the Met Office shows that 2022 was the UK's overall warmest year on record, with a top temperature of 40.3°C recorded in July.
Not only can this heat make for uncomfortable working conditions (particularly for those of us on site in full PPE), but it is also having a detrimental impact on our wildlife and local environment. Combined with habitat loss, invasive species, pollution and overexploitation of land, global biodiversity is in crisis and needs our help.
Just because we work in the building materials industry does not mean that we cannot or should not get involved with matters of wildlife conservation. Cemex recognize that, across the world, we as an organization can play a part in helping reverse this loss.
Cemex have a well-defined and robust approach to managing sustainability-related issues, thanks to their climate action strategy, Future in Action, which aims to see the company operate as a net-zero business globally by 2050. And it is recognized that biodiversity and restoration play a key part of this, forming one of the six main pillars of Cemex's Environmental, Social and Governance (ESG) model.
As quarry operators, we should be aware of the benefits we derive from functioning ecosystems and understand that the variety of habitats at our sites play an important part in their creation or preservation. As a business, we are responsible for the stewardship of a substantial landbank, which will continue to develop within a larger operational footprint.
To support these ecosystems, we all need to make a concerted and strategic effort to prioritize biodiversity protection and restoration in our operations. To do this, we need to adopt what Cemex have deemed a 'Nature Positive' approach. A Nature Positive strategy will allow us to manage our operations and land, to minimize impact and restore nature both alongside and integrated with our other corporate commitments.
During 2022, Cemex UK developed a pilot framework to measure progress in their nature positive efforts. The mapping includes the assessment of:
Existing habitats and habitat quality

Ecosystem integrity, to understand the scope of restoration activities

Climate resilience and vulnerability

The impact of invasive species

The presence and status of species of conservation concern.
Having created the context with this baseline information, targets can be set that will enhance or improve habitats.
The roadmap defines a phased approach to assess company assets, beginning initially with priority sites, and will identify a trajectory that in 2030 delivers equivalence with the baseline (2020) and brings about a significant increase in areas of restored habitat and a corresponding improvement in species diversity by 2050.
The adoption of our Nature Positive strategy demonstrates Cemex's commitment to protecting and enhancing biodiversity and the natural environment beyond the company's operations, as we believe it is fundamental to mitigate climate change through healthy natural ecosystem services.
However, for those who are not convinced of our responsibility to support the natural world, it is important to remember it is now a legal requirement as Biodiversity Net Gain is implemented as part of the new Environment Act. The law requires most new developments to deliver at least a 10% gain in biodiversity, which is demonstrated by using the new Biodiversity Metric (4.0) released by Natural England. Creating a surplus potentially allows an operator to register restored habitats which could then be used by other developers to offset a loss created during the design and build of a new site. This will be a new market for Biodiversity Units (BDU's), similar to existing markets for carbon credits.
As someone who is passionate about protecting and enhancing wildlife systems, I see the legal obligation to implement Biodiversity Net Gain as a positive development that will help ensure our world can continue to be enjoyed for generations to come. We should all certainly be aware that requirements of this nature are likely to increase as the UK progresses ever closer to its national net-zero goal – operators in the quarrying industry cannot afford to be left behind.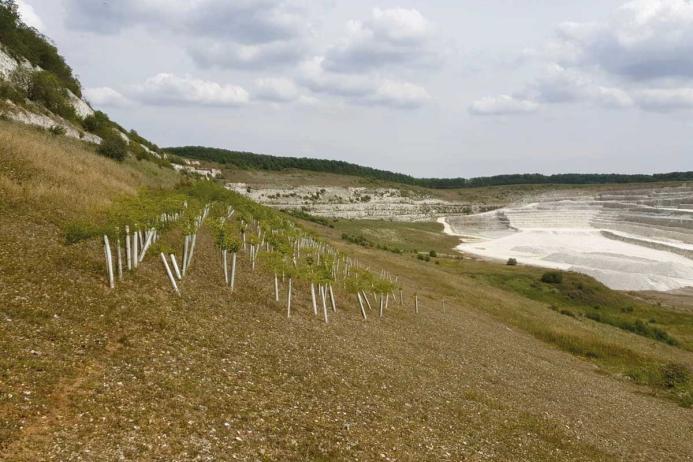 Biodiversity spotlight – Cemex UK, Kensworth Quarry
Kensworth is a large chalk quarry in south-east England which supplies the raw feed for Rugby cement works. Working with the RSPB, a Biodiversity Plan was produced to enhance biodiversity on site. After some analysis and field work it became apparent that by modifying the proposed restoration scheme the quarry could not only deliver more biodiversity, but also cost savings.
Historically, the land had been farmed and the original soils, which are now in bunds, were rich in nutrients from the past use of fertilizer. The approved restoration requires the creation of a UK priority habitat – chalk grassland. The original soils would be counter-productive because the nutrient levels would not support the target species for the grassland, with levels of soil nutrients such as nitrogen and phosphorus being too high.
Therefore, working with the restoration team and the quarry managers, the RSPB developed an alternative plan which would keep the bunds of older soil in situ and instead create much thinner soils or even allow vegetation to regenerate naturally on the bare chalk surfaces. This would allow more than 150ha of priority habitat to be created. In place of a mainly pastoral restoration, the new scheme creates a dry chalk valley at scale, creating habitat that has the potential to support some of the UK's most rare and endangered species – notably wildflowers and invertebrates.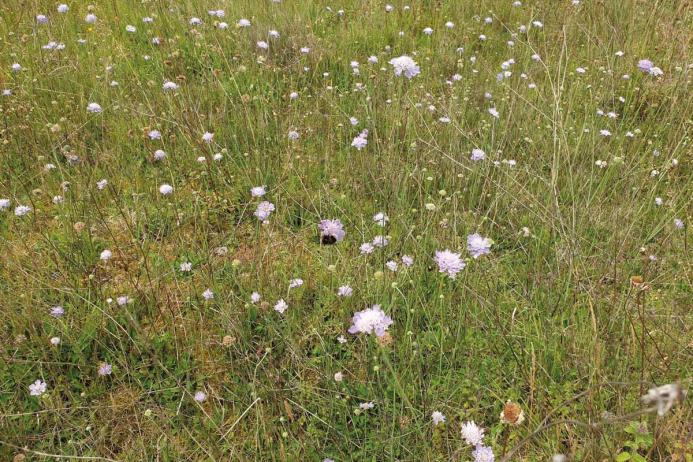 The consequence of retaining the soils in situ is that 460,000m3 of soil will no longer be moved. A change in the tree-planting regime will also encourage regrowth of chalk grassland, as well as delivering a reduction in aftercare costs. The proposal will benefit nature and reduce costs significantly, representing a good case study where a sound business decision is also benefitting biodiversity.
The new habitats will bring other benefits. The chalk is a primary aquifer and water drawn from it is used to supply potable water. Improving the quality of the habitat will also contribute to an improvement in groundwater quality due to better filtration as rainwater percolates through established root systems, and with the removal of the impact of sprayed chemicals associated with some farming practices. The habitat will also become a carbon store, helping to mitigate the impacts of climate change – an estimated 23,324 tonnesC(eq) will be stored in the biomass when the site is fully restored.
Biodiversity spotlight – Cemex Spain, Pastor Quarry
With financial support from the EU Life Programme, Cemex worked with the University of Barcelona to produce a restoration scheme designed to deliver water-based solutions at this site. This supports both regulating and supporting ecosystems services. Spain has seen a succession of droughts over several decades, resulting in areas with acute water scarcity problems. The droughts have also created problems with soil wash-out when rain falls on hard dry surfaces. This not only impacts water availability for native species but also loads existing rivers with sediment which affects water quality. Solutions that mitigate these impacts are key in helping to adapt to the environmental conditions.
The quarry at Pastor supplies clay to the cement plant at Alcanar. As areas within the quarry become worked out plans are drawn up to restore the land. If left unrestored the area can contribute to existing problems by creating hard surfaces that allow any retained water to evaporate. It will also add to water quality issues by allowing heavy rainfall to carry solids into the nearby river Ebro – the quarry sits close to the river's delta. For this reason, Cemex worked with the University of Barcelona to design a restoration programme that would help retain water on site and improve the quality of any discharges off site. The programme saw the creation of a new valley with associated freshwater and wetland habitats.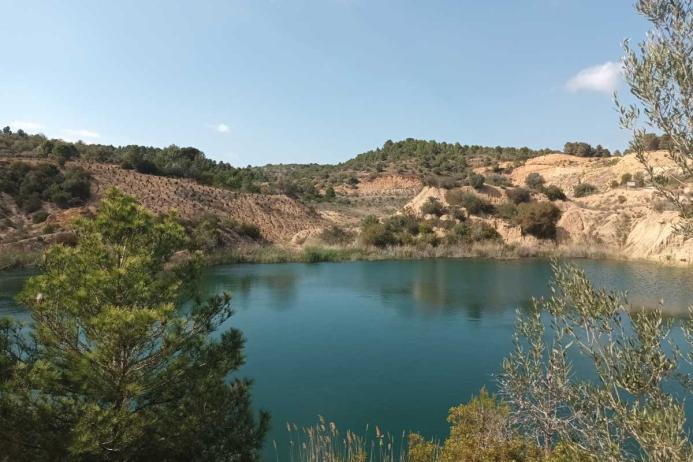 As the habitat has developed the site has seen a dramatic increase in the effectiveness of this nature-based solution. As well as providing a solution to the issues around water, the restored site is seeing a corresponding increase in biodiversity. The freshwater body and associated wetland have allowed plants and wildlife to flourish, with a significant increase in the number of bird species recorded on site. The area is also starting to support other key ecosystem functions, such as carbon sequestration and cleaner air. Pastor Quarry represents another good example of where the solutions provided are helping nature to recover.