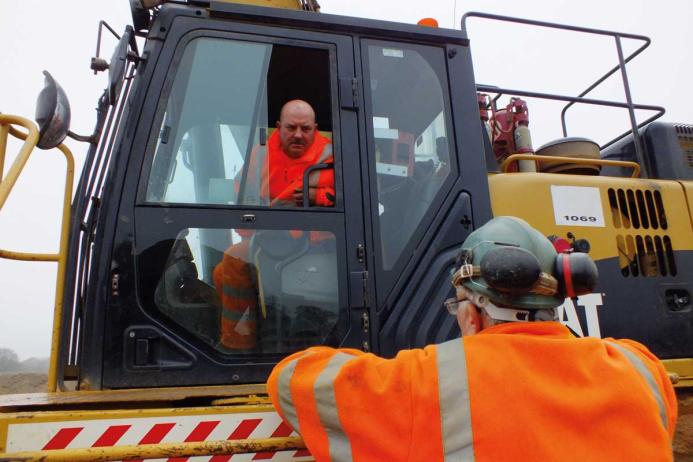 First published in the January 2023 issue of Quarry Management 
Delivering value for the people working in mineral products
There is an urban myth in the industry that if you survive the first 12 months, you will last a lifetime. Yet, even as working patterns and career pathways evolve making this myth look outdated, we do know that this industry has a strong track record of lifetime careers. Underpinning that is the need to provide personal development for the people working within it. 
The mineral products industry employs 81,000 people[1]. Ensuring that this sizeable workforce retains the knowledge and skills required for the industry to be safe, efficient and tackle the significant issues facing all industries around decarbonization, are two organizations working collaboratively to support training and career development at all levels.
Both the Mineral Products Qualifications Council (MPQC) and the Institute of Quarrying (IQ) provide recognized qualifications across different aspects of operations. These qualifications are designed with set pathways to take an individual's knowledge from Level 2 (apprentices and operatives) to Level 7, (senior management, SHE qualifications). Frequently based in core competency areas around health, safety and the environment, these qualifications offer a sound basis for anyone looking to progress their career.
Research[2] suggests that failure to train is a significant obstacle to attracting talent, with 28% saying they would not even apply for a job with an employer who does not invest in learning and development, whilst 31% would leave a job if their employer changed or reduced their training. 
For Generation Z, typically those born between 1995 and 2010, the link between relevant learning and competitive advantage is even more highly valued, with 76% of this digital-savvy generation seeing it as key to their development and career opportunities[3].
MPQC chief executive officer Viv Russell explains: 'Expert training is not a 'nice to have', it's a sector imperative. We work in complex, technical and potentially high-risk environments, therefore the training, assessments, qualifications, and standards MPQC and IQ provide address several critical needs. Significantly, a lack of investment in training and personal development increases the risk of costly errors and accidents at work. Both IQ and MPQC have proven track records of guiding people on their knowledge journeys and providing industry-specific expertise which works in everyday situations. This instils confidence into people, enabling them to progress more rapidly via continuous professional development.'
This thirst for knowledge to underpin career growth is demonstrated by William Hardcastle MIQ, quarry manager UK with Omya Group, who has seen rapid career change and progression, with both MPQC qualifications and the networking benefits of IQ membership proving useful every day in his working life.
'The training that was offered by MPQC at the start of my journey allowed me to raise my understanding attached to my responsibility and the regulation by completing courses such as the ACOPS and blasting for non-blasting managers. This, in turn, enabled me to be able to complete more complicated awards such as VQ SHE Level 6 as I further progressed in my career. While the CPD tool has been vital for self-awareness and development, the ideas and education and contacts I have attained from fellow members at events such as IQ branch technical evenings and CPD days have not only made me better, they have also made our sites and, most importantly, our people safer.'
Mr Hardcastle also realizes that training is an ongoing process for personal growth: 'I am currently studying for a business management degree and want that to help me understand the business and the industry at a commercial level. If I see a gap or an area for improvement in my knowledge, by using tools such as the IQ Skills Wheel, then I will always engage to find that right training to grow and maintain competence and continue to love and be happy working in the extractives industry.' 
2023 is MPQC's 40th anniversary, maintaining its 'not-for-profit' membership. With a strategic mantra for 2023 of competence through collaboration, MPQC exists to address the most pressing issues the sector faces, raised via its Council and Board. 
Two strands will dominate MPQC's work in 2023: the vital need to engage and attract the next-generation workforce and the need to verify competencies for on-site workers. This will be done via two industry-focused approaches, Minerals Matter and MP Connect.
Emily Noble, future careers manager with Minerals Matter, says: 'There has long been an industry need for a structured approach to informing and engaging with the next generations of the workforce to ensure succession. Minerals Matter has been created as our industry approach, to demonstrate collective responsibility, to inform and educate young people and adults about the benefits of working in the sector and, importantly, their opportunities to shape the future of the sector and shape their world.
'Minerals Matter is very much about future skills and leaders; to empower a culture change within industry and education to secure a thriving workforce that holds the necessary skills required to innovate for the future. That is why we have taken the critical step of working closely with education and government agencies, to articulate our industry needs and ensure that we are inspiring the next generation and career changers.
'We are equipping industry ambassadors to work with young people and deploying strategic enterprise advisers to support career leaders in schools and colleges to elevate their careers programmes. We want students to see what they can be, and equipping teachers and parents/carers with the knowledge and labour market information to support young peoples' next steps will also be a vital part of this work. We know that seeing the lived experiences of young people working in the sector does resonate with students.' 
Additionally, to address competency on site and to enhance safety, MPQC will continue its rollout of the MP Connect smartcard and app which is used by drivers, contractors, and companies to verify individual competencies of anyone working at a quarry. Underpinned by a powerful database of knowledge, MP Connect checks competence at the weighbridge. It provides detailed information and assurance to operators, with real-time audits of an individual's abilities. More than 12,000 MP Connect cards are currently in use in the sector, being a mandatory entry requirement on many sites.
The Institute of Quarrying is the international professional body for quarrying, construction materials and the related extractive and processing industries, with more than 5,500 members across the globe. Its core belief in lifelong learning underpins its approach to Continuing Professional Development (CPD) as a way of people keeping their qualifications up to date. 
Julian Smallshaw, head of education and standards at IQ, explains why CPD is considered so important: 'According to the Government Office for Science[4], investment in skills and encouraging lifelong learning can have a positive impact on productivity.
'Knowledgeable employees are more productive, better motivated and more loyal; 94% of employees would stay at a company longer if it invested in their career development, and 80% of people agree that learning new skills would make them more engaged.'
Membership grades are determined based on a combination of qualifications gained and industry experience and there is a 30h minimum mandatory requirement to maintain technical, member, and fellowship (TMIQ, MIQ, and FIQ) grades. IQ audits 10% of its membership each year to check this requirement is being met.
To help members with their CPD, IQ has introduced tools to help record and analyse their CPD activities. Accessible via the IQ Connect App and member portal, members can see and download reports that show how many CPD activities they have logged, and the time allocated to those activities. Easy visual triggers show where entries still need additional information to be recorded before they can be submitted, and a status bar shows how a member is progressing towards their current annual target.
IQ chief executive officer James Thorne says: 'Both IQ and MPQC have proud histories of developing and maintaining industry training needs, each successfully raising standards and fulfilling the extractive sector's need for a safe, competent, and sustainable workforce. In doing so, each organization delivers increased value to the mineral products sector through the products and services it provides.' 
References
MPA 'Profile of the Mineral Products Industry', 2020 Edition
Digits survey, HR World, published 16 February 2022
LinkedIn Workplace Learning Report 2021, Forbes, published 2 March 2021
Government Office for Science, Future of Skills and Lifelong Learning, published 27 November 2017.