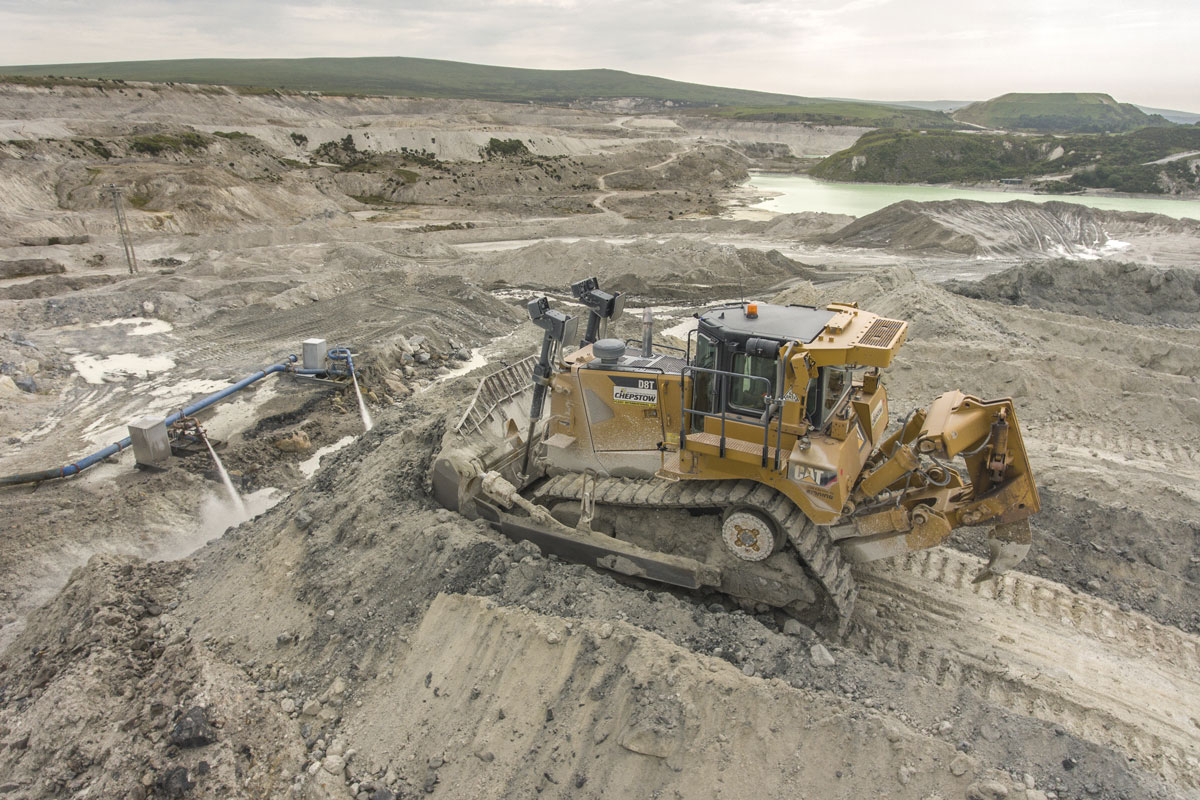 First published in the August 2022 issue of Quarry Management 
Chepstow Plant International reveal emissions benefits of hydrotreated vegetable oil
Businesses in every industry sector are searching for ways to reduce their carbon footprint through the use of alternative fuels, new technologies and revised working practices. This is being driven as much by shareholder and customer pressure, as it is by government legislation. A company's environmental, social, and corporate governance (ESG) policy will be constantly seeking ways in which the business can reduce the impact of its activities.
Plant hirers and contractors using smaller equipment have for some time been able to employ electric mini-excavators and a variety of alternative fuel-powered machinery. Yet, as the weight of the equipment rises, the alternatives to conventional diesel power reduce. Emissions legislation has been effective, with EU Tier 5 diesel engines reducing CO2, nitrogen oxides (NOx) and particulate number (PN) to incredibly low levels. But further reduction while employing diesel is not going to be an easy or a low-cost task.
One option that is proving increasingly popular is HVO (hydrotreated vegetable oil), which promises up to a 90% cut in CO2, with a significant reduction in CO, PM, and NOx. Available through many regular fuel suppliers, HVO is around 30–35p per litre more expensive than regular site diesel but could offer companies a route to a lower-carbon future.
Contracting and quarry equipment giant Chepstow Plant International (CPI) operate a varied, substantial range of heavy plant equipment. Around 85% of their machinery is working on long-term contracts, predominantly in quarry operations. CPI operate a large volume of Volvo equipment, supplied by UK dealer SMT, with the fleet supported by machines from Komatsu, Caterpillar, Bell, and, more recently, Liebherr. As the company has a policy of continual fleet replacement, usually after two or three years of operation, more than 90% of the equipment is already EU Tier 5 emissions compliant. Indeed, CPI have invested £75–100 million in Tier 5 machinery to date, with additional equipment on order for delivery later in the year.
To establish the extent of the promised lower emissions of HVO and to ensure that extended use has no long-term detrimental effect on construction and quarrying equipment, CPI decided to put the fuel through two extensive trials. Working with their fuel supplier Watson Fuels and HVO provider Green Biofuels (GBF), Chepstow undertook the trials at Sibelco's Cornwood china clay/kaolin operation, in Devon, and Tarmac's Tyttenhanger sand and gravel quarry, in Hertfordshire.
'Covid gave us a lot of time to reflect on what we are doing,' said Ross Hayward, head of assets and commercial at CPI. 'We have always tracked our fuel burn and emissions in line with our own policies and our customers' KPIs. We like to push ourselves and the industry in safety and environmental matters, and we want to be a key market driver, so we started looking into HVO in April 2021.'
The company contacted all the equipment manufacturers to check that their Tier 5 machinery could run on HVO and found that the fuel is a drop-in replacement for diesel, with no requirement for adjustments to engine settings or other operating factors on a Tier 5 machine. However, the trials would not only be a test of the fuel itself, but also of the infrastructure that would be required to deliver it to site.
'We wanted to know, does HVO do what it says? We wanted a long trial, at least six months, to see what would happen to our assets, and we wanted to see the impact on fuel burn,' said Mr Hayward.
'We sat down with our customers and discussed the trial. We knew there would be extra costs involved but believed there would be savings down the line. The two sites selected 10–12 production machines, all of which were Tier 5 powered. This included Volvo A30s and A40s, 35- and 45-tonne crawler excavators, two 75-tonne excavators, and several dozers. In each case, CPI decided to run half of the equipment on regular diesel and half on Green Biofuels' GreenD+ HVO.
'Whilst it may have been our machines undergoing the trials, it can't be stressed enough that without the collaboration and support of Sibelco and Tarmac, from start to finish, this trial wouldn't have been possible. I would say that it's been a tremendous success between the three companies to get to this stage, with this data and subsequent results,' said Mr Hayward. 
'There were, of course, potential significant risks around asset downtime due to fuel contamination, storage, and delivery, that we all discussed prior to the trial. However, the partnership with GBF and Watson Fuels provided an optimal storage and delivery solution, using the latest telemetry offering, de-risking the approach. Collectively, we all pushed forward with the trial, with the view of being in a primary position to support the industry towards Net Zero.'
The company hired in new bowsers for the HVO, to prevent cross-contamination, and fuel filters were changed on all the test machines. There are no additional service requirements for HVO operation and filter change intervals remain unchanged. In each case, the trial took place over at least a six-month duration. GBF provided extensive emissions testing at the start of the trial, at the half-way point, and at the end, with three emissions tests carried out on each machine.
'They saw the benefits of having the long-term study results for the quarry industry,' said Mr Hayward. 'We also worked very closely with Volvo on this, with weekly reporting through their Active Care System suite of machine monitoring, and CareTrack.'
At the end of the trial, the machine manufacturers inspected the equipment to ensure that there had been no additional wear and tear, which would have affected performance and residual values. In each case, not only were the machines working unchanged, but the exhaust systems were considerably cleaner after operating on HVO.
The first thing to be confirmed by the trial results, was that using GreenD+ from GBF provided a 90% reduction in CO2 across the overall end-to-end supply chain. This figure is measured through monitoring well to wheel (WTW) emissions, not purely tail-pipe emissions. The carbon content contained within HVO is produced through photosynthesis of the original plants that are grown to create the fuel. Therefore, when HVO is burnt, the CO2 released represents a minimal net increase in overall atmospheric CO2, even when the production and transportation of the HVO is factored into the calculations. By comparison, the emissions emitted by a diesel engine are, in effect, 'new carbon' from the fossil fuel, rather than pre-absorbed carbon.
To further enhance the trial, GBF and CPI elected to measure tail-pipe emissions, to monitor the local environment. These results showed a further reduction in CO2 for the HVO machinery of 8.2–16% (against a Tier 5 diesel engine). In addition, PN was down by 30–90%, NOx production dropped by 10–39%, and CO was down by almost 100%.
'We were really interested in the NOx, PN and CO reductions. It was obvious which machines were running on HVO as the exhaust pipes were really clean,' said Mr Hayward. 'The differences between Tier 3B, Tier 5, and HVO are astounding, with some of our trial assets producing cleaner emissions than the ambient air. For us as a company, we want to be running on HVO.'
Of course, many of CPI's machines work on quarry sites where other companies provide the fuel, which has led to in-depth discussions with the company's customers. However, CPI are looking to include HVO as a fuel option in all their new tenders.
'We've said to our customers that our intention is to move across to HVO,' said Mr Hayward. 'We're working with those customers now around the cost issue. But look at the carbon saving over the year. Not only that, but if we factor in the significant reduction in NOx and PN, then we have the potential to substantially improve local air quality across our sites. The impact this could have on both our employees and those working in the industry cannot be emphasized enough.'
At the Sibelco site, the carbon saving over a 12-month period equates to 2,237 tonnes of CO2, and an almost 100% reduction in CO. At Tyttenhanger, there would be enough CO2 saved to offset the emissions of the entire CPI road vehicle fleet for almost four years.
'We've partnered with Chepstow Plant for more than 25 years, bringing a lot of success for both companies,' said Ben Uphill, director of UK clay operations at Sibelco. 'So, when CPI came to us with the trial suggestion, we as a business fully supported it, to help pursue both our and CPI's net-zero objectives.
'Overall, the trial was very successful, with fuel burn in line with diesel performance. There were no adverse effects operationally or mechanically and the emissions results were better than originally forecast. The next challenge for us all now is ensuring that we can procure HVO cost-effectively and start to see the sustainability benefits by switching from diesel.'
Using HVO with Tier 5 machinery revealed no long-term adverse effects on the engine components during regular service work. Indeed, some components were shown to be in better condition, suggesting that running these units for 10,000h on HVO would result in major components being in better condition than those burning diesel over the same time. There was also no loss of power or productivity during the trials, and no noticeable change in fuel burn rate.
'Both we and our customers were watching fuel burn very closely, so we're very confident in the data,' said Mr Hayward.
Chepstow Plant International are making the results of the trials available to other companies within the quarry industry and presented details of the trials at the Hillhead exhibition in June. With such detailed analysis available, the company is convinced that HVO offers a potential fuel for the quarry equipment industry that can help contractors and quarry companies to move towards a cleaner, lower-carbon future.