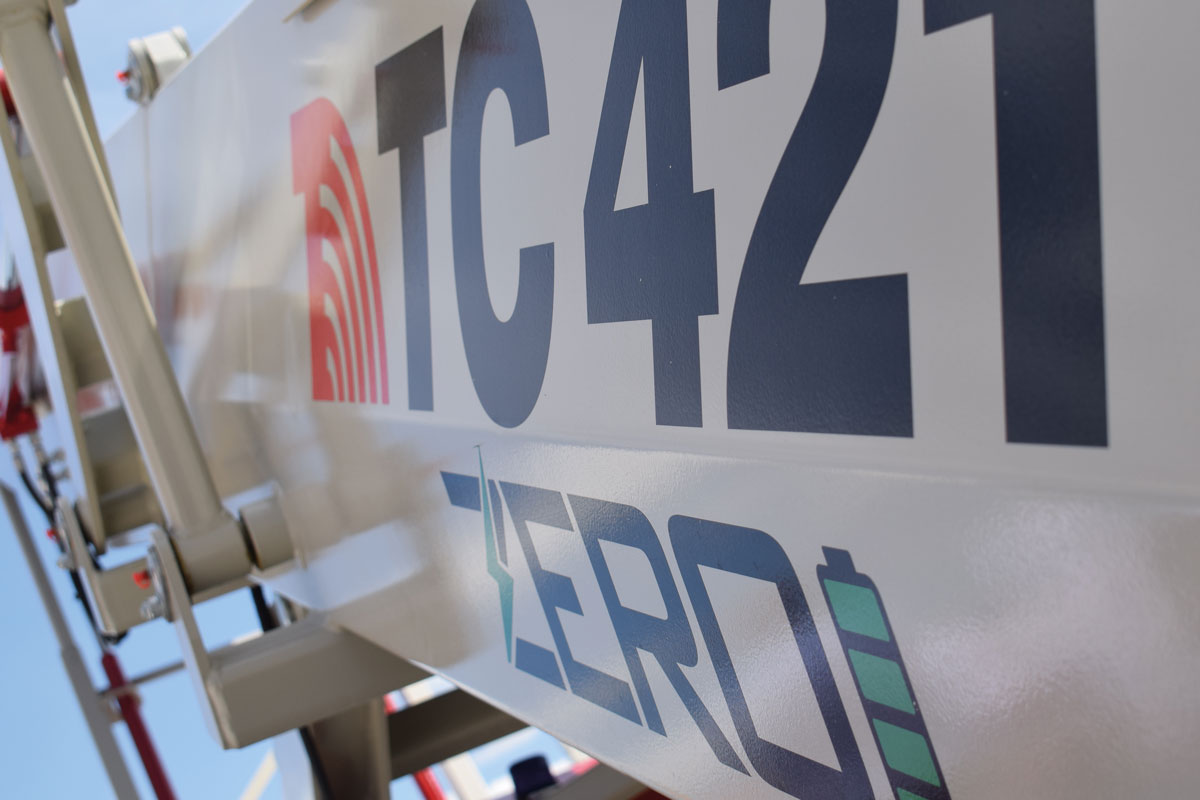 First published in the July 2022 issue of Quarry Management
A step on the road to net zero at Hillhead 2022
Every business involved in the production of aggregates and the use of those materials in construction products, is playing a vital role in an industry-wide drive towards decarbonization, as we travel along the path to net zero. For leading materials producers, that may involve the adoption of cooler asphalt production temperatures, or carbon capture within the production facility. 
However, for many aggregate companies and material users, the focus starts before the production facility, with the equipment that digs, loads, carries, and grades the stone, or which later lays the stone, asphalt, and concrete that those producers create. At this year's Hillhead 2022 exhibition, the drive to reduce fuel consumption, cut exhaust emissions, and progress towards a lower-carbon future has never been more important, or more noticeable. From electric mini-excavators to hydrogen fuel-cells, hybrid operation of crushers and screens, to alternatives to conventional diesel drive, the equipment manufacturing business is working overtime to meet the needs of customers across the aggregates industry.
Reducing fuel consumption
Perhaps the easiest way to cut exhaust emissions is to reduce the amount of fuel that is being consumed. Every litre of diesel that is burned in an engine results in the production of 2.68g of CO2. If you can reduce the amount of fuel used, you automatically cut emissions. However, the only way to drop fuel consumption, without a corresponding fall in performance and productivity, is to increase efficiency.
Bomag's latest BF2000/65 milling machine boasts just such a boost in efficiency, thanks to its lightweight design, its improved hydraulic system layout, and its slim tool-holder design, which creates less resistance and drag in operation. Bomag claim fuel savings of up to 20% could be possible with the 2m wide machine.
There was a similar story on many stands at Hillhead this year, as machine design, component compatibility, and energy saving technologies continue to contribute to fuel savings. Even something as seemingly simple as a fuel pick-up pipe can have a major effect on fuel use. FuelActive's patented floating fuel pick-up, which ensures that the engine is fed only the cleanest fuel from the top of the tank, promises at least a 3% saving in fuel consumption, with a corresponding drop in CO2.
The solution need not even be part of the machine itself. Sitech, the UK distributor for Trimble machine guidance and control technology, can provide contractors with the most efficient way to dig or cut to grade, with minimal overdigging, which results in less fill material being imported to site. 
The latest Works Management technology can be deployed across an entire fleet of dozers, excavators, and compaction machinery, taking design criteria directly from the engineering team to the equipment. Trimble Groundworks can even be used in drilling and piling operations, to ensure that machinery works efficiently and productively, with less waste and minimal use of fuel. 
Alternative fuels
Companies have been trying to find viable alternatives to diesel for many years, with road haulage trucks in particular operating on compressed natural gas (CNG) and a range of plant-based biofuels. The latest of these is hydrotreated vegetable oil (HVO). Available through most fuel suppliers, though at a higher cost than diesel, HVO promises up to a 90% cut in CO2 levels, on a well to wheel basis. It also significantly reduces nitrogen oxides (NOx), carbon monoxide (CO) and particulate matter (PM) from the exhaust.
Recent tests carried out by contracting company Chepstow Plant International, with help from Volvo, SMT, Watson Fuels and HVO providers Green Fuels, have shown that not only does HVO reduce emissions, but it also burns cleaner in the engine, prolonging component life. Despite the additional cost of running on HVO, Chepstow are now working with several customers to introduce the fuel to their quarry sites.
Battery-electric drive
As the operation of equipment becomes increasingly efficient, contractors are looking for a further reduction in fuel use and emissions, which is inevitably leading to battery-electric drivelines as a potential solution. The adoption of battery-electric drivelines is nothing new, of course. Around 14% of the new passenger cars sold in the UK in the first five months of 2022 had a full electric powertrain. Add in hybrid drivelines and more than 50% of the cars sold in the UK so far this year were supplied with some form of electric assistance.
Things are moving more slowly in the plant and equipment market, but they are advancing nonetheless. Mini-excavators, in particular, are increasingly moving to battery-electric drive, with CASE launching 1.5-tonne and 2.5-tonne models with battery power at the show. The CX15EV on the stand was powered by a 21.5kWh lithium-ion battery, driving a 16kW electric motor. This combination promises a full 8h working shift and comes with both regular AC charging and rapid DC battery charging, that will allow a full charge in just 90mins.
Volvo Construction Equipment's UK distributor, SMT GB, also had an electric ECR18 mini on display, alongside an L20 Electric compact wheel loader. A section of the stand was designated as an 'electric village' with live demonstrations, to show how battery-electric machinery can work in real-life applications.
The short radius ECR18 is a perfect example of a machine that can deliver a zero-emission at the tailpipe solution for rental companies and contractors. The 1.7-tonne mini-excavator is powered by a 16kWh battery pack that delivers up to 4h of run time. Recharging can be achieved in as little as an hour with the right infrastructure, so there is the possibility to double the run time within a single working shift.
Of course, compact loaders and mini-excavators tend not to work constantly in a production scenario throughout an 8h day, so the reduced run time will be more than sufficient for many users. Add in the fact that the machines can be used in buildings and tunnels, without a requirement for exhaust fume extraction, and it is easy to see how a battery-electric model can make a positive impact on some sites.
Volvo have committed to be fossil-free by 2040 and the Swedish company is targeting a 30% reduction in CO2 by 2030. To achieve that, everything that the company makes below 5 tonnes operating weight will move to an electric driveline. Volvo insist that equipment up to around 25–30 tonnes operating weight should eventually be possible with a full battery driveline. Indeed, the company has already developed larger models, such as the EC230 electric excavator, with trial machines recently delivered to Norway. Above that, the company is looking at cable-electric for less-mobile equipment and at hydrogen fuel-cells for heavier machinery.
There is no denying that as machinery gets bigger and heavier, so a pure battery electric driveline becomes less viable, for now at least. That said, Hitachi used the Hillhead exhibition as a launchpad for their ZE85, a full-electric 8.7-tonne midi-excavator. Equipped with three 33kWh automotive-style battery packs, the ZE85 boasts a 40kW motor, capable of delivering a 4h run time on site.
The machine is equipped with an automotive-style CCS2 charging interface that can handle rapid DC charging at a rate of up to 150kW. That results in a recharge time of just 35-45mins, or well within a lunchtime break period. To achieve this charge rate, Hitachi are offering customers a KTEG Powertree charging station, to sit alongside the machine. This steel container-based charging point contains enough battery power to fully charge the ZE85 up to 1.5 times each day. 
The charging station can be hard-wired on site, so that it recharges from the mains throughout the day and night, ready to give a fast-charge capability to the excavator during breaks. The ZE85 offers all the performance of the diesel ZX85US compact-radius machine and can be equipped with a Steelwrist tilt-rotator or a Leica 3D machine guidance system, offering all the performance and productivity of the traditional model on site.
Digging equipment is not the only beneficiary of battery power. Compaction specialists Bomag unveiled their first electric rammer at the show, while promising a range of electric plates at the Bauma exhibition later in the year. The BT60e uses battery technology shared with Wacker, to power a 2.3kW motor within the 71kg rammer. 
There are two battery capacities on offer, delivering 20–30mins of running time, or 30-40mins. Charging takes 2–4h, depending on battery size. However, the batteries are interchangeable, so a contractor can have multiple batteries on charge while the equipment is in use.
At the opposite end of the scale, Volvo Trucks had the first road-going FE 6x2 full-electric tipper truck sold to date in the UK on display. Equipped with two electric motors, delivering a total 440hp, the road truck runs a 600V electric system with 2–6 battery packs, depending on use. Equipped with a two-speed gearbox, it is possible to run the 27-tonne truck, which has a 13-tonne payload, for up to 150km. That includes tipping up to five times during the day. 
With a CCS2 DC rapid charger capable of taking a 150kW input, it is possible to recharge the truck in 8h from zero, or overnight. Customer Fox Group have already ordered their second truck for local aggregate delivery use. While the FE is a three-axle rigid model, Volvo also offer the FE as a 4x2, as an 8x4 tipper chassis and in 4x2 or 6x2 tractor layouts.
Hybrid technology
Where full battery electric drive is not yet possible, as the equipment is too large or the recharging infrastructure is not available or inaccessible on site, a growing number of manufacturers are moving towards hybrid powertrains, as a first step along the road to zero emissions. Hybrid is something of a catch-all term, but in most cases, it relates to multiple power sources within the same driveline.
A parallel hybrid uses two or more power sources, such as an electric motor and a diesel engine, working together to drive a machine. The machine can often be powered by one or the other driveline, or both at the same time. 
A series hybrid uses a power source such as a diesel engine or a hydrogen fuel-cell, to charge on-board batteries, which then drive the machine. In most cases the conventional engine never actually turns the wheels or the hydraulic pumps.
Early hybrid equipment included Komatsu crawler excavators, that use an electric slew motor/generator rather than a hydraulic motor. As the machine stops rotating, the energy built up by the braking effect is converted to electrical energy and stored in batteries or, in the case of the Komatsu machines, ultra-capacitors. As the operator calls for power again to drive the machine, the stored electrical energy assists the diesel engine in turning the hydraulic pumps. 
This reduces the energy required from the diesel engine, saving fuel and cutting emissions. Indeed, in Komatsu's first 21-tonne hybrid excavator, it was possible to fit a smaller engine than the diesel model, as the electrical energy contributed so much to performance. The latest hybrid excavator from distributor Marubeni-Komatsu is the HB365LC-3, which was on show at Hillhead. This 36-tonne machine promises fuel savings of up to 20% compared with a conventional diesel machine of this size.
Hybrid technology is also making an increasingly important impact in quarrying equipment, such as crushers, screens, and conveyors. Northern Ireland's Telestack has had a range of mobile conveyors with multiple power supplies available to customers for some years. For many of the company's machines, customers can choose between diesel, dual power (diesel and electric), hybrid drive and a diesel hybrid drive, with electric power for the conveyor. 
In many cases this means using a diesel generator to power the machine during tracking and set-up, then switching to an electric power supply once in working position. The most recent addition to the drive range is the Zero model, which uses electric drive for the tracks, for the power pack, and for the conveyor drives.
Many of the company's Scandinavian customers are already using hybrid drivelines and are now seeking the full electric Zero models. Whilst the electric drivelines are undeniably more expensive, the company claims an 18-month payback is achievable. More importantly, for those companies keen to achieve a zero-emission operation, having a full electric drive is now a major buying criterion.
Powerscreen are offering customers a wide range of power options for their in-quarry screening equipment. With a host of new and updated products on show at Hillhead, Powerscreen's strategy is to have an electric option available for all their models over the coming months.
The new Titan 2300 screener is a case in point. This machine is offered with a diesel/hydraulic drive, or with a plug-in mains electric/hydraulic drive, for those sites with a stable electrical supply. The company claims that the benefits are not only environmental, though that is a driving force for many customers. An electric drive requires no refuelling and there is no requirement for the maintenance of a diesel engine. There is no call for an exhaust after-treatment system and a zero-emission electric drive will allow the screen to work in areas with restricted air flow, such as tunnels, in urban environments, and within buildings.
With UK quarry operators now forced to use regular road-going 'white' diesel, rather than the lower-tax 'red' diesel still available to agricultural users, the cost of operating a fleet of diesel-powered equipment has risen considerably over the last year. For Rubble Master, the option of hybrid technology, on machines such as the RM120X, can lead to up to a 20% reduction in fuel use and a corresponding cut in exhaust emissions.
The Rubble Master solution is a series hybrid, where a diesel generator operates at a consistent, economic engine speed, to power the electric drive motors. Rubble Master are rolling out hybrid technology across their range this year, to meet customer demand. While this does add cost, the company claims that the additional expense traditionally had a two- to three-year return on investment. With rising fuel costs, that payback period has shortened rapidly.
Hydrogen development
While every manufacturer admits that there is no single answer to the net-zero problem, hydrogen is increasingly being mentioned as a potential solution for some types of equipment. This is particularly true in transportation, both in long-haul trucks and in shipping, but it could also be true for larger construction and mining equipment, where there is space to store hydrogen tanks. 
Initially, hydrogen has been used within a fuel-cell, which produces electricity by combining hydrogen and oxygen, with the only emission being water. The fuel cell then charges the on-board batteries, which power the machine. However, manufacturers are now also looking at burning hydrogen as a fuel, in a converted diesel engine, which has a lower cost than a fuel-cell and uses existing components.
The biggest problem for both methods is the infrastructure behind a hydrogen economy, or the relative lack of it. To succeed with a hydrogen power source, businesses first must solve the distribution problem. To that end, it is perhaps unsurprising that some of the companies that are working on hydrogen as a power source, are also investigating how to create and distribute the fuel itself.
Regular Hillhead exhibitors Cummins are developing both hydrogen fuel-cells and hydrogen-burning engines. Critically though, the company is also looking at the generation of green hydrogen, which is produced using renewable energy sources. Cummins currently have a hydrogen fuel-cell production facility in Germany, though at present this is primarily to develop fuel-cells for the rail industry. But this is transferable technology that would be equally valid and usable in mining and quarrying machinery.
Hyundai Construction Equipment are another company taking a holistic approach to hydrogen. Though not present on the firm's stand at Hillhead this year, the company will show a concept hydrogen fuel cell-powered wheeled excavator at the Bauma show later this year. As part of a larger group that already markets hydrogen fuel-cell passenger cars and uses the gas in maritime shipping, Hyundai are working on ways to distribute the fuel along with the machinery, to provide customers with a complete, holistic power solution.
Looking to the future
Manufacturers agree that traditional combustion engines, whether burning diesel or an alternative fuel, will continue to play a major role in powering quarry equipment for at least the next decade. As mentioned, there is no single 'silver bullet' solution to the problem and quarry operators will have to decide which power source, or variety of power sources, will work best for their individual operation.
One thing is certain though, while the road to net zero may have numerous twists and turns, it is only running one way. Quarry operations will have to continue to evolve to meet this challenge if we are to collectively create a net-zero industry. If Hillhead 2022 demonstrated one thing, it is that companies are determined to do just that.