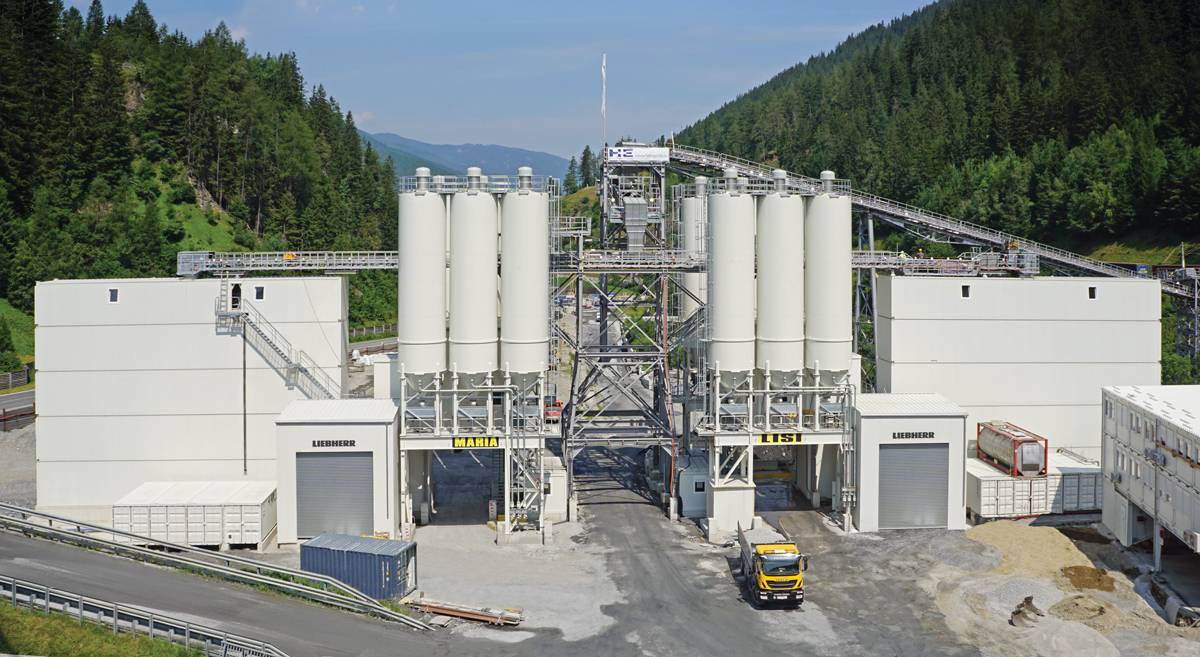 First published in the December 2019 issue of Quarry Management as Double Vision
Two Austrian firms opt for two different twin mixing plant solutions from Liebherr
Two Liebherr Betomix 3.0 mixing plants are currently producing precise concrete formulations for the Brenner Base Tunnel project – one of the most important infrastructure projects for Austria and the European Union. Construction work on the tunnel, which will facilitate a rail link between Austria and Italy, has been under way since 2008. At 64km, it will be the longest underground rail link in the world. Construction is due to be completed by the end of 2027.
One of the largest construction phases on the Austrian side is lot H51 'Pfons-Brenner', where work began in late Autumn 2018. This contract was awarded to a consortium led by PORR Bau GmbH. The excavated tunnel tubes are being secured with plastic and steel fibre-reinforced shotcrete, with the precise concrete mix being adapted to suit the condition of the rock in the tunnel, which varies over its entire length. As such, concrete supply has to be well organized with large quantities delivered reliably and in the ideal formulations with the fibres fully mixed in. The long transport route also has to be taken into consideration.
When planning the mixing plants, large aggregate storage volumes, reliable concrete output, fibre addition and dosing arrangements, limited space for positioning and assembly of the plants, and 24h operation, even in winter, had to be taken into account. Another important criterion was logistics. To this end, special railway tracks were laid for delivery of both the raw materials and the finished concrete.
PORR Bau chose two Liebherr-Betomix 3.0 plants for the mixing facility. Together, these two 3m3 twin-shaft mixers offer a maximum output of around 240m3 of compacted fresh concrete per hour, and thanks to the modular design of the Betomix plant concept, the plants were optimally adapted to suite the local conditions. The storage of large volumes of aggregates within a small footprint was achieved through the use of two new Liebherr high silos. Each of these can store 600m3 of sand and gravel in seven chambers, while 12 binder silos, each with a capacity of 100 tonnes, supply the two plants with the required cement types. The fibre-dosing system, which forms part of the mixing plant, allows the plastic and steel fibres to be dosed separately.
When it came to choosing the plant, PORR Bau say the decisive factors were the quality, modular design and short delivery time for Liebherr mixing plants.
One tower, two plants
Meanwhile, one of Austria's most modern concrete mixing plants has been proving its worth for Fröschl Beton since Spring this year. Once again, the Liebherr mixing tower – this time a Betomat type – was optimally adapted to suit customer requirements. 
Fröschl Beton have been supplying construction sites in the Innsbruck area with ready-mixed concrete for many years, but their 45-year-old mixing plant was technically obsolete and no longer met today's standards. The requirements for its replacement were considerable: it would need to cover the entire concrete logistics chain and be capable of delivering flawless concrete efficiently and flexibly, both today and in the future.
After an extensive planning phase, Liebherr's Betomat concept was chosen because it allows the operation of two completely separate mixing plants within one mixing tower. According to Fröschl Beton, the compact design of the two weighing and mixing lines, as well as Liebherr's quality and service, was compelling.
The Betomat 4-600 plant holds up to 600m3 of aggregate materials in nine silo chambers. The mixing tower is fed with the aggregates via two charging hoppers and a powerful bucket elevator with a capacity of 200m3 per hour. The plant also features seven silos that provide around 840 tonnes of binder storage.
The new mixing plant is equipped with two different mixer systems – a ring-pan mixer with agitator system and a double-shaft mixer – that allow for the efficient production of standard concretes as well as high-performance and special concretes. With both mixer systems in operation, the plant can achieve an output of around 160m3 of compacted fresh concrete every hour. To ensure smooth operation during Austria's cold winter months, the entire plant is protected by 100mm thick insulated walls and equipped with heating.
The tower features two lanes and separate weighing lines, allowing two vehicles to be loaded simultaneously with different types of concrete, making the mixing plant highly efficient and flexible. Moreover, to ensure environmentally friendly operation, the plant's housing and exhaust air-filter systems reduce noise and dust emissions, whilst any residual concrete from the truckmixers and plant cleaning system are processed in an LRS 908 residual concrete recycling plant, with the wash-out material and residual water being returned to concrete production, thereby ensuring considerable cost and material savings for Fröschl Beton. 
For further information visit: www.liebherr.com