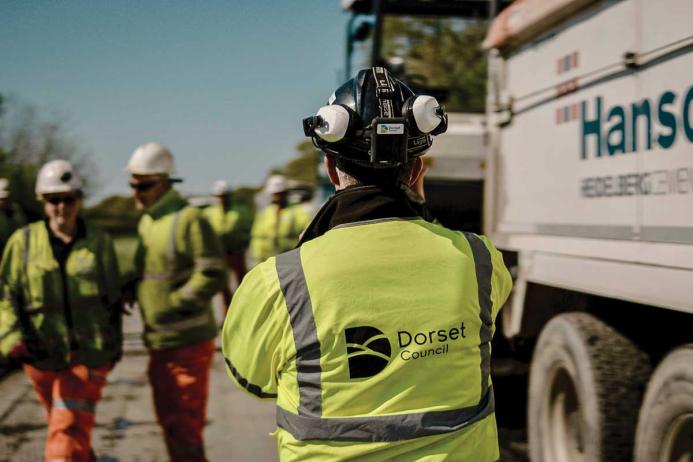 First published in the January 2023 issue of Quarry Management
National Highways and local authority highway teams have set challenging carbon reduction targets as they seek to play their part in reaching the Government's net-zero carbon ambitions. To make significant progress, working together throughout the supply chain to trial innovative new asphalts that reduce carbon emissions and create a more resilient network will be key. Adrian Hadley, head of technical (asphalt and aggregate) at Hanson UK, explained:
Materials innovation is vital if the asphalt industry is to help its customers cut carbon emissions and improve the durability of their roads, and considerable progress has already been made.
'One of Hanson's latest innovations involves the use of 'biogenic' asphalt. We have partnered with Shell Construction and Road to develop the products, which we have trialled through the Dorset Highways Strategic Partnership, our long-standing, ongoing agreement with Dorset Council which facilitates innovation and collaboration.
'In the first phase of the trial, we combined our Duralayer asphalt with Shell Bitumen CarbonSink binder to resurface the B3091 Shaftesbury Road. The binder contains biogenic material that absorbs and stores CO2 throughout its life, even when it is recycled. The asphalt was produced using Hanson's ERA warm-mix process, which allowed the asphalt to be manufactured at a lower temperature than standard hot-mix asphalt, reducing energy requirements and carbon emissions. 
'Shell Construction and Road estimate that the inclusion of biogenic materials within the binder 'locks in' six tonnes of CO2 into every kilometre of road, rather than releasing it back into the atmosphere, cutting emissions further. As a result, the product provides at least a 25% reduction in carbon emissions compared with standard hot-mix asphalt.
'The low void, high bitumen content of the asphalt, coupled with the lower production temperatures, also creates a very durable material – one which can also be laid as a single-layer product, increasing efficiency and reducing disruption for road users.
'In the next phase of the trial, almost 900 tonnes of our biogenic asphalt were used to resurface Victoria Road in Ferndown, as part of a programme of road maintenance schemes carried out with Dorset Council.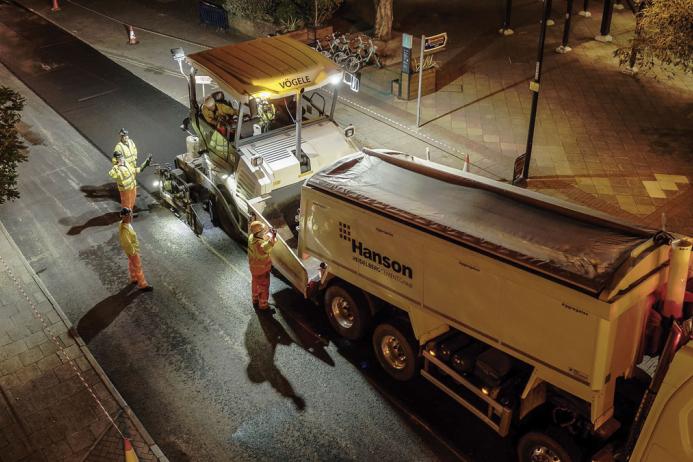 'It was the first time we had resurfaced a road in the UK using an asphalt that includes a polymer-modified bitumen (PMB) bio binder. Shell Cariphalte CarbonSink provides enhanced durability benefits over the company's standard CarbonSink product, to further extend the life of the asphalt and reduce the need for maintenance interventions.
'Again, the product was manufactured using the ERA warm-mix process, providing a similar carbon reduction at production and laying as the standard CarbonSink product but with the added benefit of whole-life carbon reduction through improved durability.
'The use of HVO (hydrotreated vegetable oil), a fossil-free alternative to diesel, was also successfully trialled on this project. HVO powered the plant that produced and laid the asphalt, reducing CO2 emissions from fuel by up to 90%. As a result, the asphalt delivered a 55% reduction in CO2 emissions compared with using a standard hot-mix asphalt.
'Now, our contracting business is using GD45+, another low-carbon fuel source, in its pavers and rollers. Supplied by GB Fuels Ltd, GD45+ is a 45:55 mix of sustainably sourced HVO and a gas-to-liquid (GTL) fuel, developed in conjunction with Shell. 
'On average, its use reduces CO2 emissions by 42% and NOx by 14%, as well as releasing 18% fewer fine particles when compared with traditional diesel. It is certified as regular B7 diesel and is also classed as readily biodegradable under Defra definition. 
'Hanson are looking to reduce carbon emissions at every stage of their business and asphalt has an important part to play in contributing to our decarbonization journey. This includes looking at areas such as plant efficiency and the use of alternative fuels, and, of course, innovative low-carbon asphalt products. We hope that biogenic asphalt will become an important addition to specification lists in the future.'