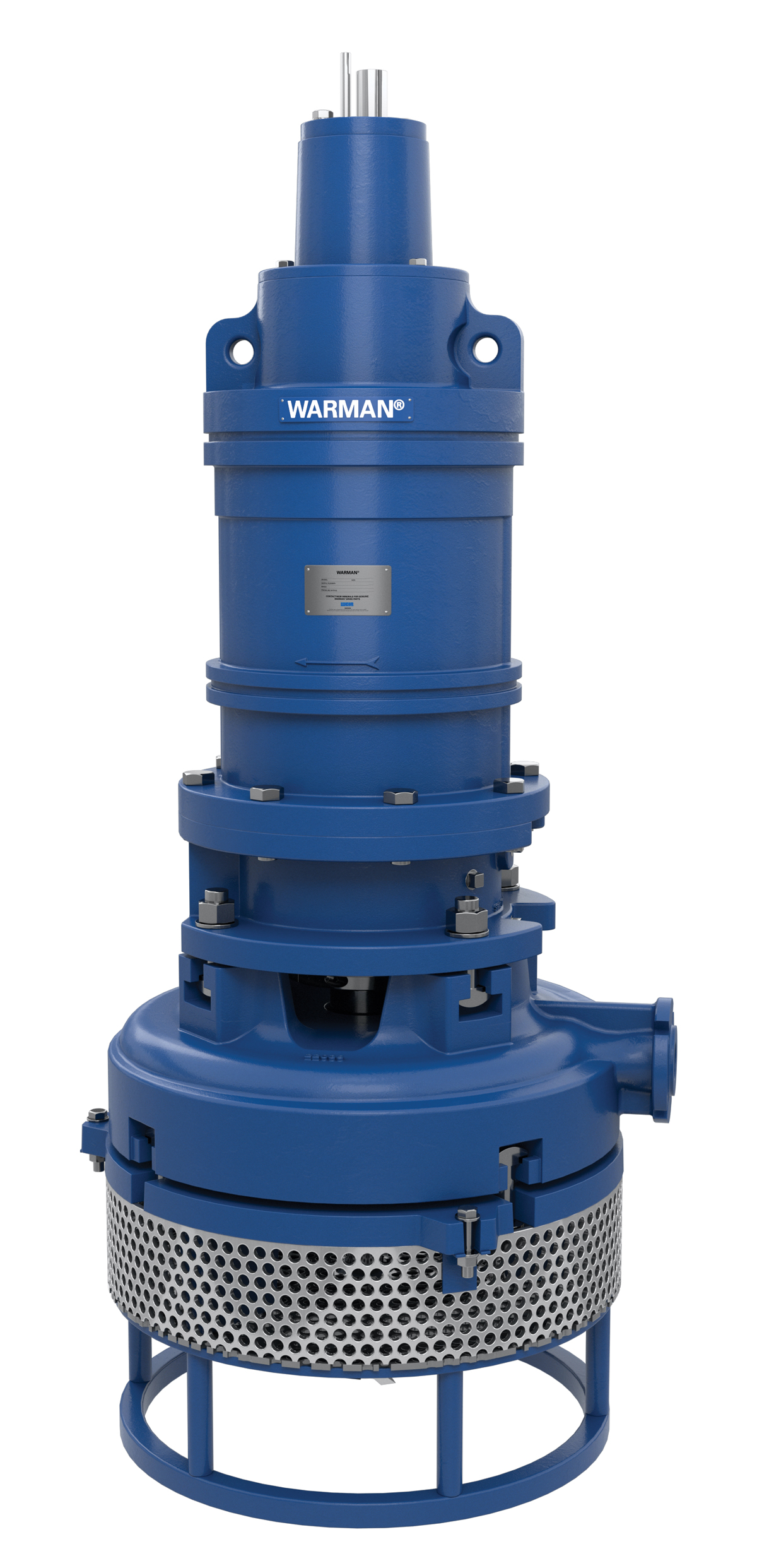 First published in the August 2020 issue of Quarry Management as Standing up to the Challenge
How the Warman SHW submersible slurry pump is able to overcome the most aggressive quarry dewatering applications
Varying fluid levels and changing slurry consistencies and mineral types can significantly impact the performance and wear life of a pump, transforming what should be a reliable, low-maintenance piece of equipment into something that not only demands significant time to repair, but also has a negative impact on the bottom line due to part replacements and production downtime.
Issues commonly affecting submersible pumps include moisture intrusion into critical internal electrical or lubricated components, abrasive wear of wetted components, impellers clogging due to particle size or slurry fluid composition, and insufficient slurry feed flows that causes overheating and cavitation. This article explores the root causes of these problems and how different features allow the heavy-duty Warman SHW submersible slurry pump to provide reliable dewatering in almost any application.
If a submersible slurry pump regularly goes into a failure state, there is a good chance it is because slurry has penetrated the motor housing or seal chamber. There are a number of ways to prevent this from occurring and reoccurring, whether the fluid intrusion is due to the pump's housing, the wear materials being unsuitable for the slurry it is processing, or incorrect mechanical seal selection. In the case of a general failure in the pump casing, this is likely to be due to the wear material being unsuitable to withstand some aspects of the slurry being pumped, such as the abrasive qualities of the particles contained within.
Without changing the slurry composition or processing method, the only real way to resolve these problems is to use a heavy-duty submersible slurry pump with wear materials especially designed to meet the challenges of a particular application. The Warman SHW, for example, has specifically been built for the most demanding submersible pumping applications, with a heavy-duty, all high-chrome wet end. Ultrachrome A05 is proprietary high chrome white iron designed by Weir Minerals to provide a long, dependable service life in highly abrasive applications. The Warman SHW casting material can be selected to meet the needs of specific applications with different wear factors.
Use mechanical seals to prevent leakage
Most of the failures of submersible pumps can be attributed to a mechanical seal failure; a failure in the seal will permit moisture ingress to the electric motor and components, causing major electrical and mechanical damage to both the electric motor's stator and rotor. Eventually, this will cause the pump to stop operating, requiring an expensive, time-consuming repair process that often requires specialist expertise.
The Warman SHW pump's double mechanical seal arrangement not only prevents slurry leakage into the motor, but exposes only a minimal wear area to the slurry. The pump's balanced double-seal arrangement encloses both sets of seal springs in an oil reservoir, which means the silicon carbide seal faces are only subjected to the submergence pressure, greatly increasing the wear life of the pump.
When leakage cannot be prevented, the best way to manage a pump is to use a moisture detector that will automatically shut off the pump when moisture makes its way into the motor. The Warman SHW pump uses a twin-electrode system that provides double protection, by detecting intrusion in the motor housing and the chamber of the mechanical seal. Once detected, the Warman SHW shuts off the motor to prevent pump failure and raises an alarm to let operators know that maintenance is required. The pump's T-bolt construction makes gaining access to the wet end simple, allowing rapid disassembly of the pump for quick maintenance.
Preventing cavitation and overheating
Constant submergence plays a critical role in cooling the motor and preventing overheating of submersible pumps. If the flow of water to the sump is interrupted, the pump's motor is at risk of overheating or cavitating, which, in turn, decreases its efficiency and may lead to permanent damage or even complete failure. Whilst this generally is not an issue for static, shore-mounted pumps, the changing water level of submersible pumping applications can quickly lead to the pump running dry.
To manage this, all Warman SHW pumps feature winding thermostats that protect the motor by sending a signal to a relay supplied to the customer. This relay can be used for sounding an alarm or shutting down the unit if internal temperatures exceed safe operating limits due to a lack of water. In applications where the fluid level varies significantly, the Warman SHW can optionally be outfitted with a cooling jacket, which allows continuous operation of the pump while the motor is not completely submerged by enclosing the motor housing with coolant.
Clogging
In high solids slurry applications with larger solids particles, submersible pump impellers are prone to becoming blocked by larger particles which prevents fluid from flowing smoothly through the pump. Without this consistent flow of fluid, the pump is at risk of overheating, cavitating and ultimately failing. In these high solids applications (up to 50% by weight), the Warman SHW suction saver prevents tramp material and large solids from blocking the impeller through the installation of a wear-resistant filter mesh at the bottom of the pump.
Through their global footprint and large Warman pump installation base, Weir Minerals say they have developed a unique understanding of how to optimize submersible slurry pumps for a variety of slurry applications and sump types. As a solutions company, they will not sell pumps without first visiting the site, understanding the application and slurry characteristics, and ensuring that they are providing an optimized solution that will deliver efficient and reliable operation for as long as possible, with as little maintenance as possible. In addition to providing the right pump for the job, Weir Minerals are committed to supporting their equipment to maximize its lifespan via a global network of more than 150 locations, which allows them to deliver pumps, parts and expertise when it is needed most, no matter where a quarry might be located.