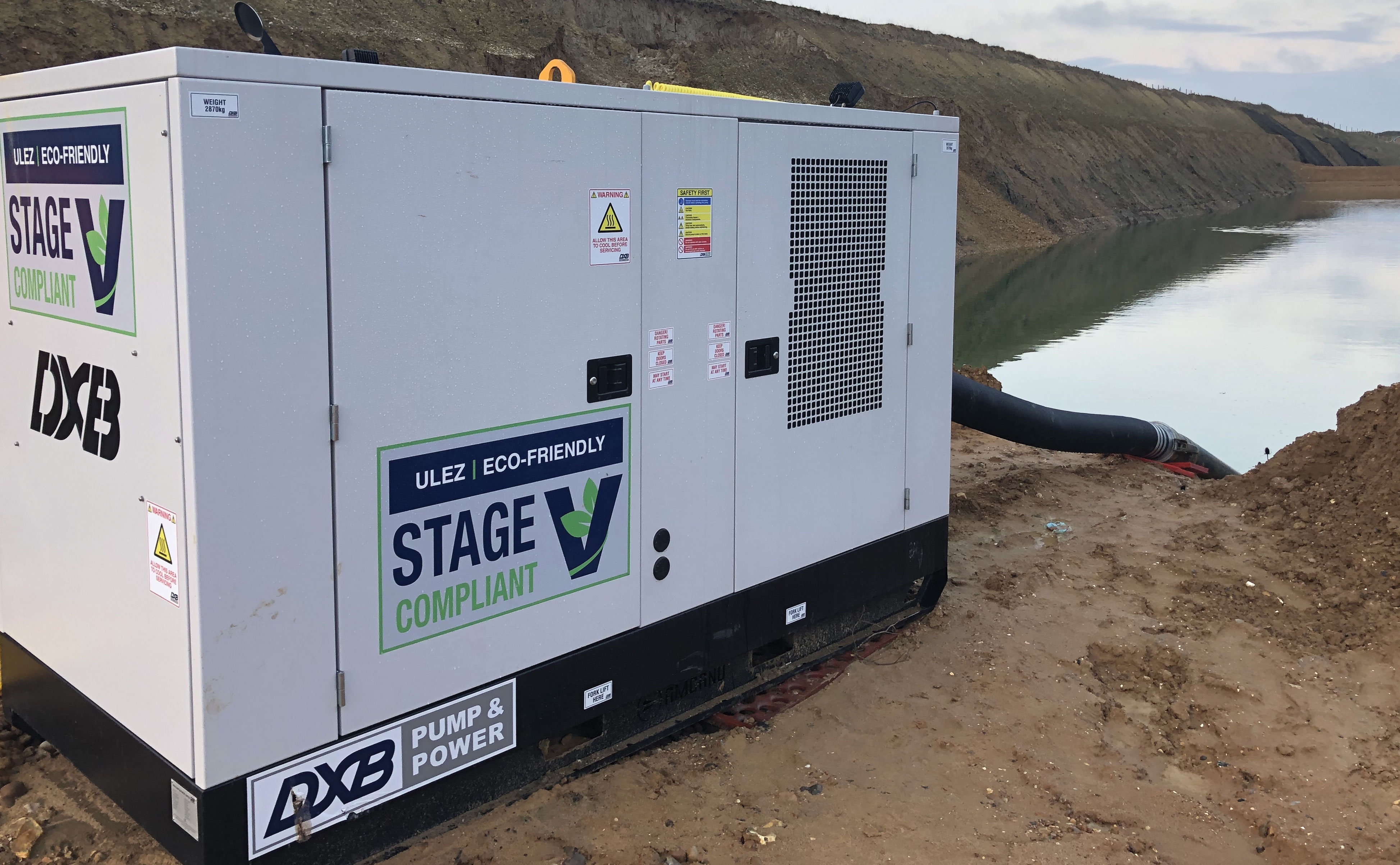 First published in the August 2021 issue of Quarry Management as Switching to Stage V
DXB Pump continue to develop low-emission pump solutions for UK quarry industry
With the commercial and operational pressures on quarries to maintain output and reduce their cost per tonne, more and more locations are looking for ways to improve efficiency and reduce costs without reducing headcount or production capacity.
Many quarries processing sand and gravel for the booming UK construction industry demand equipment that improves efficiency, such as modern earthmoving machines and processing plants. This demand has rocketed in the last six months with lead times for equipment now more than six months for some equipment and well into 2022 for others.
In addition to this urgent need for equipment, there is a strong and growing demand for quarries to improve their environmental footprint, as customers, legislation and local stakeholders apply pressures on sites to reduce their emissions, whether noise or engine exhaust related, and any impacts on local services such as roads.
One of the major pushes by the UK Government is to encourage the electrification of equipment, where possible, and this is seen in the growing demand for electric cars as well as for plant in low-emission areas such as cities with Ultra Low Emissions Zones (ULEZ). 
There is a growing train of thought that this form of thinking and regulations will soon be imposed upon industry, especially the aggregates sector.
One company driving new product development to assist their customers in reducing emissions is DXB Pump & Power, who have been designing and selling Stage V emission-compliant pumpsets since early 2020. Designed with a range of Stage V emission-compliant engines from 18.5kW to 566kW, the company has been selling pumps from small 3in units to large high-pressure 10x8 units into the UK aggregates and quarrying markets since 2020, all in fully bunded, sound-attenuated canopies.
The development of Stage V engines is one that runs in tandem with the emergence of Hydrotreated Fuel Oil (HVO), which is being offered by several UK companies, especially in the aggregates and construction markets, and is seen as a small step to reducing pollution on sites where older, less-efficient equipment is being used.
HVO is, no doubt, an excellent step in the right direction and gives some breathing space to those companies that are struggling to upgrade their fleets with more modern and efficient pieces of equipment due to extended delivery times.
However, whilst a good intermediate solution, it also recognized that HVO fuels, which are still relatively expensive and use valuable agricultural production, are mainly manufactured in Europe and require shipping and delivery to the UK, adding carbon costs back into the supply chain – an aspect that is often overlooked.
Also, using old inefficient Stage III engines and running them on HVO might reduce the immediate amount of NOx and CO2 being produced, but it does not solve the problem of these engines burning a greater volume of fuel than Stage V versions, which generate their same levels of power through smaller engines running at lower speeds.
Thus, whilst the combustion pollutants are reduced at source, other pollutants such as noise and overall volumes of HVO being consumed may be neglected, to the financial cost of the business.
In pumping applications at quarries, where run times are often up to 12h a day, six days a week, the perfect solution is perhaps to go fully electric, especially pumps which operate with higher power demands, such as those supplying wash plants.
Using pumps with higher efficiencies is critical to reducing kW consumption, and therefore energy consumption, whether it is electricity or, especially, diesel fuel being used to power the pumps.
Often wash plants are running with water requirements of 300–400m3/h at 3–4 bar pressure at the wash plant nozzles, and when the static height of the plant and the distance to the plant from the pump, which may be located several hundred metres away at a remote lagoon, is added into the equation, it is not uncommon to have power requirements of between 55kW and 90kW for a single pumping application.
Multiply 90kW by 12h a day, six days a week and a wash plant pump can consume 6,500kW or so every week: an extraordinary amount of energy. With a diesel-driven pumpset, that means more than 2,000 litres of fuel being consumed weekly, generating more than five tonnes of carbon per week or 250 tonnes a year.
Thus, looking at alternatives to red diesel is a valid and important stepping stone to pollution reduction, but biodiesel made from waste vegetable oils still produces 95% of the above carbon output, therefore the importance of improving the efficiency of the pumps is just as critical and moving to electric units even more important.
By moving to modern Stage V engines and using the technology integrated within them, not only can the end user utilize HVO fuels in the short term, but quarries can also reduce the overall volume of consumption per day, as the most modern engines from manufacturers such as Deutz and Scania (which are seen in washplants and recycling plants at many quarries) generate their maximum power at much lower speeds – sometimes as low as 1,400 rev/min.
This is a major step forward in pollution and fuel consumption reduction as a modern engine running at these lower speeds reduces fuel consumption per cubic metre of water pumped by up to 15%, and when a pump that is 10–15% more hydraulically efficient is added, large fuel burn and monetary savings are often seen.
Using Stage V engines in quarrying is a proven way to reduce on-site pumping costs, as has been shown by companies such as Blackwater Aggregates, who moved from a six-cylinder, 140kW, Stage III engine to a brand-new pumpset from DXB Pumps with a much smaller four-cylinder, 105kW engine, saving the quarry around £15,000 a year in diesel costs alone.