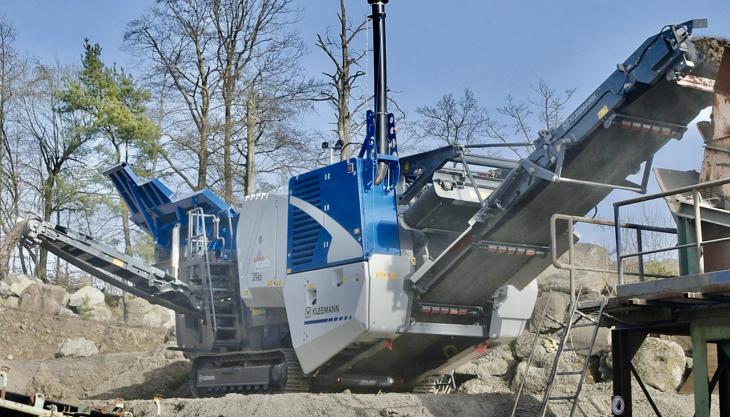 First new Mobicat MC 110(i) EVO2 jaw crusher from Kleemann goes into operation in German quarry
SINCE the beginning of March 2021, the world's first Kleemann Mobicat MC 110(i) EVO2 jaw crusher has been at work in a German quarry operated by Recycling GmbH Lahnau, processing natural stone and rubble, including large volumes of concrete.
'We were already very satisfied with the predecessor model from 2017, but what impressed us most with the new machine was that the crusher jaws open automatically if an overload occurs,' said Ralph Lang, technical manager of Recycling GmbH Lahnau, outlining the main reason for the investment.
In the case of short-term overloading at selected points, the new overload system on the MC 110(i) EVO2 automatically opens the crusher jaws after two seconds, which is significantly faster than before, before repositioning the gap at the previously set values. As a result, damage to the crusher is effectively avoided and aggregate of constant quality is produced.
'Thanks to this function, large single parts do not usually cause any damage,' said Daniel Weis, who is responsible for mobile processing and recycling plants at Recycling GmbH Lahnau.
As well as combining higher output with lower fuel consumption, Kleemann say much has also changed with regard to noise emissions. Thanks to the direct drive EU Stage V engine and a new ventilation concept that is independent of the output, the plant is considerably quieter.
Meanwhile, menu-guided operation, easily recognizable process visualization, status displays for all components, and automated support with error tracking and diagnosis make the plant easy to use. 'With the Spective operating system for devices in the EVO2 series, Kleemann have once again considerably simplified operation,' confirmed Mr Weiss.
Moreover, integrated cameras monitor the feed hopper and the crusher. Images can be viewed at the operator panel and also transferred, via WLAN, to an external screen, which can be positioned, for example, in the excavator, making operation easier and material processing safer.
Kleemann have also taken another step forward with Spective Connect. 'This system is used by the crusher to send data on the operating status via the app to my smartphone,' explained Mr Weis. 'Thus, I can always see operating hours and fuel consumption at a glance, and can arrange, for example, for more diesel fuel in good time.'
Kleemann have also reduced the transport height of the MC 110(i) EVO2 for greater flexibility during movement from site to site. 'It now measures 3.40m in height compared with 3.60m, but in spite of this, the space under the crusher is as generous as it was before – which is good,' said Mr Weis.
In conjunction with the recent handover, instruction and training of Recycling GmbH Lahnau's GmbH machine operators was carried out by a service technician from the Wirtgen Group. Moreover, once a year, the company's plant operators also attend a Wirtgen Group training course as part of the comprehensive service offer from Wirtgen Deutschland Vertriebs- und Servicegesellschaft.
'Rapid and competent support of the company's spare parts team is equally important,' said technical manager Ralph Lang. 'Required components are delivered quickly and reliably and arrive exactly where we need them.' And he should know, as the newly delivered MC 110(i) EVO2 is Recycling GmbH Lahnau's ninth Kleemann plant since the company was founded in 1998.