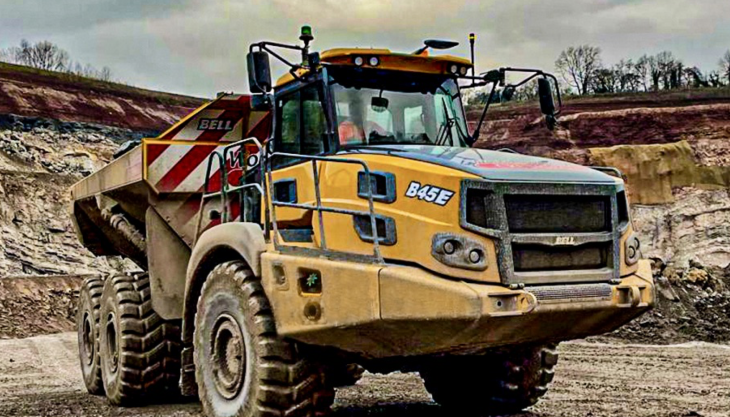 Contract crushing and earthworks contractor orders UK's first Bell B45E 4x4 articulated dumptruck
WORDSWORTH Crushing of Barnsley, South Yorkshire, have become the first company in the UK to place an order for a Bell B45E articulated dumptruck (ADT) in 4x4 configuration.
The multi-disciplinary contract crushing and earthworks contractor carries out heavy industrial work, ground stabilization, and demolition services for some of the country's largest quarrying and construction firms. Reliable machinery is central to the success of the business and the company prides itself on its hi-tech, state-of-the-art plant and haulage fleet.
In 2020, Wordsworth Crushing bought their first three Bell ADTs, a B30E and two B45Es, which were destined for work at Port Talbot Steel Works.
Oliver Wordsworth, managing director of Wordsworth Crushing, recalled: 'Price, performance, and availability were all factors that made us choose Bell dumptrucks. Our operators have also reported that the dumpers provide excellent comfort, which is important when they are operating day in, day out in a tough, demanding environment.'
The company has since bought a further four units which are now working on a variety of contracts, including a granite quarry near Leicester. Reduced fuel consumption was a major factor in this new order.
'The Bell dumptrucks must be good as we have a B30E and five B45Es currently working, and we have a further four B45Es on order, including the UK's first B45E 4x4 model, which will take our Bell fleet to 10,' said Mr Oliver.
'We're delighted that the Bell ADTs have improved fuel economy over our previous trucks, which obviously saves us money, and we're really looking forward to getting the 4x4 model into our fleet to see how it compares with the other trucks.'
The all-new Bell B45E 4x4 is designed for flexible use in quarrying and smaller mining operations. It offers the same payload and off-road benefits as its 6x6 counterpart, but with a smaller turning circle and improved tyre wear, making it well suited to operators who do not require the full flexibility of a 6x6 dumptruck, yet are keen to benefit from a lower cost per tonne.