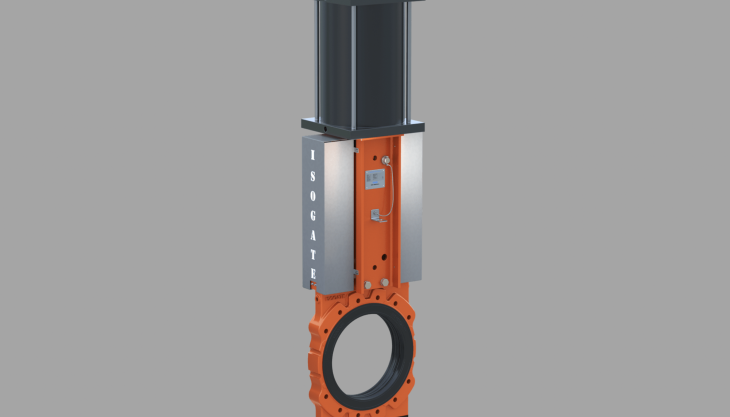 New lightweight knife gate valve utilizes stronger materials and offers improved wear resistance
WEIR Minerals have introduced the Isogate WR knife gate valve, which offers aggregates operators a step change in valve performance. Incorporating the latest advances in design and materials technology from Weir Minerals' expert engineers, the new range of Isogate WR knife gate valves are said to be more reliable, while producing minimal fluid discharge and weighing considerably less than equivalent slurry valves. 
'Drawing on decades of wear analysis, we've optimized the Isogate WR knife gate valve's body design, by reinforcing the areas subjected to the harshest wear and pressure. At the same time, we've reduced the weight elsewhere to produce a robust, long-lasting slurry valve that's significantly lighter than comparable products,' said global product manager John Abbott.
The Isogate WR utilizes Weir Minerals' new Isogate WSL sleeve, which uses the proprietary Linard HD 60 silica-reinforced natural rubber to solve the three most common problems with sleeved knife gate valves: leakage during cycling, tearing, and load-distribution ring (LDR) failure due to corrosion and erosion. 
Leveraging the Linard HD 60 rubber's high resilience against cuts, tears and abrasive wear to improve wear life, the new Isogate WSL sleeve fully encloses the LDR to prevent corrosion. By allowing the rubber to move as the blade cycles, the design reduces the chances of tearing while reducing slurry discharge by up to 75%.
'When designing the Isogate WR knife gate valve, we focused on features that improve the everyday experience of working with our valves. This includes important things like improved grease distribution and improved body flushing when used in high solids concentration applications.
'In-depth finite element analysis (FEA) enables us to ensure the product's integrity, whilst making it lightweight. There are also a lot of smaller features to make life easier, such as a larger grease reservoir, ISO mount standardization and an external visual indicator for the valve's status,' said Mr Abbott. 
Isogate WR knife gate valves and Isogate WSL knife gate sleeves are now available worldwide.