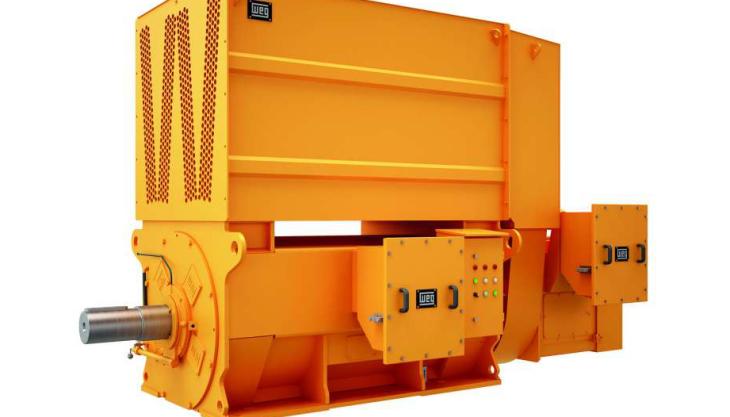 High-performance long-life motors with high starting torque for use in the mining and cement industries
WEG, one of the leading global manufacturers of motors and drive technology, have launched the new M (Mining) series of slip-ring motors for use in the mining and cement industries.
Available in frame sizes IEC 355 to IEC 1000, the new M Mining slip-ring motors cover the power range from 250kW to 10MW at 50Hz or 60Hz line frequency. These robust three-phase induction motors between 4 and 14 poles and are designed for voltages up to 13.8kV.
The M Mining series is intended for mills, crushers, blowers, exhaust fans, conveyors, centrifuges and other applications in dusty environments, such as those found in the cement sector.
'Their performance and robustness make the new M Mining series of motors, with their high IP rating, steel casing and two different brush systems, an excellent choice for applications in the mining and cement industries,' commented Andreas Schulte Mesum, director of European high-voltage solutions at WEG Germany GmbH. 'The design is based on specific electromechanical properties that offer long life and high stability.'
The wound rotors of slip-ring motors allow them to achieve high starting torques along with low start-up current. In contrast to squirrel-cage motors, the windings are connected to three slip rings that allow a variable resistance to be inserted in the rotor circuit.
According to WEG, this has several major benefits for users, including higher rotor circuit resistance, which allows the motor's start-up characteristics to be improved; a motor starting current that is kept virtually the same as the rated current; and the ability to drive loads with high starting torque, as well as loads with high inertia. Further advantages include higher efficiency and simple installation.
The new motor series has a newly designed brush compartment and a transparent window for inspection and access. Commissioning is simplified by the option of combining the motor with a fully integrated control panel.
The motor series is available in two versions: either with a brush-lifting device or with brushes in constant contact. The lifting mechanism of the brush-lifting device has been redesigned to make it even easier to maintain. Compared with the version with fixed brushes, the brush-lifting system requires less maintenance. In addition, brush wear is reduced by fitted pressure springs. An integrated control system is also available as an option for the brush-lifting device.
With its innovative design and new insulation arrangement, the system offers other advantages. For example, the cooling system of the brush compartment is independent of the motor cooling system, further boosting the efficiency.
The M Mining motors are available with protection ratings from IP55 to IP66. They are also protected by WEG paint systems that allow operation in abrasive and humid environments with atmospheric sulphur dioxide.