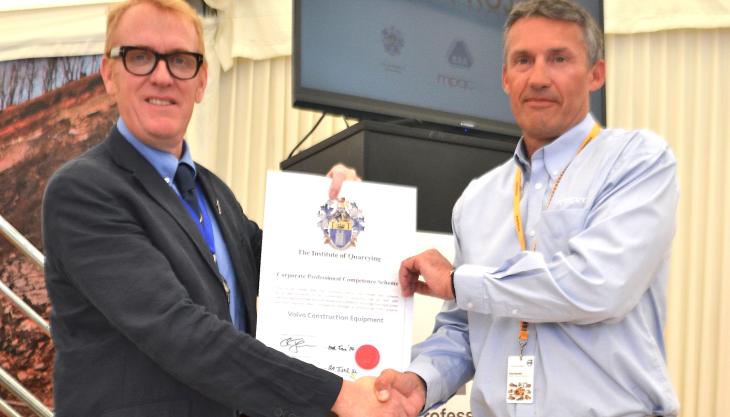 Volvo Construction Equipment become newest corporate member to sign up to the Institute's CPC Scheme
VOLVO Construction Equipment have become the newest corporate member to sign up to the Institute of Quarrying's Corporate Professional Competence (CPC) scheme.
The ethos behind the scheme recognizes the need to reach out to individuals, driving home the message that they play a key role in their own development, bringing personal rewards to themselves, whilst also ensuring they remain a key component in the forward development of the company.
The announcement was made by Colin Jenkins, president of the Institute of Quarrying, during Hillhead 2014, where he was joined by Paul Kersley, director of service & engineering at Volvo CE, who underlined how delighted both himself and the company were to be working with the Institute through both the CPC scheme and PRIME.
Mr Kersley highlighted how at Volvo – as a key supplier to the industry with a sizable engineering workforce – the development of an individual's competence was seen as a key driving force behind the firm's success and in ensuring customers' needs continue to be exceeded.
The PRIME project was underlined as an essential element in helping to achieve this, providing higher levels of engagement through the recognition of individuals in their roles, which in turn helps them generate an active interest in pursuing their own development.
Volvo have already taken a step in this regard through signing up those eligible for the new TMIQ member grade, created to provide acknowledgement of an individual's achievement in their career.
It was also pointed out that the PRIME project has the benefit of raising the profile of the industry and attracting future generations, ensuring both businesses and the industry continue to be sustainable and flourish with renewed vigour in the years to come.
For further information about PRIME or the Institute of Quarrying visit: www.quarrying.org