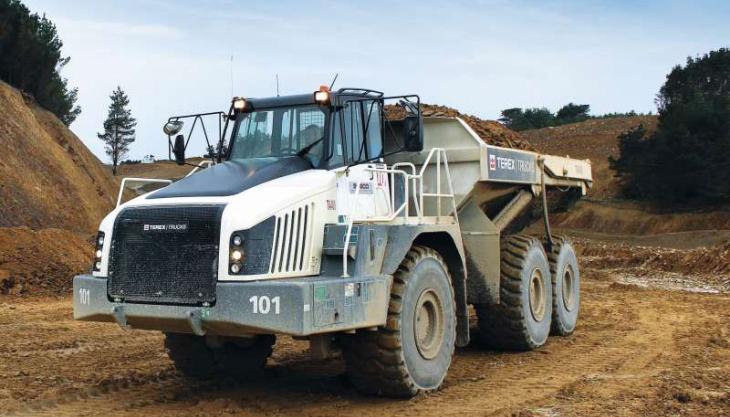 New Zealand contractor sourcing material for major road infrastructure schemes with the help of Terex Trucks
WITH major road infrastructure work taking place in and around Wellington, the capital of New Zealand, local firm Bryce O'Sullivan Contracting Ltd (BOSCO) are sourcing rock for the construction work with the help of two Terex Trucks TA400 articulated haulers.
Based in Horokiwi, a suburb of Wellington, BOSCO are currently involved in two of the biggest road projects – construction of the Kapiti Expressway and the 27km, four-lane Transmission Gully motorway.
With the help of the two TA400s, the company is shifting blue rock in Horokiwi Quarry, which is being used for basecourse and asphalt production. Since August 2017, the pair of haulers have removed 200,000 cubic metres of aggregate and have clocked up around 700 hours.
'We've got the machines working in tough conditions – but they're delivering on every level,' said Suds O'Sullivan, who is an employee of BOSCO as well as being the company owner's father.
'They're robust, reliable and our operators say they are simple to operate, too. Ever since Porter Equipment supplied us with a TA400 demo unit, we knew Terex Trucks was the perfect fit for our application.'
Bryce O'Sullivan started his namesake business in 2010, when he was just 16 years old. His father, Suds, who has been in the earthmoving industry for more than 40 years, is not the only family employee. Bryce O'Sullivan's partner, Becs, her father, and other members of the extended family all play a role within the company. In total, there are 45 employees, six of whom are based at Horokiwi Quarry.
BOSCO purchased their new TA400 haulers from Porter Equipment, the official Terex Trucks dealer in Australia and New Zealand since 2017.
'Porter Equipment were really good to us when we decided to have a look at Terex Trucks' machines,' explained Suds O'Sullivan. 'We're really happy – not only with Porter Equipment for their brilliant customer service, but also with Terex Trucks for the sheer quality of their products.'
With a maximum payload of 38 tonnes, the TA400 has a heaped capacity of 23.3 cubic metres, 331kW (444hp) of gross power and a maximum torque of 2,255Nm. Together, these performance features make the TA400 the biggest and most powerful articulated hauler on offer from Terex Trucks.
Manufactured in Motherwell, Scotland, the heavyweight TA400 hauler has been designed to work in heavy-duty applications under extreme conditions. The planetary gear transmission provides smooth, efficient gear shifting for optimized fuel consumption and reduced cost of operation, whilst ground-level test points and a fully tilting cab, combined with an electronically raised hood, ensure ease of service and reduced downtime.