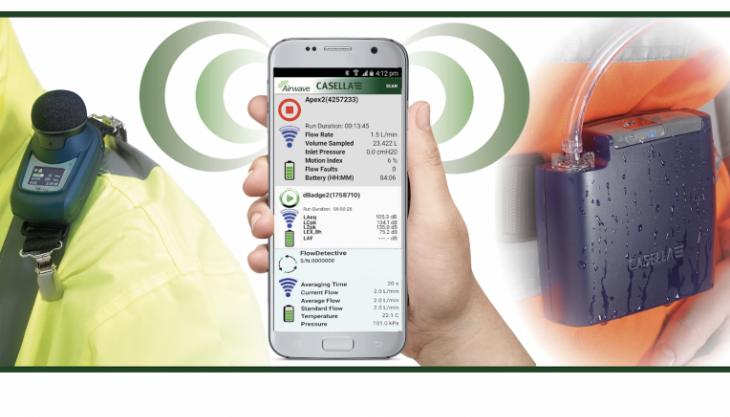 Casella support socially distanced working with discounted air and noise monitoring equipment upgrades
AS employees begin returning to work, maintaining a safe and socially distanced workplace is at the forefront of everyone's mind. Statistics have shown that 32% of those surveyed were anxious about catching or spreading COVID-19 in their normal workplace. HSE guidelines advise that workers maintain a safe distance of 2m apart at all times, or 1m apart with risk-mitigation measures in place.
Health hazards such as noise and dust continue within the workplace, so personal monitoring must continue. However, it can be difficult to deploy personal monitoring equipment while maintaining social distancing.
Environmental/occupational monitoring equipment manufacturers Casella are helping companies to overcome social distancing challenges with a new initiative to provide equipment that allows monitoring to continue whilst maintaining social distancing.
For a limited time, the company is supporting socially distanced working through its 'Trade In, Trade Up' offer, giving workers access to Bluetooth-enabled monitoring equipment which can help in maintaining social distancing while undertaking monitoring.
The offer allows customers to 'trade in' any noise dosimeter or air-sampling pump of any age and from any manufacturer to qualify for up to 25% discount on a Bluetooth-enabled Casella version. This allows customers to 'trade up' to a newer unit that can be used for more socially distanced workplace hazard monitoring. Casella will also responsibly recycle all equipment that is traded in.
Bluetooth-enabled personal monitoring equipment, such as the Casella dbadge2 noise dosimeter and Apex2 personal sampling pump, provides a degree of connectivity that allows socially distanced monitoring to be enacted practically at every stage – from the issuing of equipment to data capture and reporting.
Monitoring equipment can be set to run, connected to the Casella AirWave app, and left in a demarked area at the start of a shift, allowing a restricted number of socially distanced employees to collect equipment at one time. This process can then be reversed at the end of a shift so units can be collected and be thoroughly cleaned and disinfected.
Once the body-worn units have been issued, shift managers and industrial hygienists can check real-time results remotely throughout the day from a distance of more than 25m away, over 12 times the recommended 'safe' social distance, minimizing both worker disruption and potential close contact.
The AirWave app allows a wide range of data to be viewed and downloaded across multiple devices, giving managers full, accurate and downloadable exposure data for multiple workers at a distance.
'When designing our personal monitoring devices, we included remote-monitoring advancements like integrated Bluetooth and app connectivity to address the challenges employers and employees faced with workplace hazard monitoring at that time,' explained Tim Turney, Casella's global marketing manager.
'We couldn't have predicted the challenges that COVID-19 would bring to those making workplaces safe, but we've given users the ability to adapt to socially distanced working and for personal exposure monitoring to continue for these traditional workplace hazards.
'Our 'Trade in, Trade Up' offer will give our partners greater access to monitoring solutions that will help them to work with employees to ensure a socially distanced, healthy workplace environment as industry begins to open up once again.'