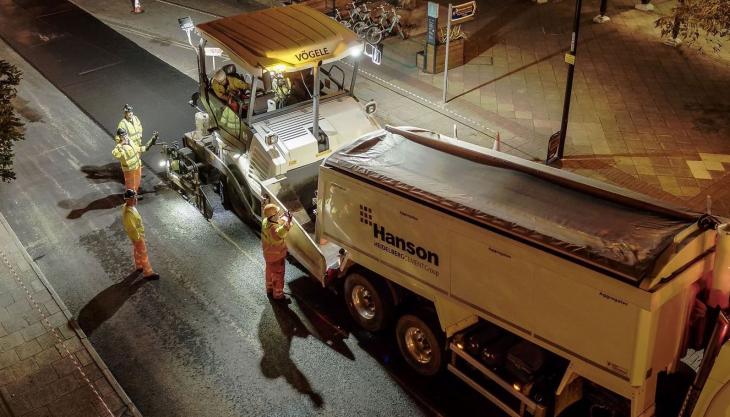 Innovative low-carbon asphalt used on finishing straight for cycle race seventh stage in Dorset 
HANSON have used an innovative low-carbon asphalt for the first time in the UK as part of a programme of road maintenance schemes carried out with Dorset Council ahead of next week's Tour of Britain.
The eight-stage men's professional road cycling race started in Aberdeen on Sunday 4 September. Dorset is hosting stage seven, the penultimate event of this year's competition, on Saturday 10 September, which will start in West Bay and end on Victoria Road in the centre of Ferndown.
The asphalt includes a PMB (polymer-modified bitumen) bio-binder – a first on a road project in the UK – and the work has been completed through the Dorset Highways Strategic Partnership, an ongoing agreement between Hanson and Dorset Council, which facilitates innovation and collaboration.
Almost 900 tonnes of the low-carbon material have been used on the 600m-long finishing straight and combines Hanson's ERA warm-mix asphalt with Shell Cariphalte Ultra CarbonSink binder, which contains biogenic material that locks and stores CO2 within the asphalt throughout its lifecycle, even when it is recycled.
The ERA process allows the asphalt to be manufactured at a lower temperature than standard hot-mix asphalt, reducing energy requirements and associated carbon emissions. The PMB bio-binder offers enhanced durability, extending the life of the asphalt and reducing the need for maintenance interventions, and includes biogenic materials which lock in six tonnes of CO2 in every kilometre of road, cutting emissions further.
Ian Price, managing director of Hanson Contracting, which is an official sponsor of stage seven of the Tour of Britain, said: 'The low-carbon asphalt used delivered a 25% reduction in CO2 emissions compared with using a standard hot-mix asphalt, while leaving a legacy long after the high-profile race has been completed.
'We also successfully trialled the use of HVO (hydrotreated vegetable oil), a fossil-free alternative to diesel, to power the plant used to produce and lay the asphalt, reducing CO2 emissions from fuel by up to 90%.'
Jack Wiltshire, head of highways at Dorset Council, added: 'Our strategic partnership with Hanson allows us to work closely to minimize the environmental impact of our highways works.
'The project to resurface Victoria Road in Ferndown is a great example of this and is one way in which the highways team is playing its part in helping Dorset Council meet its ambition of being net-zero carbon by 2040.'
It is the first time Dorset has welcomed the Tour of Britain in modern history and the event will be broadcast live on ITV4.