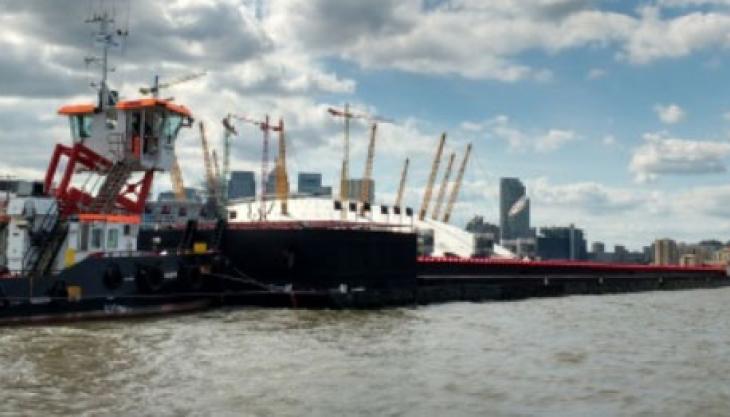 Aggregate Industries to remove 800,000 tonnes of tunnelling process spoil via river Thames
AGGREGATE Industries, through their Bennett's Barges business, have secured a £17 million contract to remove spoil, by river, on the western section of the £4.2 billion Thames Tideway Tunnel project.
The Thames Tideway Tunnel, financed and delivered by Tideway, is a 25km tunnel that will tackle sewage discharges into the river Thames. Running from Acton in west London to Beckton in the east, the project has been divided into three construction sections (west, central and east), each managed by a different contracting consortium.
The west section is being managed and constructed by an equal three-way joint venture between BAM Nuttall, Morgan Sindall and Balfour Beatty (BMB).
Aggregate Industries' role will be to remove the 800,000 tonnes of spoil produced from the tunnelling process, to be loaded, transported via the river Thames and deposited at a suitable site in the East.
The uninterrupted operation of tunnel-boring machines is a critical success factor for the project, and therefore the removal of spoil at the required rate is a fundamental part of the construction phase.
Owing to the location of the project, the required volume of spoil to be removed, plus congestion on London's roads, the decision was made early in the project that the spoil must be moved to the deposition site on river barges, thereby keeping approximately 34,000 vehicle movements off the road network.
To complete the job, the joint venture has invested in two state-of-the-art tugs featuring an innovative rising bridge, designed specifically for this project. In addition, a further 10 specialist barges will be procured to carry the spoil along the river.
Bennett's Barges will also employ and train up to 24 boatmen, including a number of skippers, to operate the fleet.
Chris Livett, managing director of Bennett's Barges, said: 'We're delighted to have been appointed as primary marine specialist contractor on the western section of this significant project – the size of which our UK shores haven't seen before.
'We worked closely with BMB prior to the tender to come up with innovative solutions and we have no doubt been selected for our readiness and capability to respond to our customers' needs.
'Importantly, our ability to ship the spoil via the river Thames means we can alleviate congestion on the roads and reduce our impact on the environment. We look forward to working with BMB over the next five years.'