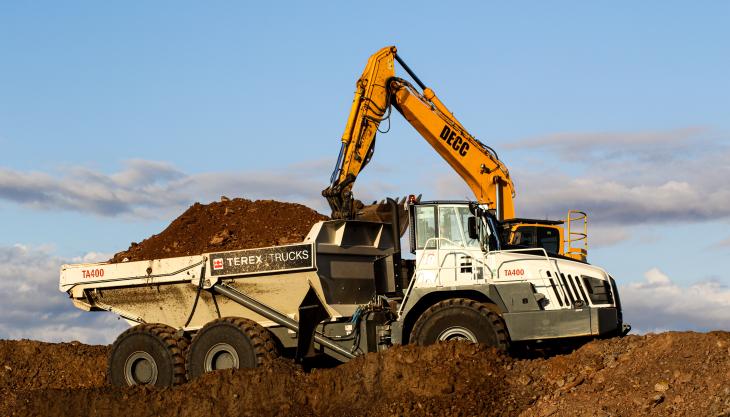 Australian demolition specialist DECC praises heavy-duty and efficient performance of articulated hauler
A TEREX Trucks TA400 articulated hauler has been chosen to work on a landfill site in Swanbank, near Brisbane, Australia, where it has quickly received high praise for its reliable and efficient performance in tough conditions.
The machine has demonstrated its versatility – carrying out a variety of tasks from remediation of landfills to stormwater management at the Swanbank site. Established in 2007, DECC – specialists in demolition, environmental, civil contracting, earthworks and decontamination services – have clearly been impressed with the investment in the TA400 ADT.
'We have pretty rough conditions in demolition, so we choose equipment that's tough, reliable and efficient – but without the hefty price tag,' commented Josh Cutts, DECC's national plant manager.
'We do lots of landfill jobs from design to construction, to monitoring, remediation and post-closure management. The TA400 dumptruck is performing a lot of these landfill jobs for us. It has been giving us heavy-duty and efficient performance in the various conditions that it has been used in so far.'
The TA400, the largest articulated hauler on offer from Terex Trucks, has a maximum payload of 38 tonnes and a heaped capacity of 23.3 cubic metres. Powered by a high-performance, fuel-efficient engine that develops a gross power of 331kW (444hp), the articulated hauler is designed to meet the demands of extreme operations, such as quarries, mines and large-scale construction projects.
For the Australian market, the TA400 is equipped with a fuel-efficient Tier 2 engine that meets local emission requirements. However, the ADT model can be fitted with a globally emission compliant engine that meets the requirements of EU and North American legislation without the need for a diesel particulate filter (DPF).
This is achieved by utilizing the latest selective catalytic reduction (SCR) technology, combined with exhaust gas regeneration (EGR) and a variable geometry turbo (VGT) unit.
To gain a stronger foothold in Australian ADT market, Terex Trucks have partnered with construction equipment dealers Porter Group since 2017.
'With all the investments and improvements that have happened since Volvo Construction Equipment took ownership of Terex Trucks in 2014, they are now producing great ADTs,' commented Michael Carter, national sales manager for Porter Equipment Australia.
'The trucks are robust, reliable, powerful and they can handle whatever terrain and conditions you throw at them – which is exactly what the TA400 has proved to DECC on this landfill site.