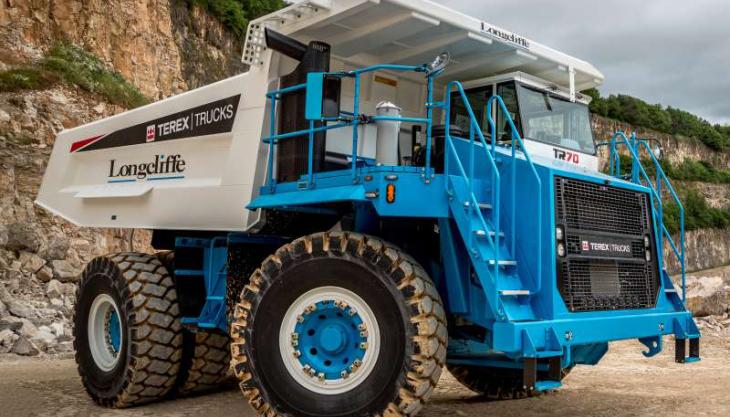 Longcliffe using a number of proven haulers to move materials around their quarry in Derbyshire
LONGCLIFFE, one of the UK's leading suppliers of calcium carbonate and limestone, supply a variety of industries from animal feed manufacturers to glass, plastic, adhesive and construction businesses.
Much in demand due to its versatility, the high-purity limestone extracted from Longcliffe's Brassington Moor Quarry, near Matlock, is an essential component of feeds for poultry, pigs and cattle, playing an important role in animal nutrition as a dietary supplement and an antacid.
Running a round-the-clock operation, the company extracts, processes and delivers more than one million tonnes of limestone and dolomite products annually, and helping to maintain production at an all-time high, Longcliffe are using some of Terex Trucks' proven off-highway machines to move material around their site.
Longcliffe's partnership with Terex Trucks was first established in 2013 when they issued a tender to replace a dumptruck that had come to the end of its life.
'The company had been happily buying machines from a particular brand, but when I came into the business we were looking to replace a dumptruck and I wanted to see what else was out there,' explained Chris Wainwright, operations director at Longcliffe.
'Terex Trucks and their dealer, TDL Equipment, came up with an offer that was as good as the one our existing equipment supplier was offering, which gave us the opportunity to try something different.'
TDL supplied a 55-tonne payload TR60 for demonstration purposes, but while this rigid hauler impressed, Longcliffe required a machine with a bigger payload, which is where the TR70 model found favour.
'The feedback on Terex Trucks' rigid hauler was good, and following tests on fuel consumption, cycle times and carrying capacity, we wanted to give the machine a try,' said Mr Wainwright.
Brassington Moor Quarry is split into two working areas connected by a tunnel, which was initially something of a concern for TDL's area sales manager, Gaz Bourne. He was meticulous in ensuring that the TR70 was the right truck for the site, triple-checking the dimensions of the tunnel against the rigid hauler.
With one TR70 working well transporting blasted rock from the quarry face to the processing plant, in May 2014 Longcliffe decided to add another Terex Trucks machine to their fleet. This time, however, the business opted for the versatile TA400 articulated dumptruck.
'We were looking to replace another rigid dumper,' said Mr Wainwright. 'We'd always traditionally had rigids at this site but because of the application, which is more tip work and running overburden, we also needed a machine with low sides to work in unison with one of our smaller stock shovels. That's why we started looking at articulated trucks.
'We quickly got in contact with Gaz at TDL to get an idea of what Terex Trucks could offer. We did some tests, brought in some machines from other companies and ran trials looking at turnaround times, payloads, fuel consumption etc. After all that we were most impressed with the Terex Trucks TA400.'
Capable of carrying a 38-tonne payload, the TA400 is powered by a six-cylinder Scania DC13 EU Stage 3B-compliant engine that delivers a gross power of 331kW (444hp) and a maximum torque of 2,255Nm.
Operating two machines from Terex Trucks within their large fleet of equipment, Longcliffe called on TDL again in May 2017 when the time came to acquire a new truck. Pleased with the overall performance of the TR70, Longcliffe challenged the Scottish manufacturer to modify the truck slightly to increase its body volume by adding side extensions and tweaking the machine to make it a perfect fit for its operator, Andre Needham.
He said: 'I gave Terex Trucks a long list of specifications to make the truck just right for me and they didn't disappoint. I've got 40 years' experience in quarrying and I've operated a lot of equipment, but the TR70 is by far the most comfortable ride – even after 30 to 40 rounds a day.'
The TR70 is fitted with a Detroit Diesel MTU-2000TA 12-cylinder, 24-litre engine that delivers a maximum force of 3,323Nm and gross power of 567kW (760hp) through an Allison H6620AR six-speed transmission.
Chris Wainwright concluded: 'Terex Trucks' dumpers are built to do what they should do and with our new TR70, we're getting additional body volume through the side extensions.
'The fuel consumption of both the articulated and rigid dumpers is better than other trucks we've got, and the aftermarket service and response times we've received from TDL have been good. There's every chance that as our older machines come up for renewal, we'll replace those with Terex Trucks' dumpers too.'