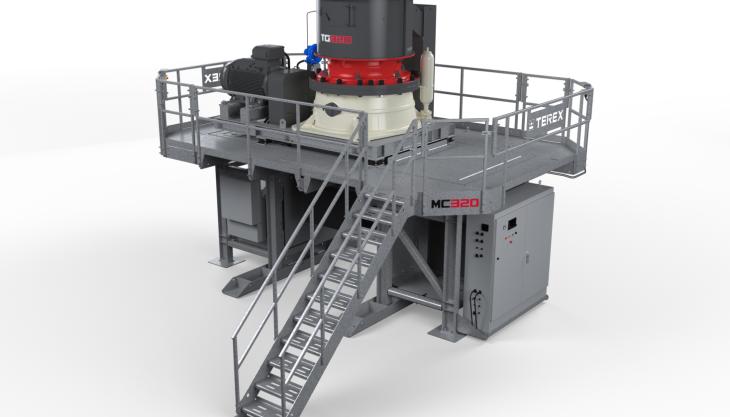 Introduction of new modular MC320 cone module for easy transportation and rapid installation
FOLLOWING the recent launch of the new Terex MPS TG/TGS Series bushing cone crushers, Terex Minerals Processing Systems have introduced the MC320 cone module, which features the TG320 or optional TGS320 cone on the same universal base structure as the MC and MV Series modular lines.
The all-electric, pre-engineered solution requires minimal wiring, can be easily transported in standard containers and quickly bolted together on site using basic tools, with or without full concrete foundations. 
The TG320 is a bushing cone with large feed opening, adjustable eccentric throw and multiple liners that allow the operator to quickly and easily optimize production output in most any application. The 300hp (225kw) 1800/1500 rev/min motor and crusher are mounted on a rubber isolated frame, which is common to the modular, portable and static platforms.
The galvanized/painted steel structure includes oversize walkways, repositionable stairs and guard rails for safe access. Four plant emergency stops are placed conveniently around the platform for easy access during operation.
The MC320 comes with standard AIC crusher controls, whilst additional options include an overflow chute and off-plant conveyor starter kit.