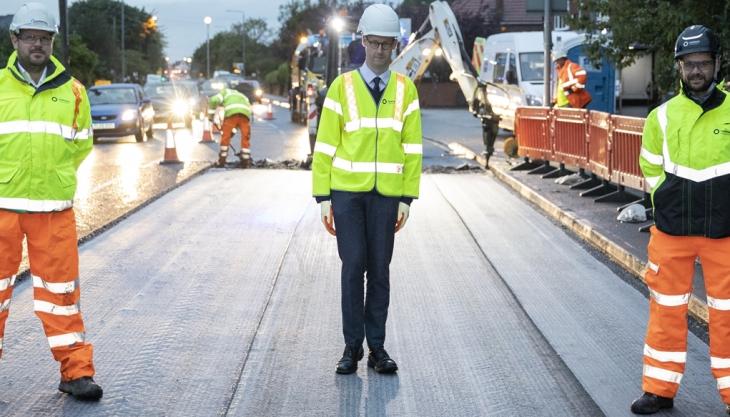 Nottinghamshire MP highlights UK's successful track record in recycled construction materials
TARMAC's highways services team has welcomed Tom Randall, Member of Parliament for Gedling, to a road resurfacing project in Nottinghamshire to highlight the UK's successful track record in the use of recycled materials in construction.

Mr Randall met with members of the Tarmac team, including general manager Ed Thompson and regional technical manager Adam Dean, to congratulate them for their contribution in helping the UK top the league of European countries that recycle the largest proportion of construction aggregates.

In a recent report, the Mineral Products Association estimated that in 2018 a total of 71 million tonnes of aggregates from a range of sources were reused in construction in Great Britain, 90% (64 million tonnes) of which originated directly from construction activity through demolition work and road repairs.

During the visit to see resurfacing work in Mapperley, located in his Gedling constituency, which was conducted in line with safe social distancing protocols, Mr Randall found out about the wide range of recycled asphalt solutions currently available – including those being used on the project from Tarmac's Mountsorrel site in Leicestershire which now include up to 30% recycled content.

Tom Randall MP (centre of photo) said: 'The UK has an outstanding track record in the use of recycled construction materials and I've been delighted to have had the opportunity to congratulate the team at Tarmac for their contribution to the country's European-leading status in this area.
'Our highways are the backbone of our regional economy and it's been fantastic to learn about all of the innovation that goes into manufacturing these locally produced construction materials that have strong sustainability credentials.'

Ed Thompson (left of photo) said: 'Climate emergencies are being declared by local councils all over the UK and it's increasingly important that our industry continues to play a leading role in helping to reduce the carbon footprints of our roads.
'It was a pleasure to welcome Tom to a site and discuss the innovative and sustainable recycled materials we're using in his constituency, as well as to highlight the UK's excellent international performance.'

Tarmac are helping local authorities across the country, including Nottinghamshire County Council, to increase the use of more sustainable solutions on their highways, which include materials with a higher proportion of recycled content and those with improved carbon footprints.

Earlier this year a road in Nottinghamshire became one of the first in the country to be resurfaced with a revolutionary new asphalt made from rubber from recycled waste tyres – which, subject to further trials, could help to find a use for the 40 million waste tyres that are produced every year in the UK.