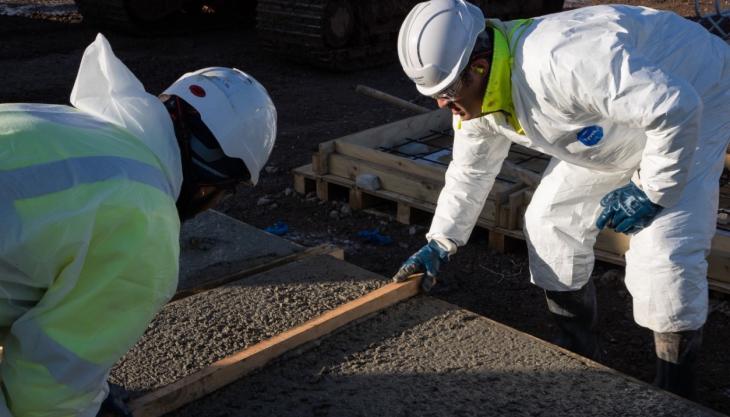 Skanska and Tarmac seeking to tackle climate change with innovative low-carbon concrete
TARMAC have supplied a low-carbon basalt-fibre-reinforced concrete for a trial on a temporary haul road for construction vehicles, as part of National Highways' M42 Junction 6 improvement scheme. The trial is being led by Skanska in partnership with the National Composites Centre and funded by National Highways.
Tarmac, a member of the project's supply chain, have provided two types of concrete for the trial: a mix comprising conventional blended cementitious material and a low-carbon alternative mix incorporating an alkali-activated cementitious material (AACM) in place of the cement.
Robert Gossling, head of commercial engineering for Tarmac, said: 'Tarmac have developed new low-carbon concrete technology and this trial is a great opportunity to collaborate with industry-leading project partners to test its performance through an ideal, real-life application.
'Manufactured at a conventional concrete plant located close to the project and installed in exactly the same way as traditional materials, this new sustainable product delivers a carbon footprint up to 80% lower than a standard CEM I concrete. We hope this demonstration will help to accelerate the development of innovative low-carbon materials.'
Production of cement, a key ingredient in concrete, currently accounts for around 7% of the world's CO2 emissions. In the UK, this figure is less than 1.5%, thanks to the industry's innovation and investment in efficient plant, fuel-switching, and the use of low-carbon cement substitutes that are by-products from other industries.
Malcolm Newton, director at Basalt Technologies, explained the benefits of basalt fibre reinforcement over steel: 'Basalt is a lightweight composite material consuming 62% less CO2e than steel during its manufacture. It comprises a non-metallic, non-corrosive, inert material that makes it more durable, lighter, and safer to handle and transport than steel.'
Glennan Blackmore, operations director (Highways) at Skanska UK, said: 'It's a great example of how by working collaboratively we can innovate to help tackle climate change and deliver long-term benefits for the industry.'
National Highways programme leader Anita Prashar added: 'This trial is a groundbreaking piece of work and we're committed to working with partners to explore ways of reducing our carbon footprint.'