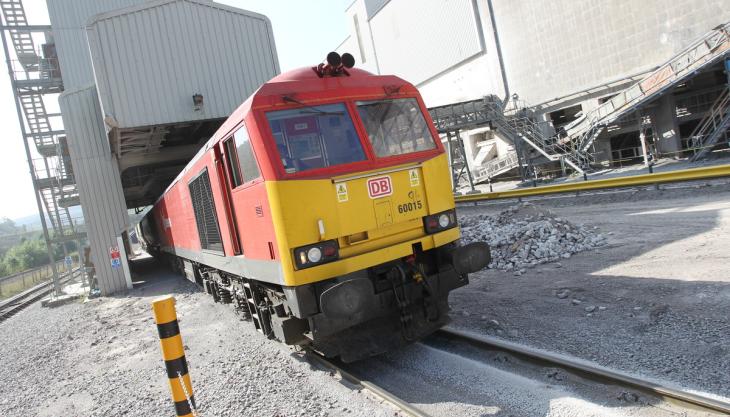 Rail Forum and Tarmac launch latest SME challenge to create freight terminals of the future
TARMAC, working with the Rail Forum and industry partners, are helping to launch an annual SME challenge designed to create the freight terminals of the future.
The scope of the challenge will be formally outlined at an online event on Wednesday 20 April, along with details about the process, time frames, and how to get involved.
Now in its fourth year, the SME rail challenge is designed to provide opportunities for small and medium-sized enterprises (SMEs) to work collaboratively to develop and offer solutions to real needs identified by different rail freight clients across the industry, including Tarmac.
The project is a collaboration between Tarmac, DB Cargo, Freightliner, Ermewa, and GB Railfreight, and is supported by the University of Derby, Rail Freight Group, and the Rail Forum.
Tarmac are among the largest users of rail freight, transporting construction materials by rail UK-wide as part of the business' ongoing sustainability commitments.
Chris Swan, Tarmac's head of rail, said: 'We're always keen to explore new ways of innovating rail freight and, in particular, opportunities to further reduce CO2 across our business and the industry.
'The SME challenge is a great opportunity for collaboration and to discover creative ideas from inside and outside the sector to develop UK rail terminals of tomorrow. We are proud to be part of such an exciting initiative and look forward to hearing from SMEs nationwide as the challenge gets under way.'
Bob Hodgson, engagement manager at the Rail Forum, said: 'We are really pleased to bring this fourth challenge opportunity to the SME community. Some of the areas SMEs should consider are decarbonization, automation, and digitalization. The Rail Forum SME challenges have been very successful with several SMEs gaining 'first of a kind' funding to bring their products to market.'
Elaine Clark, chief executive officer of the Rail Forum, said: 'The success of the SME challenges demonstrates they are providing real opportunities for SMEs to work collaboratively with clients to take their ideas from concepts through to the next stages of development, and we look forward to watching them come to life.'
The SME challenges are delivered as part of the Rail Supply Group's Rail Sector Deal Midlands Pilots. All SMEs are welcome to join, and places can be booked here.