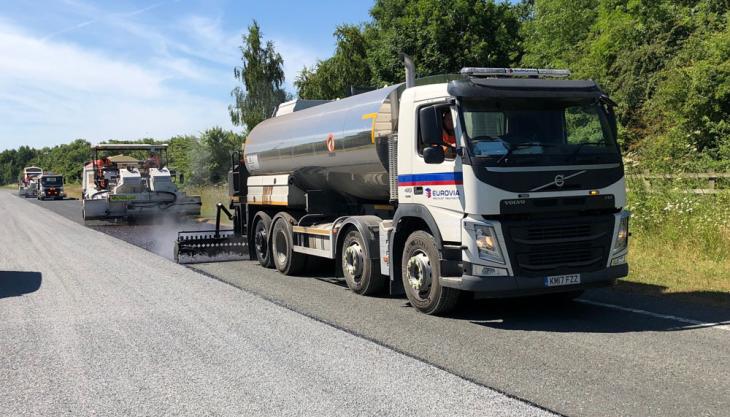 Eurovia Specialist Treatments carry out record-breaking surface-dressing scheme in North Yorkshire
EUROVIA Specialist Treatments (EST) has successfully carried out a record-breaking surface-dressing scheme in North Yorkshire, for Ringway and North Yorkshire County Council, by treating the largest ever area on a weekend road closure.
A 16-mile stretch of the A168, from Leeds Boundary to Dishforth, was double dressed with a high-performance treatment process, applied to approximately 240,000 sq m of road carriageway.
EST completed the scheme for Ringway, the term Highway service providers for North Yorkshire County Council, in which 500 tonnes of polymer-modified bitumen emulsion (20 artic loads) and 4,650 tonnes of aggregates (166 artic loads) were applied in just 33h, between 4am on Saturday 30 June and 1pm on Sunday 1 July.
Paul Goosey, EST regional director, said: 'A combination of an excellent plan, hard work by our 59 specialist operatives on site, and our state-of-the-art equipment meant that we were able to meet our target and apply 16 miles of high-quality surface dressing across the carriageway in one weekend closure.
'It was a huge challenge to complete a job of this size in such a short space of time, especially with the hot weather we experienced at the weekend and the logistics of bringing all the equipment and materials together to deliver the works.
'Two surface-dressing crews ensured we could work continuously, while our high-performance customized Etnyre surface-dressing chipper increased the production of the works due to width and speed of application.
'This meant less disruption for road users, less carbon emissions and improved value for money for the client. It was an absolutely fantastic achievement by all of the team to deliver this work.'
The successful collaboration between EST, Ringway North Yorkshire, North Yorkshire County Council and the associated stakeholders has already been recognized at the CIHT Awards last month. The partnership between the organizations was commended for a forward-investment programme based on high quality, high production and best value for customers.