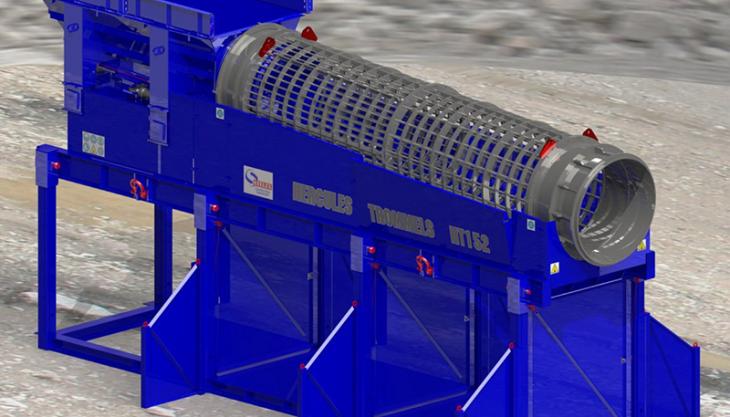 New unit in response to customer demand for heavy-duty trommel that can be moved with minimal effort
STELEX Construction Equipment Ltd, manufacturers of the original 'Hercules' range of heavy-duty trommels, have launched the new rapid set up HT152R trommel as part of their standard product range.
The HT152R has been introduced in response to demand from customers for a machine capable of handling large stone sizes at higher tonnage rates but with the extra benefit of a very rapid set-up time – a major advantage for shorter-term rental projects or when the trommel needs to move around the site on a regular basis with minimum effort.
Rapid set-up times are achieved thanks to a new support frame design that automatically extends into its working position as the trommel chassis is lifted by a crane. Once the legs are extended the trommel is ready to run.
The HT152R is capable of cleaning and sizing lump sizes up to 600mm at rates up to 300 tonnes/h. Barrel apertures are available up to 300mm and the barrel assembly features two separate sections that are bolted together to achieve two different product sizes plus the oversized material off the end of the barrel.
The barrel apertures, which are designed and built to suit customers' specific requirements, can process a wide range of different feed materials.
The machine's 5.2 cubic metre capacity heavy-duty feed hopper can be fed from the rear or the side using an excavator or loading shovel. Feed material falls on to a feeder table where the reciprocating feeder action pushes it into the barrel at a regulated rate. The barrel rotation speed can also be adjusted to suit different feed materials as well as changing weather conditions or site locations.
The overall weight and dimensions of the HT152R allow for easy transportation anywhere in the world.