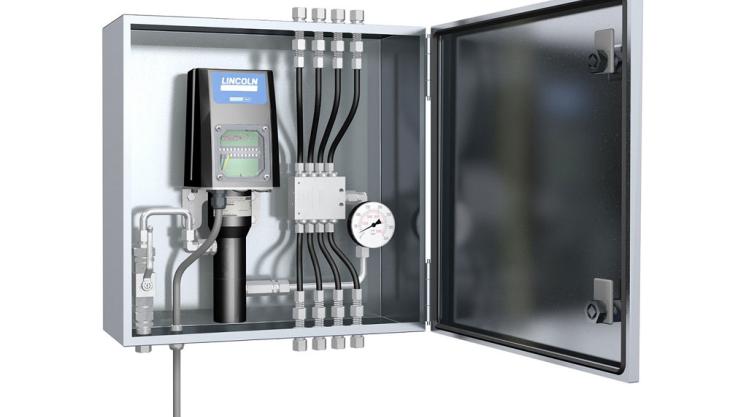 New electrically driven device simplifies design and operation of centralized lubrication systems

A NEW dosage and pressure-boosting pump offers a simpler, more controllable way to deliver high-precision lubrication in demanding production environments. The Lincoln EDL1 electrically driven lubricator is a robust, self-contained lubricant dispensing system that can inject grease into a connected lubrication system or lubrication point at pressures up to 280 bar (4,060psi)

The device incorporates an electrically driven piston pump with an integrated control board that manages the lubrication cycle based on pre-set time intervals or via signals generated by an external sensor or control system.

Up to three EDL1 units can be managed using SKF's new, dedicated LMC301 controller. Local control of lubricant delivery is particularly useful in applications where lubricant requirements or operating cycles differ significantly in different parts of a plant.

For equipment owners, the EDL1 is said to offer numerous advantages over conventional centralized lubrication system technologies. Lubricant can be supplied to the device at a low pressure of 2 bar (29psi). That means the EDL1 can be installed at the end of long lubricant feed lines or as an extension to existing centralized lubrication systems without the need to upgrade distribution pumps or delivery pipework.

In new installations, the reduced distribution pressure requirements can dramatically simplify system design, allowing high-pressure dual-line systems to be replaced with a simpler, lower-pressure single-line configuration.

The electric pump means the EDL1 is easy to install, with no need for a separate compressed-air supply, and essentially maintenance-free in operation. In-built remote-monitoring capabilities can be used to alert machine operators or maintenance personnel in the event of a failure in the lubricant supply.

The Lincoln EDL1 is suitable for use in any production environment with demanding lubrication requirements, including the cement industry and other heavy industrial applications.