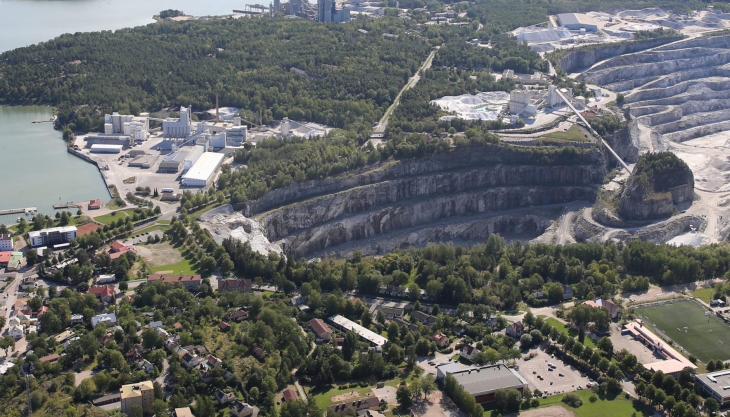 Agreement set to see carbon capture membrane technology installed across all operational kilns
SIGMAROC plc have announced that they are to install their first carbon capture facility during the first quarter of 2023, with their longer-term aim being to capture all of the Group's kiln process emissions by 2030, well ahead of their 2040 net-zero targets.
To this end, SigmaRoc have entered into an agreement with Aqualung Carbon Capture AS, a leading provider of membrane carbon capture and separation technology, to construct Europe's first industrial-scale facility of its type at their Scandinavian Group company Nordkalk.
Each shipping container-sized unit will be capable of capturing up to 25% of the process emissions from one of Nordkalk's typical lime kilns, using Aqualung's simple, low-energy solution. The technology involved is modular, tested, and scalable, allowing for a phased and systematic roll-out to equip all operating Group kilns with the system before 2030.
Construction of the first unit will commence in first quarter of 2023 with commissioning and start-up scheduled for April 2023.
In parallel, both parties will work together on the entire carbon chain, including the capture, sequestration, and alternative uses or commercialization of the captured CO2. As a result, SigmaRoc estimate that they will be able to significantly bring forward their net-zero targets once full roll-out has commenced.
Max Vermorken, chief executive officer of SigmaRoc, said: 'Our partnership with Aqualung is an exciting next step for the Group and the fruit of many months of diligent work by Aqualung and our technical teams in the UK and at Nordkalk.
'It demonstrates that capturing all process emissions is possible with existing technology and at industrial scale. Once we roll this out across the Group, I believe we will be industry leading when it comes to our carbon capture strategy, demonstrating again the agility of our business and our business model.'
Charles Trigg, chief technical officer of SigmaRoc, commented: 'As a Group, we are always on the lookout for interesting technologies that can help us advance our business and our operations. Aqualung is clearly that type of technology.
'Partnering with them to potentially decarbonize our operations well ahead of not just our timeline, but probably the entire industry, is very exciting and the result of intense work across the Group, in particular at Nordkalk.'
Henrik Utvik, president and chief technology officer at Aqualung Carbon Capture, added: 'We are extremely pleased to partner with a pioneering company like SigmaRoc to apply our decarbonization concept in lime production.
'Due to its size and energy advantages, we believe our technology is ideally suited for this application, and the collaboration with SigmaRoc will fast-track the deployment of full-scale carbon capture installations.'