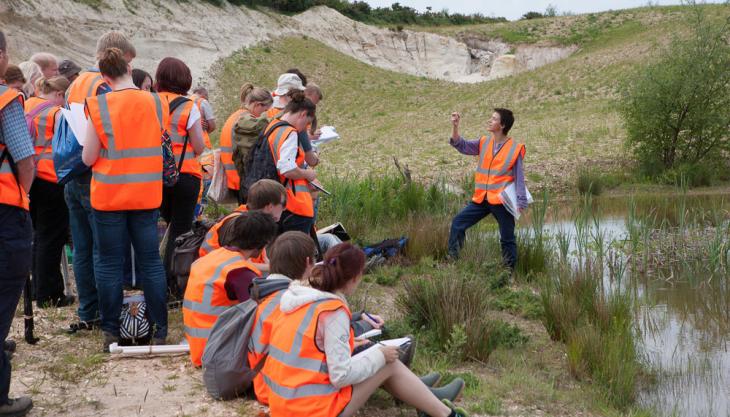 Biennial biodiversity research competition open to proposals at eight Hanson UK quarry sites 
HANSON UK have launched the second round of their biennial biodiversity research competition – the Quarry Life Award.
The competition, which is run by Hanson's parent company HeidelbergCement in 21 countries across the globe, offers university academics and students the chance to win up to £35,000 by finding new ideas for the conservation and promotion of species diversity in quarries.
Universities are being invited to submit potential projects based around five topics from biodiversity and education to raising public awareness, to be carried out at one of eight Hanson quarries: Shap Beck, near Penrith, Cumbria; Penmaenmawr, in Conwy, North Wales; Kirton, near Newark, Nottinghamshire; Barton-under-Needwood, near Burton upon Trent, Staffordshire; Grange Top, Ketton, Rutland; Needingworth, Cambridgeshire; Craig yr Hesg, Pontypridd, South Wales; and Whatley, near Frome, Somerset.
The deadline for project submissions is March next year when a panel of in-house and independent experts will select the best projects to progress to the research phase, which will be carried out next summer. Three UK winners will then be chosen to share a prize fund of £8,000 and go forward to the international competition with the chance to scoop the top prize of £27,000.
Martin Crow, Hanson's senior sustainability manager, said: 'Our aim is to encourage projects which can support and enhance the work we are doing to improve biodiversity and the quality of restoration at our quarries. The first round of the awards attracted a lot of interest and some valuable research work was carried out. We are expecting a similar level of interest this time.'
A project entitled 'Restoration of silt lagoons for wading birds at Wykeham Quarry', carried out by a team from the University of Hull, won the UK section of the 2012 awards and came third overall in the international competition.
This project has led to further research being carried out over three years at the site and Hanson UK are funding the appointment of a PhD student to work on the project for its duration. It is hoped that the research will be of practical benefit to quarry managers looking to boost biodiversity at their sites.
Profiles of the eight participating Hanson sites, together with full terms and conditions, can be found on the Quarry Life website: www.quarrylifeaward.com