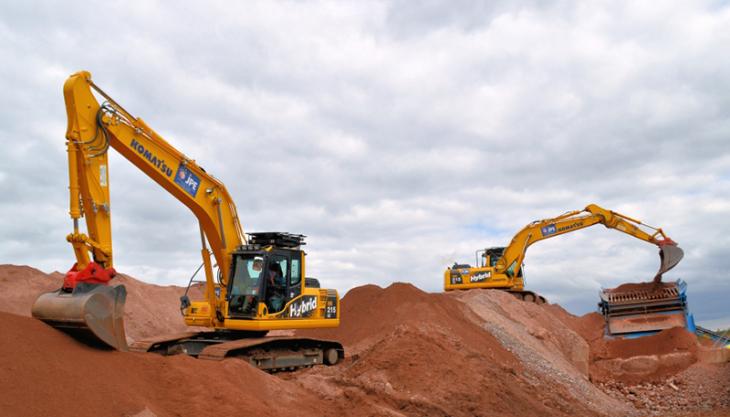 Midlands-based aggregates supplier takes delivery of second Komatsu HB215LC-1 hybrid excavator
MIDLANDS-based JPE Aggregates, one of the leading suppliers of aggregates, sand and soils to the construction industry, have bought a second Komatsu HB215LC-1 hybrid excavator from Marubeni-Komatsu Ltd. The machine has been set to work at JPE's recycling operation at Shire Oak Quarry, near Walsall, in Staffordshire.
Following the £2 million installation of a state-of-the-art CDE aggregate-washing facility last December, JPE sourced the new Komatsu hybrid as the most sustainable excavator on the market to load the wash plant, and were so impressed with its performance and fuel efficiency that they had no hesitation in ordering a second machine.
Steve Birch, director of JPE Holdings, explained: 'In looking to add to our fleet of 20-tonne excavators, the Komatsu hybrid looked an attractive option in terms of potential fuel savings and CO2 emissions. Specifically, we were looking for a cost-effective excavator that would be mostly employed on top of a stockpile loading a CDE wash plant with aggregates.
'Although we were hopeful of achieving around a 25% reduction in fuel usage, we were staggered to find that once we put it to work on site, the machine used, on average, just 8 litres/h, which is almost a 50% saving on the previous machine. Hence, it made perfect business sense to order a second hybrid.'
Shire Oak Quarry, which was acquired by JPE Aggregates from Tarmac Ltd in 2013, is now the first site in the UK to see two Komatsu hybrids working side by side.
Mr Birch continued: 'As a business operation we are very conscious of the overall cost of production, as measured by cost per tonne. With ever-rising fuel costs the Komatsu hybrid has proved its worth, and even including the higher up-front costs of purchasing the machine, it still works out cheaper over its lifetime than any other comparable excavator in the marketplace.'
Paul Finney, area sales manager for Marubeni-Komatsu, added: 'Since the second-generation hybrid excavator was released on to the UK market last year, we as a company have been extolling its green credentials in terms of less CO2 emissions, excellent fuel savings and quieter operation, but it's now great to see a customer confirming those benefits and quickly ordering another machine, based on real cost savings.'