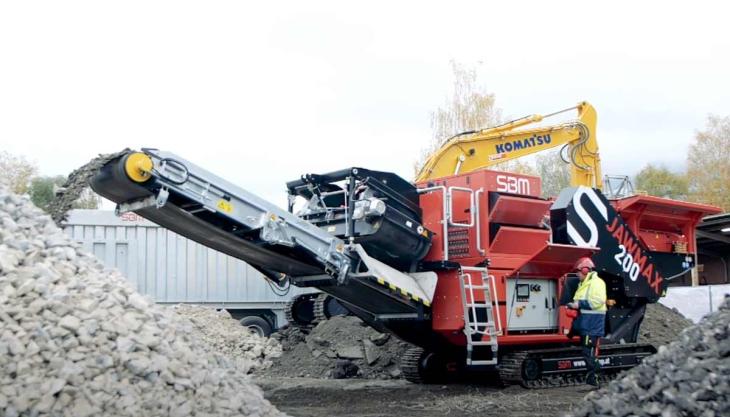 Austrian manufacturer introduces latest mobile jaw crusher model for recycled aggregates market
SBM Mineral Processing GmbH have announced the launch of the JawMax 200 – a new compact and powerful mobile jaw crusher specifically designed for processing natural stone and recycling construction and demolition (C&D) waste.  
Celebrating its 70th anniversary this year, the Austria-based manufacturer hopes the new entry-level jaw crusher model will help address the recycling needs of customers in the European mobile processing market and further strengthen its strategic ambition to be a leading supplier of mobile crushing and screening equipment to the quarrying, recycling, mining and road construction sectors.  
The 27-ton JawMax 200 has a feed opening of 1,000mm x 600mm, can be used as a primary crusher for impact mills and is suitable for those operating on urban sites where working and transport space are restricted, thanks to the machine's small footprint. 
The mobile crushing plant has been designed with the operator in mind. For ease of operation and convenience, the JawMax 200 is equipped with automatic soft start and remote-control setup. 
The electrically driven jaw crusher also delivers extremely low running costs, as it can be powered from either the grid or by a 200kVA diesel three-phase genset. Other notable features of the JawMax 200 include: automated gap adjustment; overload protection; a magnetic separator; and an adjustable discharge conveyor.
SBM say the new mobile crusher has been optimized for contractors/end-users who need to track critical machine operating data from the field. To help operators get the most from their JawMax 200, the crushing plant can be monitored remotely using SBM's Crush Control app, which provides real-time operating data (eg operational hours, location, planned maintenance/servicing etc). 
The app is available to download from the App Store or Play Store for both iOS and Android operating systems.