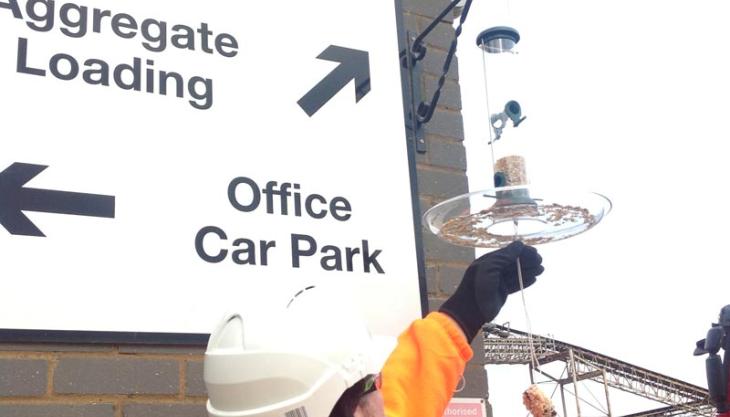 CEMEX team up with the RSPB in bid to reverse declining house sparrow population in London
WHEN was the last time you saw a house sparrow? In London, the population of this once-common small bird has decreased by nearly 70% in the last 20 years, but now CEMEX UK and the RSPB are working together to try to save the 'cockney' house sparrow.
Staff at 12 CEMEX ready-mixed concrete plants in London are helping the campaign by installing bird boxes at the sites and undertaking bird surveys to see how, and if, sparrows use industrial sites.
The nest boxes have recently been erected to provide shelter and there are plans for grass and wild flower seeds to be planted in unused areas of the sites to provide food.
According to the RSPB, who have been investigating the cause of the decline in numbers, it seems that lack of food is a major factor. The loss of wild flowers and grass areas in cities such as London has resulted in less seeds and insects, two of the sparrow's favourite foods.
Another factor found by a university study is increased urban noise. Hungry chicks calling for their parents cannot be heard, resulting in failure to thrive.
A former volunteer conservationist, Chris Leese, vice-president of Readymix and Mortars with CEMEX UK, commented: 'Many years ago I worked as a volunteer conservationist so this project is close to my heart. It is hard to believe that the once-common house sparrow, which we took for granted, has faced such significant decline and is now on the endangered list.
'Working alongside the RSPB in our London business, we hope to help save the sparrow and bring it back to our communities.'
RSPB London manager Martyn Foster said: 'CEMEX UK recognize the value of partnership and we know that we'll do more to restore London's sparrow population by working together than we could operating alone. We're losing our wildlife in our towns, cities and the wider countryside. All nature needs our help and this is a great step forward.'