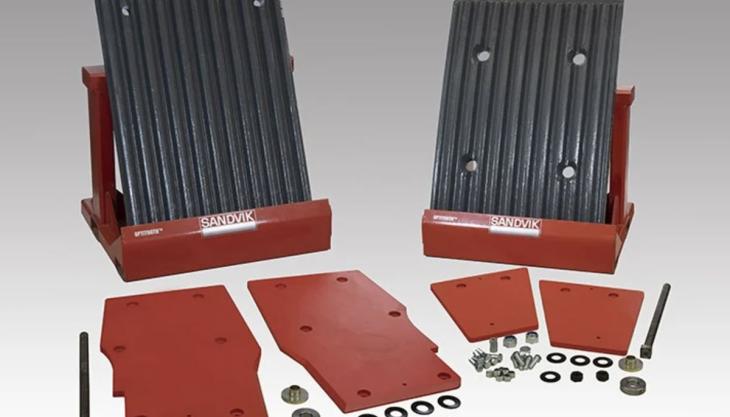 New maintenance kits said to deliver increased productivity and longer wear life for Q-range jaw crushers
FOLLOWING the successful launch of Sandvik Optitooth jaw plates, Sandvik Mobile Crushers and Screens have now created a number of complementary ready-to-order maintenance kits, including Optitooth jaw plates and new Optitooth side plates, for all Sandvik Q-range jaw crushers.
The tailor-made kits are designed around the natural usage of the wear parts in the QJ241, QJ341 & QJ341+ crushers and offer all the components needed with just one part number, thereby simplifying service and increasing maintenance efficiency and uptime.
For convenience, three different offerings are available: Kit 1, with fixed Optitooth jaw plate and new lower side plates; Kit 2, with swing Optitooth jaw plate and new lower side plates; and Kit 3, with one fixed and one swing Optitooth jaw plate, plus new upper and lower side plates.
The improved profile of Sandvik Optitooth jaw plates has been designed to allow a higher percentage of the jaw to be utilized, resulting in longer wear life and less manganese waste. Moreover, the backing plate was redesigned to make it easier for removal, thereby reducing maintenance downtime. This improvement in wear life also extends to Sandvik's new Optitooth side plates, which have, in trials, been proven to last up to three times longer.
The special Optitooth profile is also said to contribute to improved product shape, having been designed to produce more cubical material and provide greater reduction of elongated slab material, which can cause blockage issues in secondary cone crushers.
Since the introduction of the Optitooth jaw plates, Scottish customer G.F. Job say they have not looked back and would have no hesitation in recommending them. 'They benefit us all round: we are crushing far more, getting better fuel economy, producing a better product and they are last a lot longer,' said operations manager Graeme Watt.