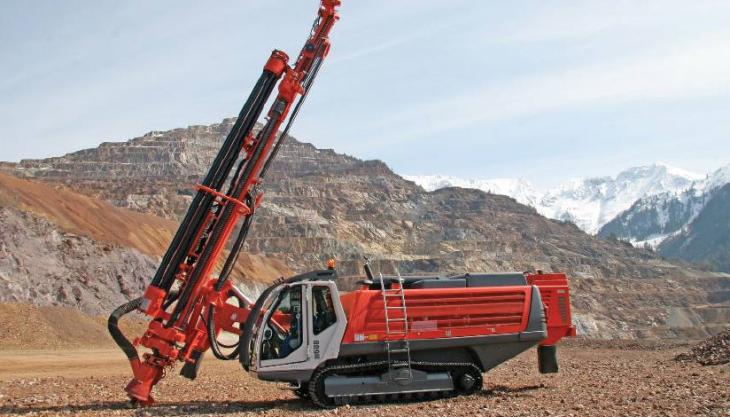 This year Sandvik Mining and Construction will supply the first Sandvik DI600 DTH (down-the-hole) drill rig in the UK to CEMEX's Dove Holes Quarry, while just a mile down the road Tarmac's Tunstead Quarry will take delivery of a new Sandvik D245S drill rig. Between them, the two quarries currently drill and blast in excess of 10 million tonnes of limestone each year.

The DI600, the largest of the Sandvik DI range, is said to represent the latest in mobility and versatility with high large-diameter drilling performance, all within a modern design featuring an enclosed engine and suitable for road transport without an escort.

The D245S is the smallest drill rig from Sandvik's factory in the US and the company has been supplying this type of machine to Tunstead for over 30 years. In the US the D245S is described as 'compact', although it actually weighs over 39 tonnes, compared to the DI600's 28-tonne operating weight. It has a fixed mast with inside loader and 9.15m (30ft) drill pipe with simple direct hydraulic controls and an open engine and compressor. The large two-man cabin has enough room for a second seat and a small fridge.

At Dove Holes CEMEX required a drill rig to replace their existing machine, but they also wanted something extra. With annual production at the quarry exceeding 4 million tonnes, the Sandvik DI600 was selected to ensure these high targets would be met, which may involve the possibility of double-shifting. CEMEX's main considerations in selecting the DI600 included its powerful Caterpillar C15 engine, high-output compressor, high-torque rotary head, large cab, robust frame and undercarriage and improved access for service. The machine will use both 5in and 6in DTH hammers and will be required to track long distances.

At Tunstead Quarry, which has an annual production in excess of 6 million tonnes per year, Tarmac have been using the larger Sandvik blasthole-type machines for over 30 years. Two rigs are utilized in order to remain 'on top of the job', and 6in DTH hammers are used exclusively. Tarmac say they have tested a smaller 'contractor' type machine but were not persuaded to change. According to the company, the significant weight of steel used in the D245S ensures the longevity of the drill rig.