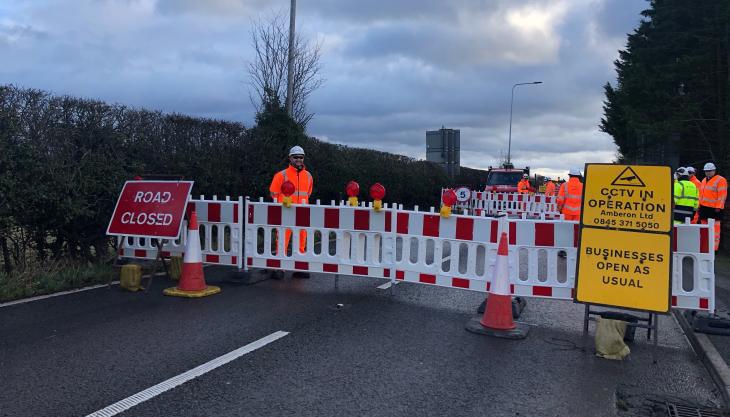 Safety and Sustainability Innovation Day held as part of Ringway Jacobs A51 Improvement Scheme
ON 8 December 2021, Cheshire East Highways, Cheshire East Council Highways and Transport Committee chair, and key supply chain partners attended a Safety and Sustainability Innovation Day focusing on the A51 improvement scheme.
Cheshire East Highways, an integrated highways services contract working on behalf of Ringway Jacobs, recently undertook the major improvement scheme on the A51 through Nantwich – a strategic route known for carrying very high levels of traffic, particularly haulage vehicles from the ports at Holyhead and Liverpool.
The purpose of the scheme was to stabilize the road through reconstruction, as well as replace the drainage system and safety barriers, whilst improving the overall condition of the road. The project excavation spanned 680 linear metres, with 4,000 tonnes of material removed during the dig with a target of zero waste to landfill. Full resurfacing of both sides of the road covered 6,500 square metres.
The purpose of the innovation day, which took place in a designated area of the site whilst the improvement works continued, was to meet in a live site environment where industry experts could showcase innovations for enhancing site safety in a sustainable way, to understand the key challenges and issues the teams face, and to identify how Ringway Jacobs use collaboration to find solutions that make sites safer and to operate in the most sustainable way.
Key themes included enhanced site safety, carbon reduction, and safety innovation. Key supply chain partners showcased new approaches and technology, including personal protective equipment (PPE) manufactured from recycled materials, an online training hub that will allow the workforce to undertake necessary training remotely, and the Ecosmart solar van, which produces 90% less emissions than a standard welfare van by using hydrogen fuel, whilst also reducing noise and fuel costs.
Phil Horton, managing director of Ringway Jacobs, said: 'I'm pleased to be part of an organization that puts the safety of our people first. The combination of sustainable ways of working introduced through innovations and technology in highways and our people is what makes our organization thrive.'