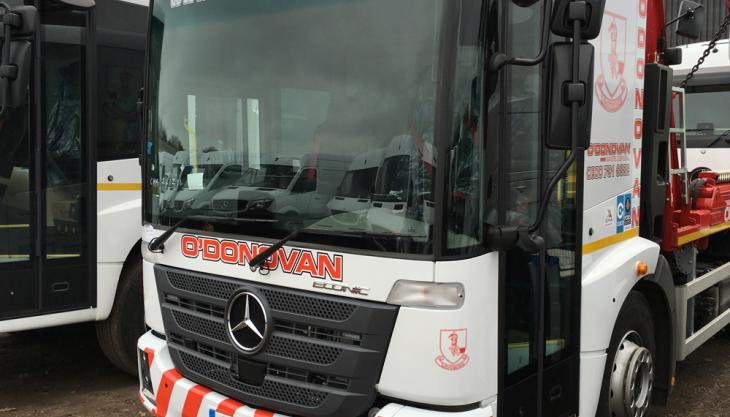 London recycling operator unveils industry-first Mercedes Benz Econic 1830L skip loader
AS part of an ongoing aim of raising the bar in construction logistics safety, O'Donovan Waste Disposal have unveiled brand new additional machinery to their plant and equipment fleet 
Launched at last month's Construction Logistics and Cyclist Safety (CLOCS) exhibition, the latest Mercedes Benz Econic 1830L skip loader is said to be the first 4x2 of its kind to be commercially put to work in the UK. Originally designed for municipal waste work, the vehicle has since been made available to the construction sector.
O'Donovan are operating the exclusive Econic lorry, which delivers previously unseen safety features such as an unparalleled view of vulnerable road users. The skip loader has a wide field of vision with its deep panoramic windscreen, a fully glazed 'bus style' nearside door and a lowered driving position that puts the driver at eye level with both cyclists and pedestrians. 
The fully glazed 'floor-to-ceiling' door provides direct visibility of the nearside blind spot, a notable vulnerable position for cyclists. In addition to the safety benefits, the 1830L truck has had additional CLOCS features fitted, including: a side scan system; side under run protection; a left-hand turn audible alarm and conspicuity markings.
'The whole purpose of CLOCS is about taking resolute steps and instigating cultural change to reduce the road danger posed by construction industry vehicles,' said Jacqueline O'Donovan, managing director of O'Donovan Waste Disposal. 
'As a progressive company known for bold decisions, we are keen to ensure we are making the best choices to help further protect vulnerable road users. We continue to make significant ongoing investments in our fleet and drivers to ensure that we are in the best possible position to do this.'