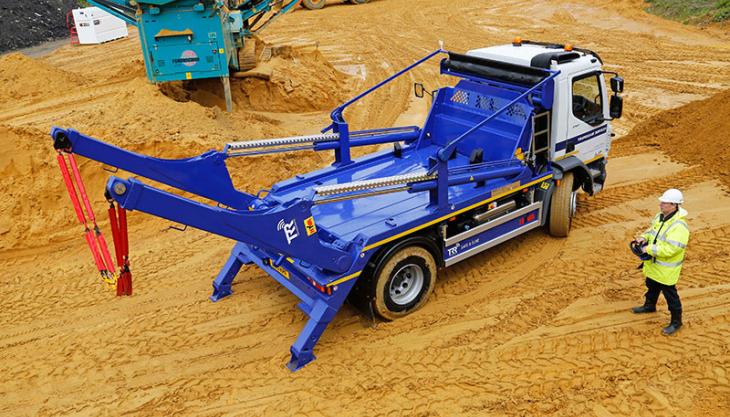 Titan radio remote control skiploader takes safety and productivity to another level  
OFFICIALLY launched at last month's TIP-Ex Show, Hyva say their unique Titan Radio Remote (TRR) skiploader signals a completely new era in safety and productivity.
According to the company, the TRR system is the first of its kind to bring crane-based wireless electro-hydraulic operating technologies into the skiploader marketplace – and the biggest benefit of operating skiploaders by remote control is safety.
For the first time, a skiploader driver can fully walk around a vehicle at the same time as they are conducting the loading/unloading procedure. With the operator having a full view of the immediate working environment, the potential for accidents and incidental damage is significantly reduced.
Built on an 18-tonne gvw DAF LF chassis, one of the first Hyva TRR skipoaders has been supplied to Surrey-based Translease Services. 'The fact is that skiploaders often have to operate in either confined or perhaps semi off-road conditions where container handling can be difficult at best,' said Translease director Tim Scott.  
'When using conventional fixed control levers, usually mounted towards the front offside of the bodywork, the skiploader driver is effectively confined to that spot and has very limited vision of the key working area around the rear of the truck. In contrast, TRR allows the operator complete mobility with a full view of the actual working area. Not only can potential hazards be easily avoided, but the placing of skips can now be much more accurate too.'
He continued: 'The other big gain is that TRR allows the whole operating cycle to be considerably quick. Radio remote control is, therefore, a key advance for the skip industry and one that will inevitably become a standard requirement in the not too distant future.'
Mike Taylor, national sales manager for Hyva UK, said that while the company is already the clear market leader for skiploaders, it is still vitally important that the business pushes its products to the next level.
'In terms of operating safety, TRR offers the industry nothing less than a quantum leap forward,' he commented. 'We also calculate that the extra cost of the TRR specification will easily be repaid; not only by reduced bills for maintenance, repairs and insurance, but also through real productivity gains made by speeding up the whole operating procedure.'