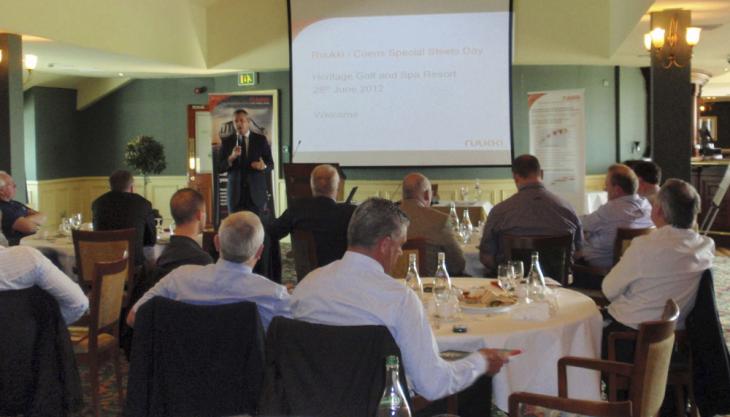 A well-attended event aimed at refreshing and updating the knowledge of potential and existing customers on Ruukki's special steel developments. 
Ruukki UK Ltd held their first special steels day events in Ireland during this summer. They were joined by Coen Steel, who have recently undertaken to be Ruukki's certified partner for special steels in Ireland. On 27 June, Ruukki and Coen held their first day in Cookstown, Northern Ireland and the following day travelled onto Co. Laoise, Ireland, to continue with the two-day event. Both days were well attended, with participants coming from over 20 companies. 
The Special Steels Days focused on hot-rolled steels, primarily Raex, Optim and Laser and were well received by an audience of purchasers and designers for both current and potential customers. A number of enquiries and design drawings were received from prospective customers who were particularly interested in the weight saving benefits offered by the range of high-strength Optim steels.
Speaking about the event Paul Arthur, purchasing manager for Geith commented: 'The day was really informative. We have used Ruukki steel for a number of years and know how good it is but, it was also great to see how hard they are working to produce stronger, tougher materials and to gain a better understanding of the potential benefits of these products. As a manufacturer of products including Geith excavator buckets, hitches and couplers we buy both high-strength and wear-resistant steels and have to be constantly looking at what steels we can use to produce the most effective components for our customers.'
Tony Harris, country manager UK and Ireland, opened the event and gave an introduction to Ruukki, whilst David Coen, co-owner of Coen Steel, spoke about Coen Steel and their relationship with Ruukki and Pasi Leiviska, product manager, Ruukki Metals, delivered the technical presentations on Laser, Optim and Raex.