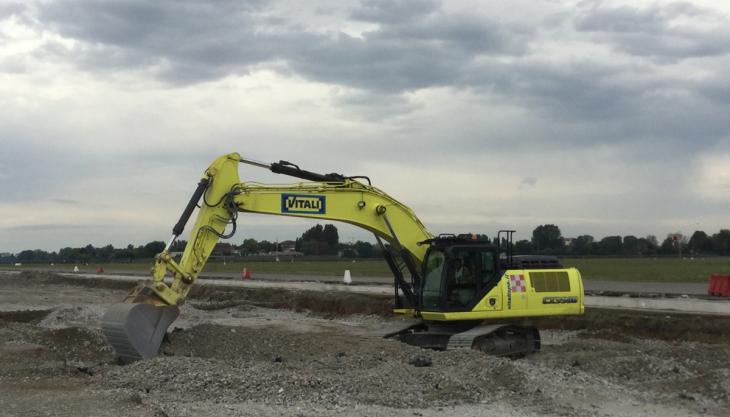 More than 100 CASE machines help upgrade runway at Milan Linate Airport
ITALIAN contractors Vitali SpA, headquartered near Milan Linate Airport, specialize in large-scale infrastructure projects. As part of a major upgrade at Milan Linate Airport, the seventh-busiest airport in Italy, the main runway is being rebuilt and Vitali are using more than 100 CASE crawler excavators and wheel loaders to help undertake the redevelopment of the project. 
Renovating the 2.5km long airport runway initially involves demolishing the reinforced concrete surface in place, a task in which the CASE excavators have come to the fore. 
'Demolishing the old runway in a relatively short amount of time requires precise power,' said Luca Vitali, owner of Vitali SpA. 'The CASE excavators in operation have consistently delivered this, helping to keep this large project on time and within budget.
'As well as this, the new asphalt surface is being laid at 3,000 tonnes every 24 hours, a task in which the manoeuvrability of the CASE excavators has been perfectly matched by the power of the wheel loaders.'
To meet the project's strict deadline, work has taken place under a tight schedule and with the machines required to operate almost 24h a day, reliability is, therefore, imperative. 
Mr Vitali continued: 'The CASE crawler excavators and wheel loaders are highly appreciated not only for their performance, but also their reliability and low fuel consumption. Operator feedback on machines is also crucial for us and they have all remarked on the comfort the CASE machines deliver in what can be testing working conditions.'
The CASE machines at work on the newly reconstructed runway include: 821G wheel loaders; CX145D excavators; CX300D units; and CX350D excavator models. Making up the other Case excavators on site are CX370Ds, CX490Ds and CX800Bs, the largest of which features a demolition boom.  
All resulting debris from the demolition work is being treated, recycled and then used as foundations for the new runway. In total, this will require 63,000 cubic metres of material which is currently recycled at a rate of 3,000 cubic metres per day. 
'We are all delighted to see CASE machines performing at such a high level on a demanding jobsite,' said Nicola D'Arpino, vice president sales and marketing for CASE Construction Equipment Europe. 'They are playing a key role in developments that will greatly improve what Milan's city airport can offer and it's great to hear such glowing operator feedback.'