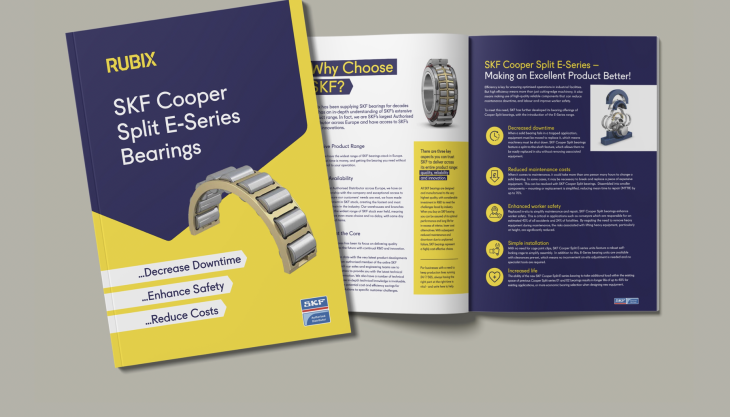 Bearings brochure shows how to raise efficiency, reduce downtime and enhance worker safety
RUBIX, the UK's leading supplier of industrial maintenance, repair and overhaul (MRO) products and services, have released a new brochure, produced with bearings manufacturer SKF.
'SKF Cooper Split E-Series Bearings' is a six-page brochure that highlights how to reduce downtime, enhance worker safety, and increase efficiency, particularly in harsh or inaccessible applications where mounting, dismantling, or maintenance can be a challenge.
Replacing damaged or worn bearings in heavy machinery that requires servicing or maintenance can be a problematic. Often faced with complex dismantling and assembly procedures involving costly production losses from machinery shut down, it can take more than one person many hours to change a solid bearing. In extreme cases, it may even be necessary to break and replace a piece of expensive equipment to remove a faulty solid bearing.
These issues can be resolved with the latest range of SKF Cooper Split E-Series bearings, which can be easily and quickly replaced in situ, reducing mean time to repair (MTTR) by up to 70%.
Unlike solid bearings, which must be slid on to the shaft, SKF Cooper Split E-Series bearings are split to the shaft; a design that both simplifies and expedites installation and cuts downtime when compared to replacing solid bearings of the same size.
Reducing many of the risks associated with heavy lifting, particularly at height, the latest range of SKF Cooper Split E-Series bearings also makes a significant contribution to overall worker safety.
Suitable for a wide range of industrial and marine applications, including belt and screw conveyors, industrial fans, and industrial drive shafts, SKF Cooper Split E-Series bearings feature a unique and patented brass cage design, with an optimized roller complement, which delivers increased carrying capacity, greater safety margins, longer L10 rating life, and subsequent service life.
'SKF Cooper Split E-Series Bearings' can be downloaded from the dedicated SKF bearings section on the Rubix website, which includes not only find useful information on SKF's Cooper Split E-Series, but also sections dedicated to industry-specific solutions.