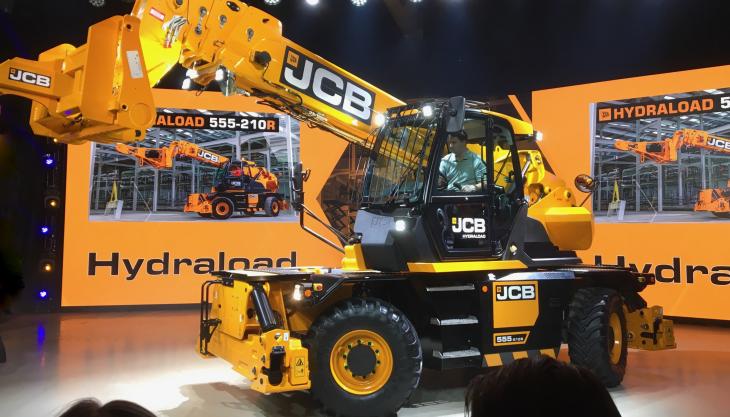 Company introduces its first-ever rotating telehandler - the new Hydraload 555-210R
JCB, the world's leading telehandler manufacturers, have extended their portfolio with the recent launch of a totally new rotating telehandler – the Hydraload.
Recognizing the growth in popularity of rotating machines with heavier lift capacities across Europe, the company has initially launched the Hydraload 555-210R, which offers a maximum lift capacity of 5.5 tonnes and a maximum working height of 20.5m.
Utilizing a robust boom construction and a familiar driveline, JCB have focused on reliability, versatility, productivity, ease of use and safety, as a means of delivering improved uptime and increased customer profitability.
To minimize set-up time, the outriggers have one-touch auto-deployment, stowage and levelling, whilst a low, clean boom design gives excellent all-round visibility, augmented by comprehensive work light options and camera kits, including a boom-head camera for precise placement at height.
All Hydraload machines will be powered by JCB's highly efficient Ecomax engines, which offer a high degree of parts and service commonality with other Loadall models. JCB's LiveLink telematics system will be fitted as standard.
In addition, a range of specially developed JCB attachments using RFID technology can be identified by the machine, to automatically offer the correct load chart for safe operation.
At launch, the company will offer pallet forks, a 5.5-tonne carriage winch, a 2-tonne x 2m jib winch, a reduced height jib, 5.5-tonne hook, light-duty buckets and a range of fork-mounted accessories such as waste skips and concrete placing skips. Remote lift-end operation and access platforms will also be offered.