Prime Minister visits important prehistoric site gifted by Tarmac into ownership of Historic England
HISTORIC England and English Heritage, along with representatives from Tarmac, met Rishi Sunak last week to give him a tour of Thornborough Henges, one of the UK's most important prehistoric sites.
Known as the 'Stonehenge of the North', the Thornborough Henges complex, near Ripon, consists of three giant circular earthworks – known as henges – each one more than 200m in diameter.
Dating from 3500 to 2500BC, the Neolithic and Bronze Age earthworks are thought to have been part of a 'ritual landscape', comparable with Salisbury Plain in south-west England.
In February of this year, the central and southern henges were gifted by Tarmac into the legal ownership of Historic England, the Government's heritage advisor, as part of the National Heritage Collection. The henges are now under the care of English Heritage and are free to visit.
Lightwater Holdings, a local construction materials provider, house builder and leisure group, also gifted parts of the wider monument to Historic England.
During his visit Mr Sunak learnt about the archaeological significance of the henges and about how English Heritage is bringing the history of the site to life for its visitors with the help of volunteers.
He also joined volunteers from the Lower Ure Conservation Trust who are working with English Heritage and Tarmac to conserve the henges. In 2009, the central and southern henges were put on Historic England's 'Heritage at Risk Register' due to the erosion caused by livestock and rabbits. Thanks in part to the efforts of these volunteers, the henges will be removed from the register this year.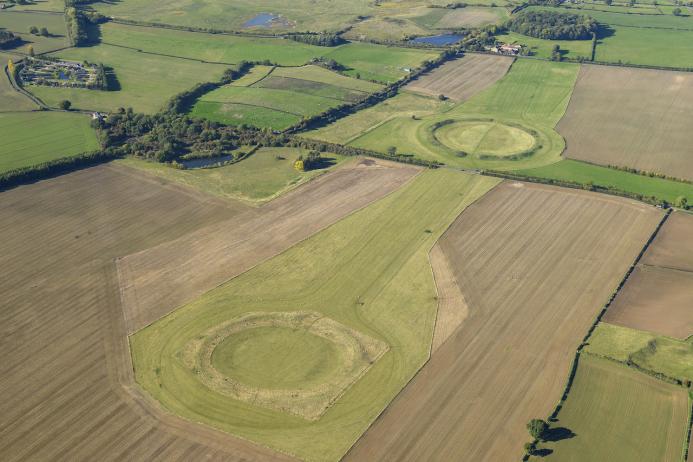 Mr Sunak, the MP for Richmond (Yorks), said: 'I very much enjoyed joining the teams from Historic England and English Heritage to see how they are working, with local volunteers, to enhance the visitor experience.
'The henges are a remarkable and still little-known part of this nation's history and I welcome the efforts to bring that history to life and present it in an easily understandable way for today's visitors and future generations.'
Claudia Kenyatta, director of regions for Historic England, commented: 'We were delighted to welcome Mr Sunak to Thornborough Henges and show him how Historic England and English Heritage have been working in partnership to save this magnificent site for the nation. It's wonderful that he has been able take part in some of the vital conservation work which will enable the site's removal from the 25th annual Heritage at Risk Register.'
Mark Stuart-Smith, English Heritage's interim chief executive, said: 'Since these henges came into English Heritage's care, we've welcomed thousands of people to this remarkable monument – and it was a privilege to now host the Prime Minister. He was fascinated by Thornborough and how English Heritage is bringing its stories and significance to life.
'Thornborough is not just an important national landmark but a local one, and the community here is playing a key role in caring for the monument – from planting wildflowers to giving tours – so it was fantastic to be able to introduce the Prime Minister to some of our brilliant volunteers.'
Stuart Wykes, director of land and natural resources at Tarmac, remarked: 'Back in February of this year, we marked a huge milestone by gifting this incredibly important site to Historic England. We were proud to join Historic England and English Heritage in welcoming Mr Sunak to the site and sharing with him why securing the long-term future of the monument is so important.'